Literary magazine hosts reading at downtown venue
Student poets walked onto the stage, stood straight in front of the glitzy golden curtain, faced the audience and began to speak. 
Light Club Lamp Shop hosted a poetry reading evening Oct. 14. The Gist, UVM's literary arts magazine, was the featured act for students to share their poetry with the greater Burlington community.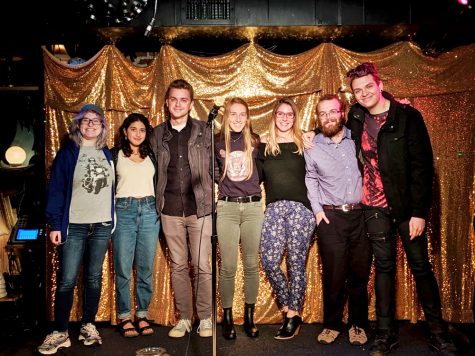 UVM students involved with The Gist performed original poems, several published in the most recent volume of the magazine. 
Senior Seth Wade is co-editor-in-chief of The Gist alongside senior Chris Soychak.
"A long time ago the journal used to come here pretty regularly, and we wanted to come here and be more involved in the community," Wade said. "We had an event like this last year, and we're hoping to make it a semester event."
The night began with an open mic for Burlington community members to share their work, followed by The Gist's spotlighted artists.
Wade read his short prose poem "Oh No, It's Me, Your Resident Advisor, And I'm Already Asking How You're Feeling." Junior Aiden Blasi read "Weapons of Class Destruction" and The Gist's poetry editor Keana Moreau, a senior, read her poem, "Secret Code."
Sophomore Alicia Tebeau-Sherry, prose editor for The Gist, shared her history of writing poetry leading up to her work with The Gist.
"I've always stuck with it through all of my education, taking different creative writing classes that got me more focused on poetry, Tebeau-Sherry said.
Different writers practice different writing methods and Wade said that it can change every time.
"It's a state of flow and experimentation, and I'm just feeling it and going wild with it," Wade said. "Or, it's very intense and chaotic and grueling. It's very one or the other."
Senior Lauren Sky also discussed the taxing nature of writing.
"I usually write when I'm in a bad mood," Sky said. "It's usually 4 a.m. in my room with all the lights out. I go to sleep on it, and then look at it again in the morning and try to edit it when I feel better."
Sky performed other poets' work at the poetry reading, and shared how the experience differs from sharing original writing.
"It feels like you're connecting with the person who wrote it, and you're connecting with the audience," Sky said. "It feels like you're becoming friends with the person who wrote the poem. You can help them share it with other people."
The evening also gave Blasi a chance to share excerpts from a self-published novel titled "Ophelia: An American Dream."
"The first draft took four months, and then another year of editing and putting the whole piece together," Blasi said.
By partnering with the Lit Club, students have the chance to present their work to a fresh audience, Wade said.
"We've always loved partnering with places like the Lamp Shop, just to really share and celebrate the students' work out in the community and connected to the greater Burlington arts scene," Wade said.
Wade also reflected on the future of The Gist after he and Soychak step down as co-editors-in-chief.
Wade said that leaving is bittersweet, but they are looking forward to next year's leaders.
"We're really excited to pass it on to more than capable hands."