Musician curates monumental sound
Four musicians are taking on the task of capturing the sound of a 30-artist ensemble.
Wrekmeister Harmonies is an experimental music collective with only one permanent member that features the work of many other artists.
The group will be playing at Nectar's March 7 as part of the venue's Metal Monday series.
The group's live shows will capture the monumental soundscapes and heavy melodies heard in their recordings according to their website.
They will be performing music yet to be released as well as cuts from their most recent album, "Night of Your Ascension."   
Wrekmeister Harmonies began in 2009 as the brainchild of artist J.R. Robinson.
Robinson, the only permanent member, said he enlists the help of others to make his vision a reality.  
"I'm a very old person, and as you go along in this life journey, you become acquainted with certain talented individuals," he said. "I've been around longer than anyone you know."  
Robinson began as a filmmaker, but entered the music scene when he recruited the talents of his musical peers to create a live score for one of his films at the Museum of Contemporary Art in Chicago, Robinson said.  
Following this incidental brush with the art form, he delved in and has been on an upward trajectory since, he said.  
Among Robinson's contacts are metal and post-rock powerhouses such as Swans and Godspeed You! Black Emperor.
His own music began as ambient instrumentals but has since moved closer and closer to a metal sound.
"If you follow along, it's a logical progression from what I've been doing, it's not apples and ping pongs," Robinson said. "Just like anybody else would, I try to evolve."
The name "Wrekmeister Harmonies" has represented countless line ups.  
Robinson will be joined onstage by Dylan Desmond and Jesse Shreibman of Bell Witch on drums and bass as well as Esther Shaw on violin, he said.  
"[Shaw is] a multi-instrumentalist and is one of the most capable and talented people I've ever met," Robinson said. "She's a great weapon to have."
Wrekmeister Harmonies looks forward to gracing Nectar's stage.
"I'll be happy to play in Burlington," he said. "I've never been, but I always wanted to."
About the Writer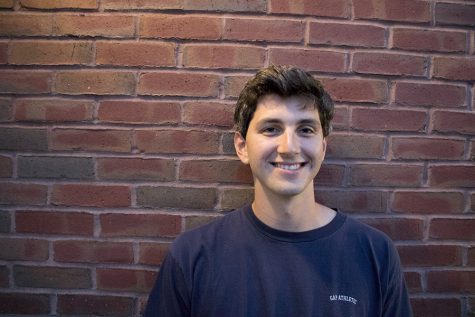 Ben Elfland, Managing Editor
Ben Elfland is the managing editor at the Vermont Cynic. He is a senior studying public communication with a minor in writing. His introduction to journalism...