Mike Birbiglia to perform at Labor Day comedy show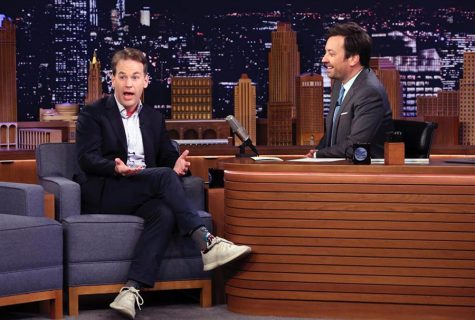 This year's Labor Day Comedy show features Mike Birbiglia, an American writer, producer, director, actor and, most importantly, stand-up comedian. 
The show takes place at 7 p.m. Sept. 2 in the Grand Maple Ballroom. 
The UVM Program Board plans a comedy show every year for labor day weekend. Past guests include former "The Daily Show" correspondent Michelle Wolf, SNL star Pete Davidson and Emmy-nominated comedian Tig Notaro.
Birbiglia often combines elements of traditional stand-up comedy with theater in his live performances. 
Alexis Solosky of The New York Times describes Birbiglia in an August 2018 piece.
"A cheerful stage presence and a mumbling, stealth articulate voice — with a tendency to swallow the ends of his sentences like so many frosted snack cakes — that breeds instant intimacy," she stated.
Students seem excited for the show. 
"I saw that dude live. He was pretty funny," sophomore Ryan Burlage said. 
Burlage wasn't the only student familiar with Birbiglia's stand up. 
"From what I remember, he was pretty unproblematic and told good jokes. I think people will like him," sophomore Micheal Haydon said. 
Haydon said he has seen one or two of Birbiglia's specials.
Mike Birbiglia achieved critical acclaim in 2008 from "Sleepwalk with Me," a one-man show named Time Out New York's 2009 Show of the Year. 
His film and book adaptations of "Sleepwalk with Me" received praise from the New York Times, The Washington Post, Sundance Film Festival and the South by Southwest Film Festival. 
Birbiglia debuted his second one-man show, "My Girlfriend's Boyfriend," three years after "Sleepwalk with Me." It ran for four months on Broadway and toured around the world. 
His third one-man show, "The New One," debuted in 2017 and ran for 99 shows on Broadway at the Cort Theatre.
The comedian has made several appearances on shows such as "Girls" and "Broad City".
Birbiglia has appeared in 15 films, six television programs and has three stand-up specials. 
He has been nominated for, and won, numerous entertainment awards and is a frequent contributor to radio shows "The Moth" and "This American Life."
Tickets are on sale now. Students are $10 in advance and $15 day of. 
For the public, tickets are $15 in advance and $20 day of. 
Tickets can be purchased online at tickets.uvm.edu.