Queen's legacy is showcased in "Bohemian Rhapsody"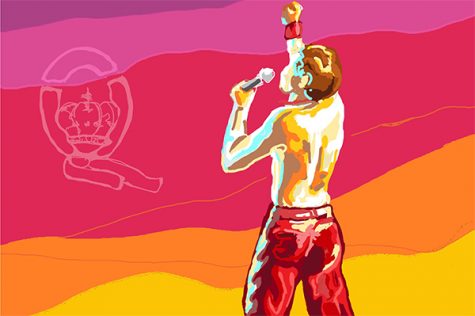 Reese Green
"We Will Rock You," "Don't Stop Me Now," "Another one Bites the Dust." All of these song were sung by Queen, the iconic rock band lead by Freddie Mercury. One of their songs just so happens to be the title of a new movie: "Bohemian Rhapsody."
The film centers on Freddie Mercury, originally known as Farrokh Bulsara, and his time and tribulations during his years in the band.
The film begins with the band's quiet start as they try out new and unheard of styles which went against years of musical tradition. Many thought the band would not succeed.
The film also goes through all the problems the band endured and Freddie's chaotic and eventually self-abusive, through overuse of drugs and alcohol, love life.
While the film is rather long, clocking in at two hours and 15 minutes it's well worth the time spent watching it.
Rami Malek plays Freddie Mercury to perfection, showing a side to the legend that made him seem more flawed and humanistic.
Many people believe that Freddie Mercury was a famous white British singer, when in fact he was a immigrant from Sultanate of Zanzibar, now known as Tanzania. For this reason, he dealt with prejudice from those around him. Later, his questioning sexuality sparked judgement.
Malek is not the only actor to bring his character to life. Every other cast member nails their role. Be it Ben Hardy's Roger Taylor, Joseph Mazzello's John Deacon or Gwilym Lee's Brian May, each adds a flavor to the film that make all the characters relatable.
The actors paint the picture of a group of dysfunctional friends who would never have been remotely connected if not for their love of one thing, and one thing only: music.
With that being said, you can't talk about a movie focusing around one of the world's most well known and cherished rock bands without talking about how the movie uses Queen's music.
Many songs written and sung by the band are the main soundtrack to the film and as a result, can be easily heard throughout the movie and create a character of thier own. The theater's surround sound makes the music sound amazing as well, causing viewers to feel like you are really at a Queen concert.
While the film isn't perfect and makes many artistic choices over the real facts, it still creates a movie that will draw the viewer in and have them singing "We are The Champions" as they exit the theater.