Birthday party celebrates Radio Bean's commitment to young musicians
More than 90 musical acts came together recently in honor of a downtown venues 17th birthday.
Radio Bean celebrated the anniversary on Saturday, Nov. 4. The party kicked off at 8am and ended at 2am the next morning, serving free pancakes until 10 a.m. and free coffee all day.
Originally opened in 2000 by Lee Anderson, Radio Bean provides "a nurturing environment for emerging artists, while serving as a point of entry for regional and national touring acts visiting VT", according to its website.
Local band AM Radio were one of the bands included in the line up of more than 90 artists.
The band is comprised of guitarist Audrey Pirog, songwriter and guitarist Mia Valentini and bassist Megan Rice.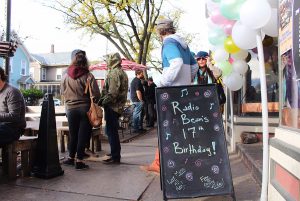 The band played just next door to Radio Bean in Light Club Lamp Shop.
"[Our music is] a mix of a little bit of everything, country, bluegrass, jazz, sass", says Pirog. "We're trying not to put too much of a limit on wherever we're headed as far as our sound."
There is a definite importance, said Pirog, of offering a place for young musicians and creators to perform.
"Radio Bean definitely does a good job when it comes to supporting local musicians, they're really inclusive when it comes to booking gigs and everything," added Pirog.
AM Radio plays for Radio Bean on a regular basis. "We play here two Saturdays a month, during brunch at Radio Bean" says Valentini. "I think it's the most supportive space for local music in town."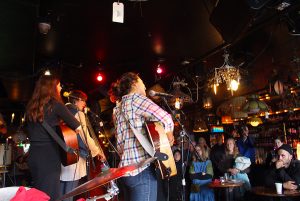 Getting into performing live isn't easy, says Pirog. "Especially as a group of young women trying to take a stand in a very male-dominated space, even in Burlington."
AM Radio can be found on Facebook.
Information on Radio Bean and its sister locations can be found at radiobean.com.