Rapper sheds light on decolonization
A woman with bright brown eyes, electric pink lipstick and a white hijab made her way through rows of chairs, smiling widely.
Around 6 p.m. Nov. 4, the president of the Mulim Student Association, sophomore Lena Ginawi, handed Mona Haydar the microphone.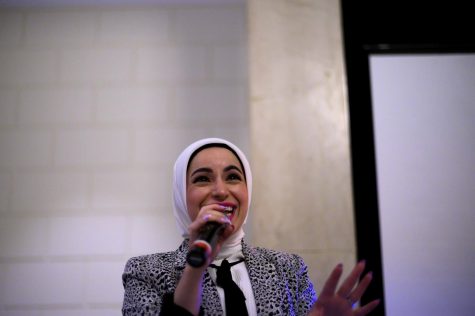 A Syrian American artist from Flint, Michigan, Mona Haydar is a performance poet, rapper, activist and chaplain who appeared at Fleming Museum to present her lecture "Art, Activism and Islam."
Haydar discussed impactful moments that caused life-changing perspective shifts. 
She talked about the perpetrators of a 2015 shooting in San Bernardino, California, claimed to act on behalf of the Islamic State, resulting in a spike in hate-crimes against Muslims in the U.S. This made Haydar's family fear becoming victims of violence, she said.
Haydar explained how she sets that experience to music with her ultimate goal of "decolonizing minds and hearts," she said.
Junior Ama Sika attended the talk and said she was struck by Haydar's authenticity and personal stake in her projects.
"She takes pride in acknowledging her agency as a Muslim woman in a conservative society,"Sika said. 
Ilyse Morgenstein-Fuerst, assistant professor of religion and director of UVM's Middle East Studies Program, said she uses Haydar's videos to teach her students about Islamic art and how artists express the impact of racism through their work.
"Decolonizing is kind of the process of getting these dead white dudes out of our heads," Morgenstein-Fuerst said. 
Especially for those who have darker skin, the white washing of history tells them that they are not beautiful, Morgenstein-Fuerst said. 
"It does psychological violence," she said. 
Haydar's work aims to provide a medium to affirm indigenous ways of being beautiful, she said.
In 2017, Haydar gained popularity for her single "Hijabi (Wrap My Hijab)," a rap about Muslim women who choose to wear the traditional headscarf. 
Ginawi said Haydar's music videos shed light on under-represented people. 
"She sheds light on those communities by showing beauty," Ginawi said.
A December 2017 Billboard article called "Hijabi" one of the best protest songs of that year, and it also made the publication's November 2017 list of the Top 25 Feminist Anthems of all time.
"When I watched her music video, it allowed me to realize that I can unapologetically wear my hijab anywhere and everywhere I go," Ginawi said.
Haydar said that she wants her work to showcase cultural inclusivity that shows diverse notions of beauty but also strives to embody an authenticity that creates representation for her community.
Haydar screened the video for "Hijabi" during the lecture and rapped along into the mic, "Love women every shade / power run deep / So even if you hate it / I still wrap my hijab."
Haydar closed the talk by repeating the refrain in her song "Barbarian:" 
"This hair, this body, this mind, decolonize."