Reggae-rocking rapper set to perform in Vermont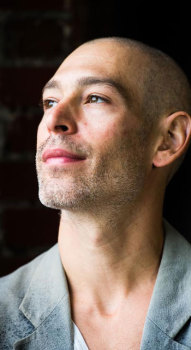 Perhaps the most well-known reggae-rapping star is scheduled to play at Higher Ground Tuesday Dec. 16.
Matisyahu, an Orthodox Jew, writes reggaeton and rap music influenced by Jewish spirituality.
Matisyahu first rose to national prominence in 2005 when his single, "King Without a Crown," became a top 40 hit.
His latest release, "Akeda," came out June 3. The title is a Hebrew word meaning "binding." It refers to a biblical story where the Jewish patriarch, Abraham, nearly sacrifices his son Isaac to prove his faith.
"I'm focused more on what happens after the incident – what happens after on the walk back. Sarah, Abraham's wife, is dead and he and Isaac go off in different directions. Isaac is blind after that, it's interesting to think about what happens after," Matisyahu said
"I think every record is an opportunity for me to work on making something different," he said when asked if the stripped-down "Akeda" represented a departure from his previous albums.
"I don't like to go back and recreate the same sound," Matisyahu said. "I like to move forward and in different directions. This record is another evolution of that sound."
Matisyahu's status as a Jewish rapper caused some critics to view him skeptically early in his career. Music review site Pitchfork included him in a list of the 15 worst releases of 2005 with no explanation or criticism other than a blurb stating that he was a Hasidic rapper.
In an interview with Wanted Magazine, the rapper described facing similar discrimination when approaching the Wu Tang Clan's label, Loud Records, for a deal.
"I played one of them a track and he was like, 'you're a Jew aren't you? Why are you singing about slavery and shit?'" he said.
When asked what he thought about his critics, Matisyahu said that he didn't.
"People all along have had their opinions about my work or what I am, but it's really not that relevant to me," he said. "I try not to pay too much attention to those things because they're hurtful, and they can make you sour."
"In the meantime, I've been able to have a career for over 10 years and work with these amazing musicians and producers and artists. It's the type of life I want to live," Matisyahu said.