Burlington ghostwalk: two culture writers' critiques
Educational and Fun
Marjorie McWilliams

A bright orange ribbon around a black hat and a floor length cape completed the mysterious aura of Thea Lewis on a chilly Burlington night. 
Lewis has led Queen City Ghostwalk for 17 years and it shows.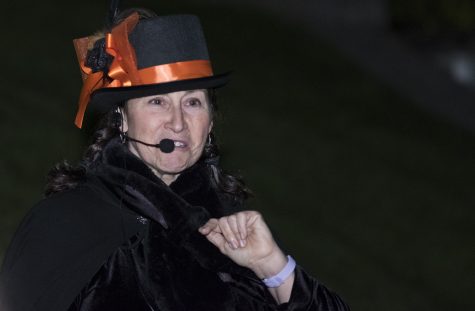 "I've been scaring up history in Burlington since 2002," she said.
The Queen City Ghostwalk is a historical walk through downtown Burlington. The tour runs from early July through Halloween and is led by Lewis.
Her mythical tones and ethereal air add a spooky overtone that compels the audience to believe her, as she smoothly transitions from story to story.
Lewis begins her "Darkness Falls" tour in front of the Democracy Statue on Main Street, with a group of 30 people. 
The tour stayed within the bounds of downtown Burlington and featured several of Burlington's most loved landmarks including the Flynn Center for Performing Arts and American Flatbread.
The pizza spot is said to host a ghost with an anti-woman agenda who lurks in the basement and stirs up trouble, and has caused several people to quit their jobs. 
Nevertheless, I still ate there the next night, reassuring myself that the ghost stays in the basement. 
In contrast,The Flynn is home to a kindly ghost that appears for late night construction workers. 
Lewis guesses the ghost was a man who fell to his death during one of these late night sessions and now returns to oversee the safety of others.
Lewis's aura is so compelling I found myself imagining the flickering lamplights to be the work of ghosts rather than what I would typically attribute to faulty light bulbs and the slightest breeze.The hair on the back of my neck stood up.
Not only were her stories suspenseful, but Lewis managed to slide some humor in as well. 
She changed her voice when she spoke of stories told to her by others, at one point imitating the Boston accent of her friend who was duped by a beautiful ghost woman.
Even for ghost skeptics, the tour is interesting simply for the history. It's clear that Lewis has dedicated time to discovering the stories, secrets and intricate history of Burlington.
I particularly enjoyed her description of the seedy past of the Burlington Waterfront which served as a lumberyard. The wood stacks were so high it resembled a maze and required street names to navigate. 
There were also underground tunnels built between Burlington hotels that still exist, though apparently in bad repair. 
As the tour came to an end, Lewis's parting advice was to check their cars before driving home to make sure they're not bringing home any unwanted "friends." 
For $20 I got over an hour of entertainment, a crash course in Burlington history and a lot of food for thought. 
While I'm not sure I'm craving a ghost encounter, I'm certainly geared up for Halloween. 
Not Spooky Enough
Cyrus Oswald
I'm not saying that ghosts aren't cool. It's comforting to think that people never really leave, but stay with us in some way. 
But an integral part of anything ghostly is fright. On the Queen City ghost tour, I didn't get the fright I wanted. 
The tour had a lot of interesting historical insights but that's just not what I wanted to get when I signed up for a ghost tour. Tour guide and company owner Thea Lewis clearly had put a lot of research into old Burlington.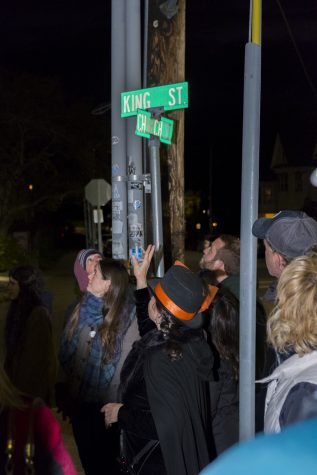 The tour started on a classic cool October evening downtown. We walked from in front of city hall to behind the Flynn Center, across Main Street, and looped around to end the tour behind American Flatbread. 
During the tour, Lewis wove the historical figures of Burlington together with their according spirits around these days. 
Lewis talked about the historical uses of buildings like American Flatbread and the former Hotel Vermont, which now operates a few blocks away. The building houses businesses like the Gryphon and What Ale's You. 
Ghost stories were woven in with the histories of buildings around Burlington. She talked about spirits haunting female servers in the basement of Vermont Flatbread Company, and an especially pretty ghost in the stockroom of Ales. 
Through all of these stories and facts, I never felt scared. I never thought that there would be a ghost behind me or peering out from the shutters of a window. It's the spookiest month of the year, and the tour never got me in the mood. 
According to Lewis, there are 14 ghosts on UVM's campus alone. That should have made me scared to come back up the hill after the tour, but it didn't. 
Although a few of the stories she told had disturbing content, they didn't make me disturbed. 
Lewis clearly had practiced her tour plenty knew it by heart. She had a lot of information about old Burlington and itss figures, and knew a lot of ghost stories, some fun and some scary. 
Even with her well thought out and organized tour, I just didn't feel spooked.