"Friends" Nepali restaurant makes you feel like family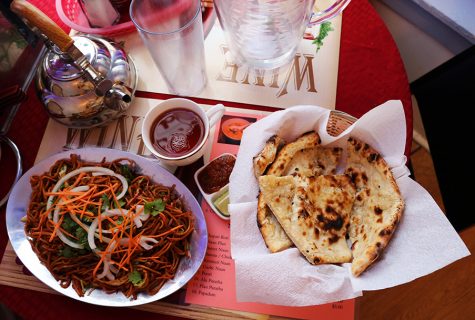 Alek Fleury
On the day the first snowflakes were spotted in Burlington, the sky was gray and the 38-degree wind whipped through the autumn colored trees. I had not ventured out all day and was feeling crabby.
All that changed when I stepped foot inside Friends Nepali Restaurant.
Located at 212 Main St. in Winooski, it's just a five-minute drive from UVM's campus. Friend's Nepali prepares Indian, Nepalese and Chinese cuisines. The restaurant is open daily from 9 a.m. to 10 p.m., except on Tuesdays.
The warm aromas of garlic, curry and ginger greeted me as I opened the door. It was impossible not to smile at the five tables bathed in warm light inside. The open kitchen layout exposed the two first-time restaurant owners, Ram Kadariya and Santa Subba, busily sauteing and chopping ingredients.
Friend's Nepali Restaurant opened in the space where the restaurant Pho'Man used to be in August.
Kadariya and Subba are originally from Bhutan. Kadariya was previously employed as a cook at Central Market: Taste of Asia, an ethnic grocery store in Burlington.
Co-owner Kadariya said that they were in the process of adding more items to the menu, with a focus on food from his home country of Bhutan. He's been taking his time to get a strong grasp on the tastes and the culture, so that the foods they make accurately represent his heritage, he said.
Speaking to Kadariya was such a pleasant experience, and it was worth the trip by itself. When I asked to clarify the spelling of his partner's name, he laughed and said, "like Santa Clause, you know?" He also educated me about the traditional dress of Bhutan and told me all about his family.
The location of the restaurant places Friend's just slightly removed from the roundabout in downtown Winooski. I sat at a two-top, a table for two, nestled into a nook by the door.
I ordered the garlic naan, just one of nine types of naan offered on the menu, and the veggie chow mein.
The window view, framed by a set of lilac curtains, gave me a view of the quaint row houses across the street. I felt as if I was in someone's house, peacefully eating a home-cooked meal.
While I waited for my food, I observed the kitchen whipping up a fresh batch of chicken dumplings and expertly tossing grains of rice in a wok to toast.
I watched Kadariya pull a stretch of dough and form my individual naan. He rolled and stretched it into a near-perfect circle before filling it with fresh garlic and shaping it over a specialized tool. Into the oven it went, and returned to me a few minutes later transformed into a warm, pillowy, doughy cloud.
As we spoke, Kadariya coated it in butter which absorbed immediately. It went directly into my mouth where I was comforted from the inside out and left with a pop of flavor on my tongue.  
The vegetable chow mein was unlike any dish I have had before. To borrow from Skittles, it was like tasting the rainbow. Vegetables of all colors, shapes and textures were sauteed to perfection and nestled into a bed of orange-tinted noodles covered in a homemade sauce.
As a self-proclaimed foodie and lover of new flavor profiles, I was pleasantly surprised and satisfied with every bite, from the zingy ginger in the sauce to the nutty, slightly crunchy chickpeas.
The entire meal, which was enough for two very hungry people, cost me a mere $9.81. That's less than $5 a person, for one of the most delicious meals I've had near campus.  
Friend's is perfect for a fun group outing, solo feast or off-the-beaten-path date idea. It is also excellent for takeout.
I left feeling like family. A very well-fed family.