Scorsese's most recent film doesn't live up to the hype
Even with all of the Oscar acclaim for Martin Scorsese's historically-based three-and-a-half-hour drama, "The Irishman," disappoints despite its all-star cast and iconic director. 
Released on Netflix and in select theaters, the film depicts the life of Frank Sheeran, played by Robert DeNiro, and his friendship with Russell Buffalino, played by Joe Pesci and Jimmy Hoffa, depicted by Al Pacino.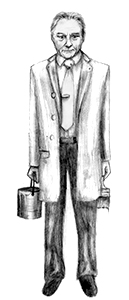 Ray Romano, Sebastian Maniscalco, Harvey Keitel, and Anna Paquin are amongst the big-name cast members. 
The period piece follows Sheeran's involvement and loyalty as he navigates being the middleman between the Pennsylvania crime scene and Hoffa's labor union. 
Scorsese has always been one of my favorite directors. 
Many of his films share common characteristics: reminiscent narrations, themes of loyalty, crime and the rise and fall of power. 
However, "The Irishman" is a Scorsese movie in a new era of filmmaking and that is evident through much of the film. 
The narrative flows similarly to certain defining Scorsese films such as "Goodfellas" and "Casino." 
The actor's chops from these well-made movies, along with the story elements, age nicely 30 years later. 
At close to four hours, there should be more of a justification for the film's intimidating runtime. 
I do not believe the story required the film to go on so extensively.
It seemed as if Scorsese felt entitled by his influence to capture the viewer's attention. 
Sheeran mentions in the film that today's youth has no idea the impact Hoffa had. 
Although this might be true, it makes the film's historical topic feel targeted toward older generations only.
Because the timeline of the film spans several decades, DeNiro, Pesci and Pacino had to look and act much younger than they actually are, as they were in their late 70s during filming. 
With a $140 million budget, the post-production crew was able to edit the actors to look like a particular age in each scene. 
At times, this was distracting. 
For example, DeNiro's eyes were bright blue through the entire movie for no apparent reason, and his character looks unrealistic due to the stature of the current 76 year old. 
This makes it challenging for the viewer to believe he is in his 30s. 
That being said, Pesci, DeNiro and Pacino deliver performances that suit their acting roles in other films of similar tones. 
 "The Irishman" felt like a film made by, and for, a bunch of old men looking back on how great they were in the good old days. 
Given this, there were elements of the film that Scorsese handled well. 
His classic camera movements and long takes that fit with the emotional tension of Sheeran were enjoyable to watch, as well as the playful character narration and intense testing of his undying loyalty toward his closest friends. 
Scorsese is a filmmaker who I still respect deeply. 
Some of what makes Scorsese's work so fun to watch is the work of his longtime editor, Thelma Schoonmaker, who has edited all of his films since "Raging Bull," according to her IMDb page.
Her post-production editing is just as powerful in "The Irishman" as in all of Scorcese's works. Schoonmaker was nominated for an Oscar for this film. 
I do not agree with the 10 Academy Award nominations given to this film instead of the many other great pictures released in 2019. 
However, I look at it as an honor to the genius of Scorsese's great work and influence over his long and impactful career.