Stage managers make magic backstage
While actors take the mainstage, stage managers are the movers and shakers of the UVM theatre department. 
The department puts together three mainstage shows each academic year, and this month, they are putting on "Shakespeare in Love," Feb. 26-29 and March 1.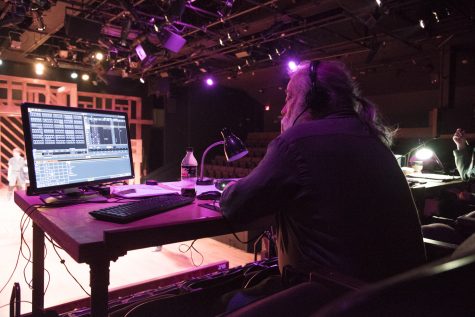 The show has the largest cast of the shows this year, requiring an extra assistant stage manager.  
The backstage production crew is responsible for coordinating the transitions of the show. 
Senior Katelyn Paddock is a theater and psychological science double major and production stage manager for "Shakespeare in Love," which she said proves to be a time consuming task. 
"As production stage manager, I am responsible for overseeing the process of the technical elements from the minute we decided to do the production to the minute it ends," she said. 
Paddock oversees production meetings, coordinates schedules, writes reports for other tech members after each rehearsal and calls the light and sound cues.
Paddock has had experience in both acting and stage management but finds stage management particularly rewarding, she said
"I love performance, but I'm very drawn to organizational and managerial positions, so it combined what I love about theater with what I consider to be my strong points," she said. 
Assistant Stage Manager Juls Sundberg, a senior, also said there is a unique skill set needed to work backstage.
"It teaches you time management, how to operate in a professional environment, communication and teamwork, among many other skills," he said. "It's also really fun." 
Sundberg acted before attending UVM but did not have any experience in tech, which hasn't held him back in the slightest from making plans to move forward in tech and stage management after graduation. 
"The professional connections I made as an assistant stage manager at UVM have gotten me a full-time job at Vermont Stage after I graduate," he said.
Paddock said experience is not a necessity for people looking to get involved in tech. 
"There's always people who may be in a completely different major but still take an interest in tech crew, and there is always space for them here to learn," she said.
If a student is interested in participating in UVM drama from the backstage, they can walk into the Royall Tyler Theatre and flag someone down. 
"The best way to go about it honestly is just walk in and talk to the first person you see about getting involved," Paddock said. "Most of the people who are hanging out in Royall Tyler are connected in some way and can help out."