Students reflect on identity at Acción Poética
Gathered in a candlelit Brennan's pub this past Wednesday, Alianza Latinx club members performed spirited readings of poems at an event called Acción Poética.
This is the second year that Alianza has held an Acción Poética event to celebrate Black history month. 
Club president Adrian Pastor said that Acción Poética started as a street art movement in the 1990s in Mexico. It has since become a movement to celebrate cultural identity and the power of reading.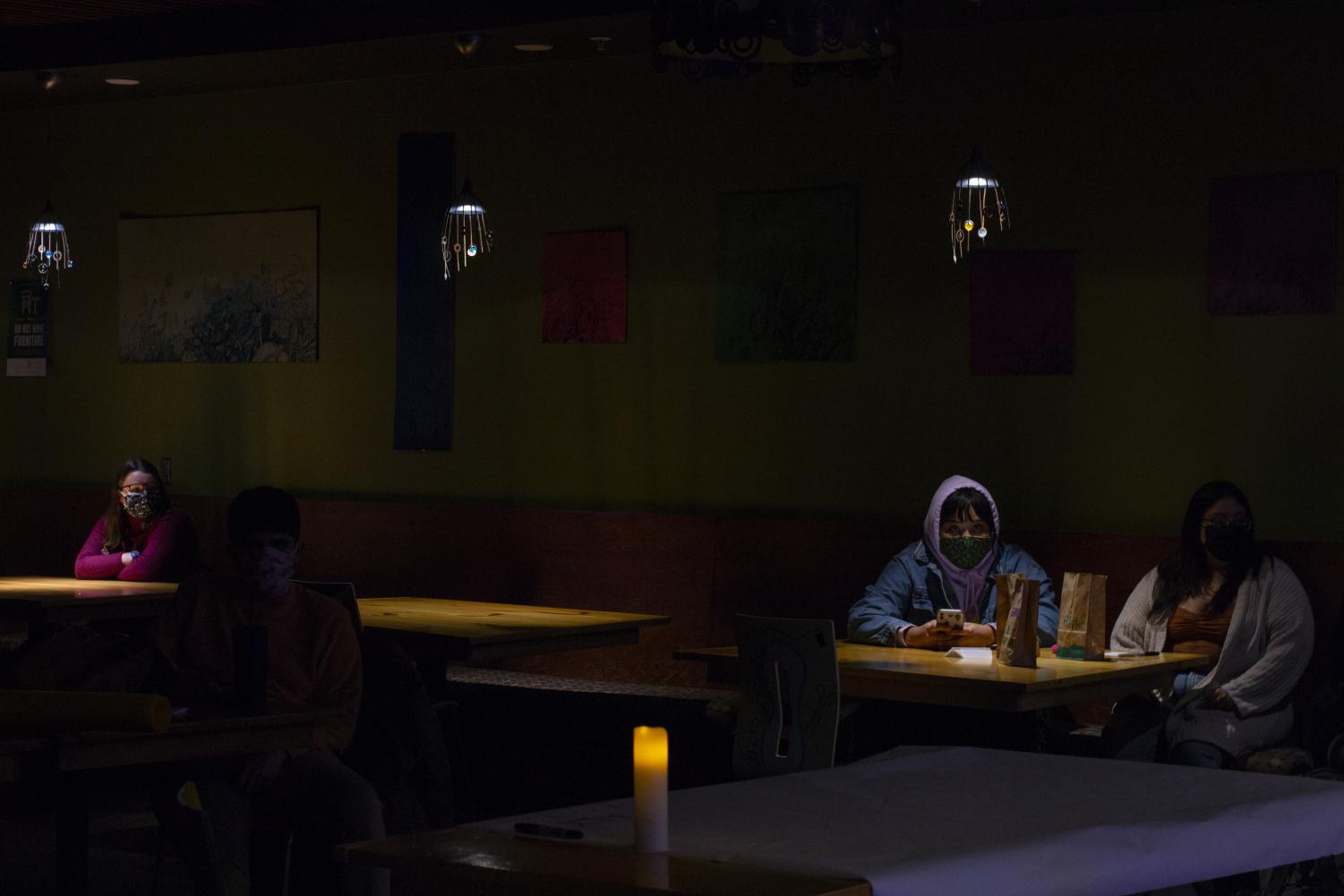 "[Acción Poética] is sayings, quotes and affirmations we hold to ourselves that we put out for display," Pastor said.
Pastor said that the trademark style of Acción Poética is large black lettering on a white canvas to emphasise the impact of the poemss or affirmations. 
The event had both an in-person audience and a virtual one. 
Students read poems about generational strength, racism, reacting to opposition and growing up. They performed poems by Rupi Kaur, Cristian Inman, Emma Zeck, K'Naan, Ariana Brown and others.
As the performers took to the stage, the audience cheered them on and brought smiles to their faces.
UVM Grad Student Jake Small writes his own poems. He incorporated singing into his performances about childhood memories, race and the passage of time.
"All of my poems have been inspired by Black singer-songwriters," Small said. "I'll be incorporating their music into my poetry."
Though Small said that he was nervous on stage, his talking and singing voice enraptured the room. He shared three pieces.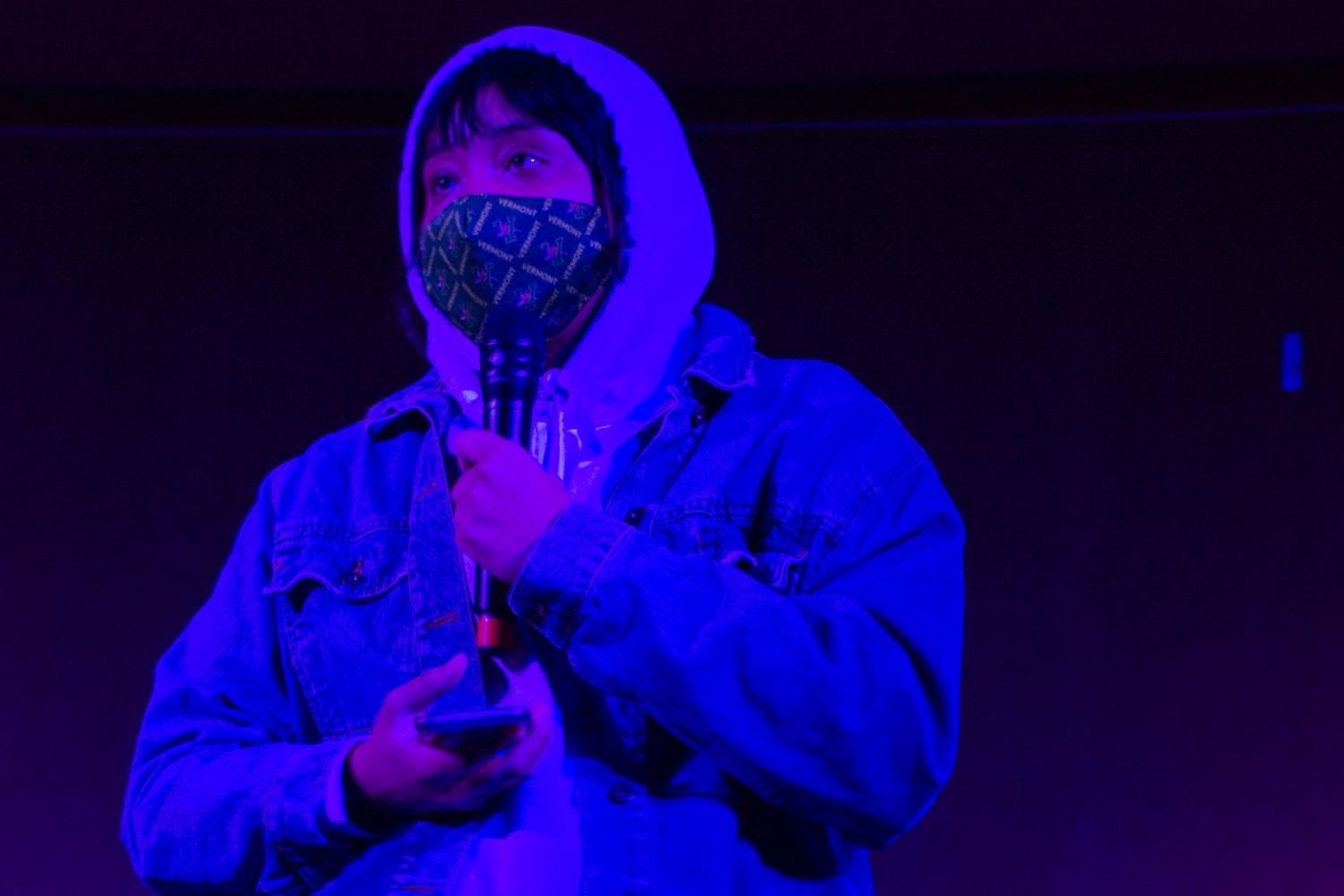 Small said that his poem titled "When I Get Older" was inspired by K'Naan, a Somali poet and singer-songwriter. 
"When I get older I will be stronger, they'll call me freedom just like a waving flag," Small sang. 
Junior Ariel Tubbs chose a poem called "Supremacy" by Ariana Brown, a spoken word poet. 
Tubbs said that it was one of her favorite poems because she relates to Brown's experiences. 
"Her poems have to deal with the struggles of life in America, as a Black woman and as a mexican woman," Tubbs said.
The poem described pain and the shared experiences of Black women facing oppression.
"'I hold my heart like the gift it is,'" Tubbs said. "'In what version of the story, in my story, do Black women win?'"
Pastor closed the performances with a reading of his own about finding pride in one's identity despite the weight of society.
"'You look at yourself and wonder, who are you going to play today?'" Pastor said. "'When will you choose to build me up rather than keep me in pieces?'"
Pieces of paper were then passed out to the audience. They were instructed to write down a mantra or saying to add to a poster board. Some chose to write in spanish while others wrote song lyrics.
The finished product was a collection of mantras brought together into one poster done in the bold black-and-white style of Acción Poética.
Pastor closed the performance with a memorable Acción Poética affirmation: "Duermo poco pero sueño mucho," meaning, "I sleep a little, but I dream a lot."