"Tartuffe" is re-imagined for UVM stage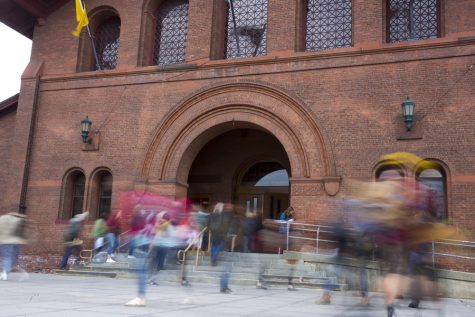 The UVM theatre department puts a contemporary spin on an old classic. "Tartuffe" the second production of the semester, runs Nov. 7 to Nov. 11.
The play was originally written in 1664 by Moliere, a prominent French playwright.
The play follows a wealthy family headed by Orgon who becomes enthralled by Tartuffe, a con man posing as a clergyman. The play details his family's exploits as they try to make Orgon see Tartuffe's deception.
Professor Sarah Carleton, "Tartuffe's" director said he fashion of Christian Dior inspired the play's costumes.
The set is a single large room that has 16-foot windows with sheer drapes, columns and a staircase. It's furnished with a bar, gold couches and a marble table.
Jeff Modereger, the scene designer for "Tartuffe," said Carleton's vision was clear from the first creative meeting.
Carleton wanted it to be clean, simple and large in scale to accentuate the fact the characters are a wealthy family in the city, he said.
"['Tartuffe'] is about how people can be susceptible to con artists. We see this happening in our country," Carleton said. "The emperor's not wearing any clothes, but people are too scared to say anything."
The cast and creative team have worked for the past month to put on the show, senior Katherine Reid said, who plays Elmire.
"You start with table work," Reid said.  "You learn how to imbue your character with energy and physical vitality."
Carleton said one of the greatest challenges of the show is the physicality. The show is being performed in a large space, so the vocal energy and physical presence of the actors is vital, she said.
Sophomore Shanley Kirk, who plays Orgon's daughter Mariane, said the rhyming couplets were a challenge when the actors first read through the play.
In spite of the challenges, "Tartuffe" is a comedy at heart.
"I still laugh every time I watch it," said sophomore Ben Bieri, assistant stage manager.
The comedy allows the audience to see relevant themes without over-stating, Reid said.
Tickets for "Tartuffe" are available at the Royall Tyler Theater box office and online. Tickets are $10 for students.