Tracking the progression of the unpredictable Kanye
Kanye West has always gone through phases, but his latest may just be his least creatively fruitful.
In the past few months, Kanye has found new meaning in his religion and showed promise in improving his mental state with his new advocacy for sustainability.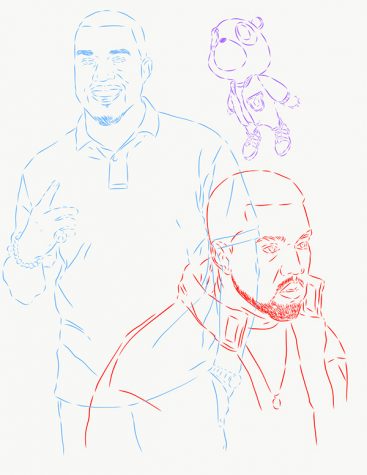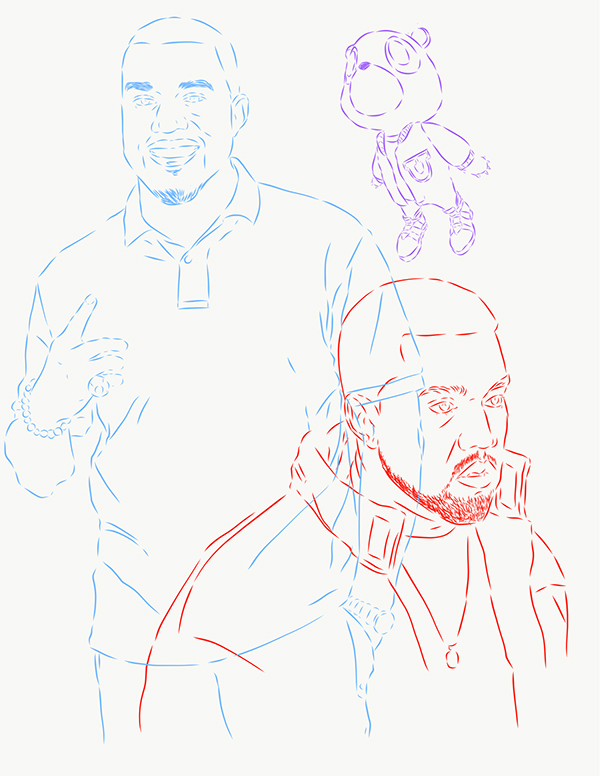 However, his new album, "Jesus is King," proves what we have always known about Kanye: that more than anything, he loves himself.
This motif of a bloated ego is possibly the only constant that Kanye has ever had in his life. Since the beginning, in albums like "Late Registration" and "Graduation," Kanye has never stopped flexing his narcissism in songs like "Can't Tell Me Nothing."
Kanye has also compared himself to Jesus in albums as early as "The College Dropout." Songs like "Jesus Walks" personify a sense of holiness within Kanye that allows him to justify his usual antics.
In many ways, the timeline of Kanye has its own Christ-like journey. As the prophet of a new form of hip-hop in the early 2000s, Kanye solidified himself as a generational artist. The golden age of Kanye was in full swing.
However, Kanye let this get the best of him and started to fall off once his new ideas in albums, like "808s & Heartbreak," weren't as widely accepted. The criticism got to a point where it seemed his career was on its last legs, but he resurrected himself in 2010.
Kanye reclaimed his seat on the throne but would never be the same. Since 2010, it feels like Kanye is always in a state of transition. This lack of confidence was closely linked to Kanye's mental health.
Over the past few years, Kanye has gotten married, been hospitalized and become ostracized in the political atmosphere.
Kanye's raw energy has defined his work over the recent past and seemed like a promising phase of music with projects like "Kids See Ghosts," but instead with the release of "Jesus is King," Kanye continues to be inconsistent.
Kanye is still Kanye, but compared to the rest of his career, "Jesus is King" may just be the period at the end of his testament.
In "Jesus is King," Kanye tries to prove that he has changed and is starting a new direction in his life, but he fails in convincing most. In past projects, Kanye has never acted like he wasn't the center of attention, but in "Jesus is King," he tries to veil his narcissism under his belief in God.
In songs like "God Is," Kanye devotely confesses his love of God, but instead of coming across as a devout Christian, he just sounds like his usual narcissistic self. He goes on about his "mission" and how much God resembles his family.
The same concept manifests itself in "Follow God," where Kanye talks about his struggles to be "Christ-like." This idea just comes across as comedic because nothing Kanye does in "Jesus is King" shows his supposed holiness. 
When a song like "Closed on Sunday" comes on, the listener can't help but wonder how seriously Kanye is taking this endeavor when he compares God to the "no. 1 with the lemonade." 
Throughout the album, Kanye lacks any sort of self awareness, which in prior albums benefited him so much. 
With the release of "Jesus is King," it's hard to see Kanye going much further with his musical output, especially when he says that this type of music is all that he will be making from now on.
No matter how much Kanye's ego pisses us off sometimes we can't help but love it. But with Kanye trying to veil his ego under some greater meaning, he fails to present any of the likability or raw emotion that he did in the past.
The evolution of Kanye was truly "Christ-like" from beginning to end. The duality of Kanye and Jesus is at the forefront of almost every album. Without these comparisons, Kanye will never be the same. 
"Jesus is King" gives us a look into a possible future, but as always, Kanye is completely unpredictable.
The only way to find out is to wait and see with fingers crossed that the evolution of Kanye continues to astound all who witness.