Troupe brings step dancing to campus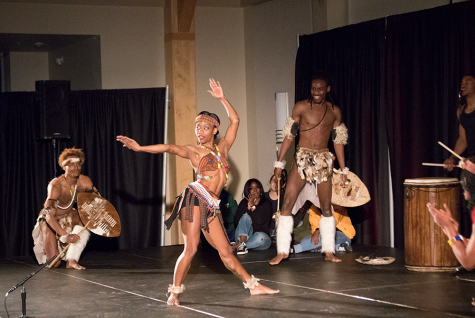 At the kick-off to this year's Black History Month celebration at UVM, dancers used their feet, hands and mouths to make music perfectly in time with their movements.
Traveling dance troupe Step Afrika visited UVM Feb. 6. The step dancing performance was hosted by the University's Black Student Union and the Department of Student Life.
First-year Arianna Morton said she was excited for the performance.
"I saw some pictures and it looked really amazing," she said. "My [dance] professor told me it had some interesting types of dance that I probably hadn't seen before."
Step dancing is a high energy, multi-rhythmic and highly percussive form of dance, performer Kiera Harley said.
The art form started in African American fraternities and sororities, said performer Taquez Whitted.
According to Daphne Wells, director of Student Life, UVM does not have any official black greek life.
"By nature of our location and our demographics of students that we have, those organizations have not been able to come here and achieve any amount of sustainability," she said.
Black greek life is not feasible at the moment, she said.
Wells said about one-third of the ballroom was filled at the event.
"It wasn't necessarily the turnout we had planned for, but it was still a good turnout," she said.
Wells said the ballroom typically is set up to hold 600 people, and anything could have deterred the students from coming.
Wells heard about the troupe coming to Stowe and reached out to them, she said.
"Seeing how it was up the road,  I reached out to their booking manager to see if they were able to stop by and perform here," she said.
Wells said she thought the performance would be a great addition to UVM's Black History Month programming.
"I thought this would be a program that would fit BSU's interests," Wells said.
All of the performers in Step Afrika have had different dance experiences.
Dancer Conrad Kelly said he has been dancing seriously since he was 18.
"I'm 27 now, so that's like nine years, but within the company some people started real early, like ballet at four, while some started later," he said.
Sophomore Ellie Guyon and senior Simon Bupp-Chickering heard about the event from Morton and the University's advertising.
"I saw the big posters outside and thought it looked cool," Bupp-Chickering said.
Near the end of the event, the performers asked audience members to come on stage and try stepping for themselves.
Both before and after the performance, three students went onstage to advertise and garner interest in creating a new step dancing team at UVM.
The students also had a table where people could sign their name if they were interested in the team.
"They got a pretty good number of folks," Wells said.
The Black Student Union is putting on more events this February to celebrate the month.
BSU is taking a group of 150 people to see the movie "If Beale St. Could Talk," on Feb 14. The group is hosting an event Feb. 21 about how to study abroad as a black student, and their annual fashion show is Feb. 23.