All-female band to open FallFest
The UVM Program Board announced Oct. 5 that artists Dr. Dog, Frankie Cosmos and UVM band Father Figuer will be performing at FallFest 2018.
It is the job of UPB's concert planning committee to find bands for Fall and SpringFest that they think students will recognize. Junior Max Greenwood is on the committee.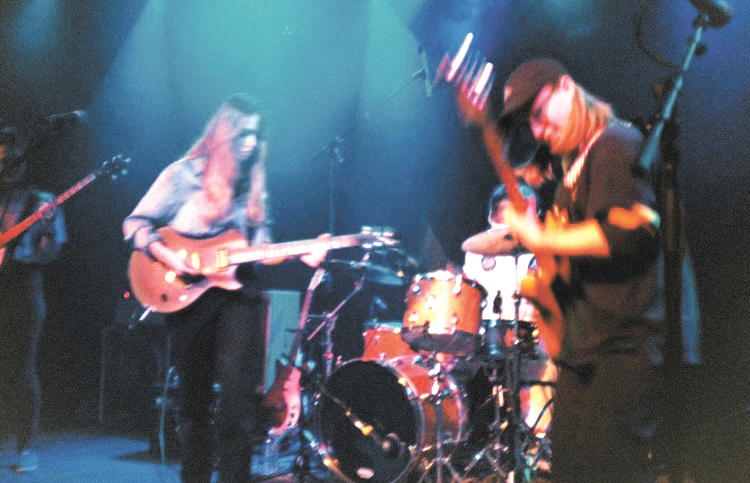 Greenwood said the committee thought Father Figuer would compliment the sounds of Dr. Dog and Frankie Cosmos. 
Father Figuer is an all-female student band who celebrates "the ubiquity of sadness," according to its website.
Juniors Erin White, Elise Albertini, Caroline Franks and Charity Beckert make up the group.
White said she and Franks took a songwriting class together and that the group blossomed from there. Beckert, the band's bassist, learned her instrument for the band and Albertini joined in to play the drums.
The group used to call themselves Bad Posture, but White said the name didn't quite fit the music they were writing.
"It felt like a completely different band," White said.
Father Figuer has only been playing in the Burlington scene since this past January, but four days before the lineup was announced, the band was asked by UPB if they were interested in playing FallFest, White said.
When Father Figuer got the news of who they would be performing with at FallFest, White said they had to take a few seconds to get over their excitement.
"I remember seeing Dr. Dog like three or four months ago, and just being like, 'oh my god, I'm watching Dr. Dog,'" Albertini said. "And now I'm like 'Oh my god, I'm playing with Dr. Dog.'"
The headliners of FallFest this year can be seen as a representation of independent music's past, present and future.
Dr. Dog has been an extremely influential presence in the music scene, both globally and in their native city of Philadelphia since the early 2000's.
"Dr. Dog is just so much a part of when I was growing up and going through high school," Beckert said. "The first thing I did when I found out and was allowed to tell people was call my friends from back home because we listen to him all the time."
Frankie Cosmos' focus on simple power chords, strong basslines and lyrical content is indicative of the style that indie music has evolved into.
While the New York based artist hasn't been on the scene as long as Dr. Dog, she has undeniably carved out a space for herself in the indie music world. Her first album was released in 2014, according to a November 2014 Pitchfork article.
Father Figuer represents the direction that indie music is headed: emotional, deep and fiercely unapologetic. Many of their songs are deeply personal and slow, but that doesn't stop them from playing in crowded basements on Friday nights.
Although basement shows make some people feel awkward, Father Figuer enjoys them.
"We like to make a little uncomfort, and then to resolve it," Franks said.
Aside from being full time students, Father Figuer have been working on an EP that they hope to have finished in October.  They plan to move on to an album after that. Fans of the band can expect a whole new lineup for FallFest, which all members of the band said they are excited to debut.
"I think the thing I'm most excited about is the new stuff," Albertini said. "It's gonna be crazy to play it live for everybody who's been with us all along."
White said that while she's ecstatic to be playing FallFest, she has already had anxiety dreams about the gig.
"It's worth the experience no matter what happens," Beckert said. "Even if we mess up or don't do well, it'll still be worth everything we've put into it."
FallFest will take place at 8 p.m. Oct.19 at the Patrick Gym. Tickets are $10 for students and can be purchased online.