Visiting dancer talks art and activism
The class chanted in unison as the instructor took it all in: "Self-consciousness is the illusion that this is only happening to me."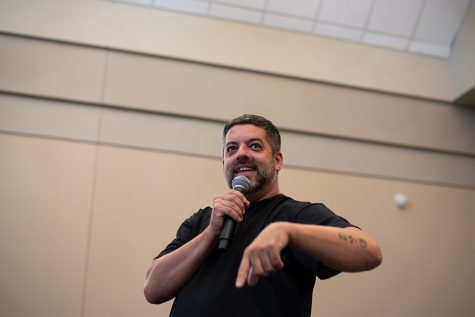 Contemporary dancer and choreographer Miguel Gutierrez came to UVM Sept. 18 as a visiting performer. The artist was there to speak to a class and to give a talk about his essay, "Does Abstraction Belong to White People?"
Gutierrez, who identifies as a queer latinx man, is focused on the intersection between performance and politics, he said. 
Selene Colburn is the assistant to the dean of libraries at UVM as well as the dance subject specialist at Howe Library. Colburn and Gutierrez have known each other since the early '90s when they were both living in San Francisco. 
Colburn introduced Gutierrez to the "Drugs, Demons and Dancing" class which focuses on the intersections between neuroscience, religion and movement. 
A choreographer and dancer, Colburn said she is attracted to work like that of Gutierrez. 
"I'm really drawn to artists like that who are working with really complex questions in the form of dance," she said. 
In a piece called "This Bridge Called My Ass," Gutierrez choreographed six latinx dancers in an effort to explore the relationship between race and representation. 
"Six Latinx performers map an elusive choreography of obsessive and perverse action within an unstable terrain of bodies, materials and sound," according to his website.
The dancers progressively strip naked, while telling a story with their bare bodies.
"I grew up from a point of view where I was always thinking about who is not at the table," Gutierrez said. 
Gutierrez's style of dance strays from what most are used to when they think of contemporary dance. His work relies heavily on improvisation, and he recognized that some might not "get" his style of art. 
"I understand that it's hard to be exposed to live art," Gutierrez said. "[Viewers] are 'getting it.' They just don't necessarily know what 'it' means."
In other words, simply by taking in the art in front of them, skeptical viewers are understanding the performance. 
"I think the idea that somehow a certain field of knowledge should just somehow be native to your experience is a really naive idea about how learning happens," Gutierrez said. 
Colburn echoed this sentiment, reflecting on the ways in which we as a people are uncomfortable with ambiguity. 
"We're in a time when there's not a lot of appreciation, tolerance or willingness to be in the unknown," Colburn said. "It's hard for people to spend much time in ambiguity."
Senior Annabel Diestel is a dance and neuroscience double major and is a teaching assistant for the class. She said she was familiar with Gutierrez's work before his visit to UVM. 
"My first impression of him was that I loved his incorporation of political and emotional ideas," Diestel said. 
Disrupting the boundaries that most people are used to in dance is undoubtedly a political endeavor, Gutierrez said. 
Gutierrez, successful and well-known in the contemporary dance world, said that finding an accepting and loving community is the secret to exceeding the expectations of those who discriminate against queer POC performers. 
"Look for your community. Look for your people," Gutierrez said.