Williams gallery finishes semester with student art
Rotting fruit, empty fish tanks and a pile of dirt are only some of the things that have been on display this semester in the Francis Colburn Gallery, a large room across from room 301 in Williams Hall.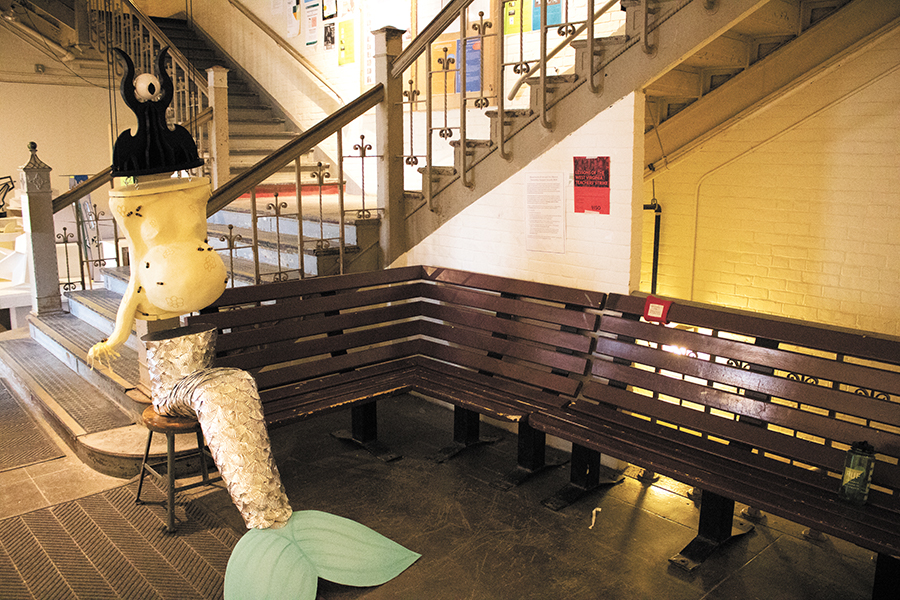 Run by the art and art history department and curated by Associate Professor Mildred Beltré, the Francis Colburn Gallery has hosted artists from around the country through the Mollie Ruprecht Fund for the Visual Arts.
The Fund was established in 2011 by UVM alumnus Bill Ruprecht '80 to bring visiting artists and critics to the school.
The gallery is named after Vermont artist Francis Colburn '34, who helped to establish the art major at UVM and was the chair of the art department for many years.
The gallery can accommodate a wide range of artists, both student work and work by outside artists, Beltre said.
"I think it works best when we have a combination of the two, and I certainly like to keep the gallery filled to bring as much exposure to students as possible," Beltre said.
This semester, exhibitions at the gallery have included one by alumna Estefania Puerta '10, several class shows, work by the art and history department's Junior Prize winners and from outside artists. Additionally, students have the opportunity to propose one-week exhibitions to Beltre.
For the weeks after Thanksgiving break, two class shows will be in the gallery. From Nov. 26 to  Nov. 30, the work of art education students will be on display.
After that, the advanced photography class will install their work, which is a culmination of what they have been creating all semester.
"All of our advanced classes are sort of geared towards having students build a body of work," Beltre said. "So this gives them a taste of what it is to do that and then make an exhibition."
The art education classes will be exhibiting work done by students who attend the Integrated Arts Academy, a public magnet school in Burlington.
The students created their work as part of an art education service learning class, Curriculum and Practicum in Elementary Art, said Erika White, the art education program director.
"The elementary students are always so excited to see their work in a real gallery setting," White said. "A gallery setting encourages viewers to slow down and look deeply at something they have passed over quickly in another setting."
The children's art was inspired by works on display in the Fleming museum, junior Ashley Bertolino said.
"The work done this semester has been incredibly fulfilling and fun," Bertolino said. "I admit I was surprised about what all of the students were capable of. No artwork is alike; every student's work is personal and carefully crafted."
The art education class used themes derived from objects in the museum to form the backdrop of creative sessions with students. The children were then asked to describe their work to each other.
"I think whenever an artist decides to share their work with our community, it's exciting," Beltré said.
The art education show will be the second to last exhibition in the Colburn Gallery. The work of art education students will be on display from Nov. 26 to  Nov. 30.
The advanced photography class will install their work last, which will be on display from Dec. 3 to Dec. 10.