Wind ensemble creates worldly experience
Some of Burlington's most adept musicians will be performing on campus at the end of the week.
The Vermont Wind Ensemble will be performing at 7:30 p.m. April 10 in the UVM Music Building Recital Hall, where  they hope to once again impress the audience with their progression as a band.
The ensemble last performed at UVM Nov. 15.  The group performs a differently themed concert at the end of each semester, according to their website. 
"It's an unusual group because it's a pretty even mixture of students, teachers and townspeople," conductor Alan Parshley said. "About 50 percent of the people are alumni from when the group was founded 30 or 40 years ago."
By combining the expertise of the group's veterans with the fresh brilliance of the current students, Parshley said the group is able to keep each recital unique, yet consistent in quality.  
"It is really cool for me as a music student to get to know the community around here with all the great players," senior trombonist Mei Endo said.
More than just the personnel will be evolving in this iteration of the band, however. Parshley has aptly titled the upcoming performance "Destinations" and expressed excitement over the globetrotting experience it will create.
The set list will include compositions from across the country and around the world, from pieces written for performances at Central Park to African style pieces for Mount Kilimanjaro.
"Alan picks great repertoire for the group," Endo said. "Each piece is unique and different, and for this show he's taking the audience on a road trip around America, and also manages to fly over to Africa to see Mount Kilimanjaro."
With such a compelling show lined up, the Vermont Wind Ensemble is hoping to impress their loyal fans and also attract many new ones.
"People who don't typically go would be surprised by the variety in the music," Parshley said. "Very modern, traditional and worldly, there are cinematic western sounds like Silverado and John Williams music, not just marches and patriotic songs."
The Vermont Wind Ensemble hopes to provide an engaging and enlightening show, particularly for concert-goers who have yet to broaden their experiences with classical music, he said.
"People are always enthusiastically surprised," Parshley said. "The show is not terribly long, only about an hour. Don't be afraid you're going to be stuck at a very long concert."
About the Writer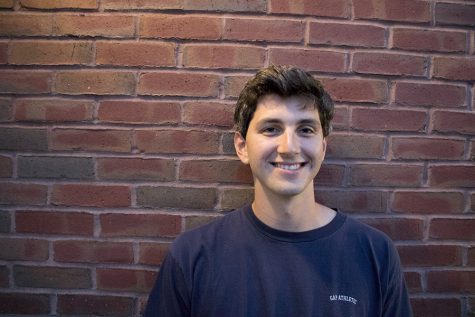 Ben Elfland, Managing Editor
Ben Elfland is the managing editor at the Vermont Cynic. He is a senior studying public communication with a minor in writing. His introduction to journalism...