FallFest 2019 attracts hundreds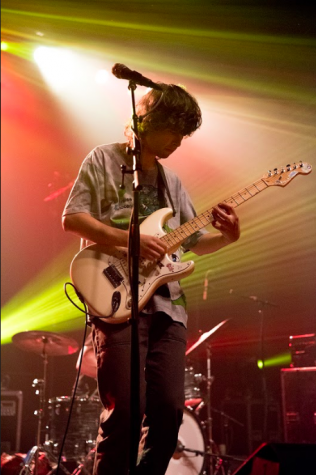 Patrick Gym was filled with an energetic crowd during this year's FallFest.
UVM Program Board's annual FallFest concert was held 8 p.m. Oct. 19 in Patrick Gym.
"Over 1,500 people came tonight," junior Indy Jeremy, a UPB concert committee chair, said. Jeremy said UPB sold around 2,100 tickets, which is 300 away from selling out.
FallFest opened with junior Lili Traviato, who goes by Princess Nostalgia on stage. Decked out in glittering face paint and pink flowing pants, she brought a lively presence to the stage. Her upbeat electronic music, hauntingly beautiful vocals and energetic dance moves had the whole crowd dancing with her.
"I'm a producer first and a singer second," Princess Nostalgia said as she prepared for her next number.
"They loved her," Jeremy said. "She's awesome."
Following Princess Nostalgia was Burlington group 99 Neighbors. The crowd was very enthusiastic during their performance, which included both students and performers crowd surfing and a large mosh pit. The hip-hop group contrasted high-energy rap music with mellow tunes.
Sophomore Donovan Lafontaine found himself grooving to the music.
"I like their sound a lot.  They're a good hip-hop group," Lafontaine said.
Headliner Coast Modern kept the energy going with their indie pop sound. The crowd sang and danced along to their popular songs such as "Dive" and "Guru."  
Though sophomore Christine Bahlinger didn't know the band, she said she still enjoyed the performance.
"They put on a good show.  I wasn't very familiar with their music but it was still really enjoyable," Bahlinger said. 
Coast Modern's stage presence matched their music: laid back and fun. The band interacted with the crowd by asking, "What's new?" and encouraging students to make a difference in the future.
"It was great," Jeremy said.  "Everyone loved not only 99 and Coast Modern, but they loved Princess Nostalgia."
After a requested encore from Coast Modern, the crowd left Patrick Gym around 11:15 p.m. The high energy of the crowd remained from the beginning of the performance to the end.