Farmers unite for cheese and dairy fest
UVM students skipped the dining halls and loaded up on maple milk and cheddar at the Cheese and Dairy Fest Feb. 19 in the Davis Center.
Local cheese farmers and producers displayed tables of cheese samples as they talked to students and visitors about the production process.
According to UVM Program Board's website, 93% of New England's milk supply comes from Vermont. Some producers source milk from one cow, while others source from hundreds.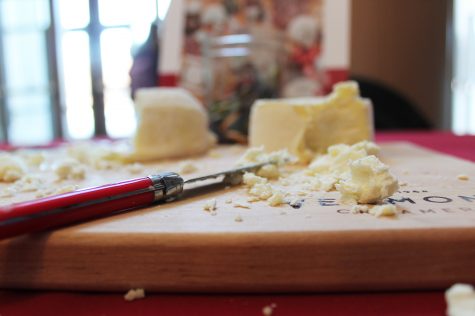 Cathy Vadnais runs Hillside Creamery in Milton, Vermont, with her husband, Rob Vadnais. They have two Holstein cows, Addy and Snowball.
Currently, only Addy is milking while Snowball, a cow rescued from a factory farm, is on hiatus. Addy produces eight gallons of milk a day.
"I am a one woman operation," Vadnais said. "I do everything except for milk the cows, which is my husband's job. This is his dream."
Vadnais makes garlic herb spread, yogurt, maple milk and cheesecakes with homemade cream cheese. She sells yogurt and maple milk at UVM's Marché.
"The science behind cheese is huge," Vadnais said. "They could have a whole degree on it here."
Vadnais said good cheese is not supposed to be perfectly consistent like manufactured cheeses are.
"All [of America's] dairy is altered but ours goes right from the cow to the vat to the product," Vadnais said.
Sophomore Maeve Dillon-Martin said she considers herself to be a diehard cheese fan.
"I like how people come together from different areas in Vermont," Dillon-Martin said. "They are able to show us what they do, because this might not be in a grocery store."
Carlton Yoder is the owner and head cheesemaker of Champlain Valley Creamery in Milton, Vermont.
Yoder's creamery sources its milk from 40 Jersey cows in Cornwall, Vermont.
"We're 100% grass-fed organic," Yoder said. "Part of our organic certification is humane animal treatment."
Tom Perry, cheese sales manager at Shelburne Farms, said that the price of milk has dropped by about a third over the past two years and that it is creating challenges for many working family farms.
Perry said knowing where your cheese comes from is key to economic and environmental stability.
"If you want to keep the working landscape across Vermont, you can do that best by supporting small local co-ops instead of buying cheaper from a national company," Perry said.