Student-curated exhibit and Victorian fashion now on view at Fleming
Transport yourself to a bygone era by viewing ceramics painted with intricate florals and dresses made of fine lace, without having to leave to comfort of campus.
Two new exhibits opened Sept. 21 in the Fleming Museum. A reception at the museum celebrated the reveal of "From House to Home," a completely student-run exhibit, and "The Impossible Ideal: Victorian Fashion and Femininity."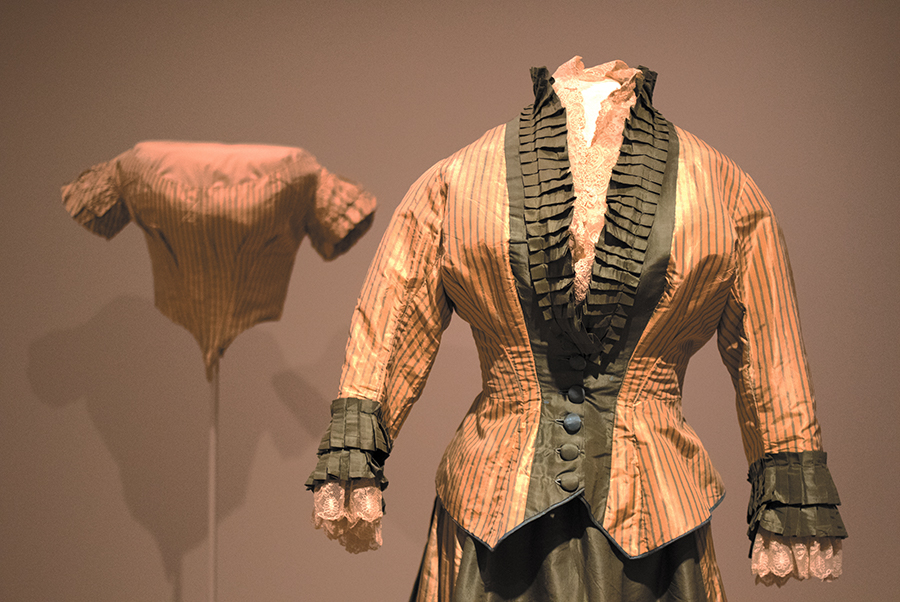 "From House and Home" displays common household objects from the Fleming's collection that originated from around the world and that were used during their respective time periods.
Some artifacts include Japanese tabi, socks that were worn indoors, and a bed key from the 1700s, a tool made to tighten ropes supporting mattresses.
The museum collaborated with professor Jennifer Dickinson and students in Anthropology 250, a course in museum anthropology, four times over the past few years, curator Andrea Rosen said.
The students got to take on the role of a curator by choosing the objects and deciding on a theme for the exhibition, she said.
"The students wanted to describe what makes a house into a home," Rosen said.
The students also wrote the object labels and came up with an intentional plan for the exhibition's design, she said.
Students initially wanted a mantle piece and a dining table sticking out from the wall. In the end, the museum compromised and built the mantle, Rosen said.
"The Impossible Ideal" shows off dresses, vintage fashion magazine clippings and other memorabilia from the Victorian era.
Such pieces include a parasol used by women to protect their "sensitive skin" and fancy gloves.
There is also an engraving of "The Marriage of Queen Victoria" from 1844, a green ball gown, multiple corsets and a two-piece day dress, all from 1860.
Because they are delicate pieces and easily damaged, the clothes need to be properly stored to keep them in good condition.
"We stored the costumes on site in the best stable climate conditions we can manage," Rosen said.
The museum also had a textile conservator, whose job was to repair, research and preserve textiles. They spent more than a full week setting up the dresses on the mannequins, Rosen said.
"I wanted to show how the garments represent what the limitations were that were put on women's roles at that time and how they were defined in various ways," Rosen said.
Senior Hayley Malloy said she loves old things and thinks fashion isn't focused on enough, so she enjoyed the exhibit.
Many students came to the exhibit openings for academic credit, but first-year Sadhika Hiremath was fascinated by what she saw.
"I'm really happy this is here — it's especially good for people who want to learn more about fashion," Hiremath said.
Junior Hailey Cray comes with her roommate whenever there is a new opening, she said.
"It's especially cool that the 'House to Home' exhibit was completely run by students," Cray said.
Both exhibits are currently open to the public until Dec. 14.