Japanese rope-tying is more than bondage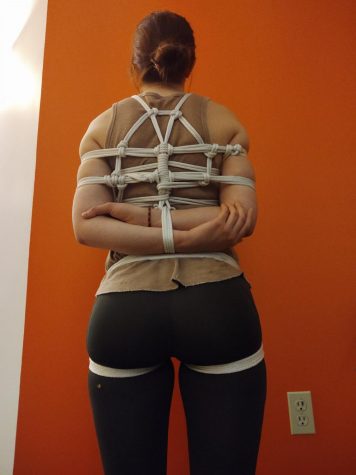 "Ropes provided for class."
Many minds jump to climbing; the sport involving scaling walls and boulders. 
Shibari: Japanese Rope Bondage is not for learning proper belay techniques, although both activities use suspension. 
Originating in 1400s Japan to bind and torture captives of war, Shibari has evolved into an art form where a rigger uses thin rope to artfully bind a rope bunny: someone who enjoys being tied up.
The first and third Tuesday of every month, Innovative Fiber Arts holds a rigging class from 6:30 to 7:30 p.m. at the Burlington Pride Center on 255 South Champlain St. Attendees go by aliases.
ESox, an instructor of seven years and IFA founder, begins every meeting by reviewing safety and consent. 
Participants first learn column ties, which are ties around any cylindrical object, before the group moves into complex ties such as a hip harnesses.
When there is a fifth Tuesday, IFA holds an open night called  rope lounge. StarStamped recounted some of their experiences with Shibari. 
"I've been tied to a chair," StarStamped said. "I've been mummified. It's always really fun."
The group extends beyond those present. 
"Over the past seven years, [we] have taught thousands of people," ESox said. "Visitors from across the states have joined, including special guests."
ESox said the class is a great opportunity to learn rope bondage techniques in a judgement free and safe space.
ESox emphasized that healthy atmospheres require consent. 
"Consent is informed decision making," ESox said. "When you are getting the permission of the person you are tying with, you want an affirmative yes. Consent can be taken away anytime." 
For beginners, Esox stressed the importance of not rushing . 
"But don't forget to have fun, experiment," ESox said. "Try the stuff that you want to try. You only live once so you might as well try the stuff that's going to get your rocks off while you're here."
Group goer Anichia expressed reassurance in realizing others had similar interests and emphasized accessibility.
"Go on Instagram, look up Shibari and you'll see these really pretty ties," Anichia said."You might find it sick and weird, but you might also find it beautiful."
Lessons themselves are devoid of sex, what attendees use their new knowledge for outside of the class is their own accord. 
Rope is more than just a way to connect to the community. StarStamped said the practice brings them to a clear headspace when they are stressed.
Anchia said Shibari gave them an outlet for stress. 
"I'd compare it to swaddling a baby in that sense that it calms you down and forces you to relax," Anchia said. 
For some, part of the connection is rope. While plastic rope exists for Shibari, ESox brings hemp-based rope, which he prepares himself. 
"By the time each individual thirty foot rope is used, it's been in my hands for at least an hour so I've developed a relationship with that rope."
An outlet, a class for improvement, a safe place, an exploration; Innovative Fiber Arts offers a multitude of experiences. Anyone can join the group on the first and third Tuesday of every month at the Pride Center on South Champlain Street.