Acceptance and inclusion at Burlington Pride
The sun shone down on the smiling faces of Burlingtonians as Church Street bloomed into a rainbow of support and pride.
The annual Burlington Pride Parade and Festival took place on Sunday, Sept. 8.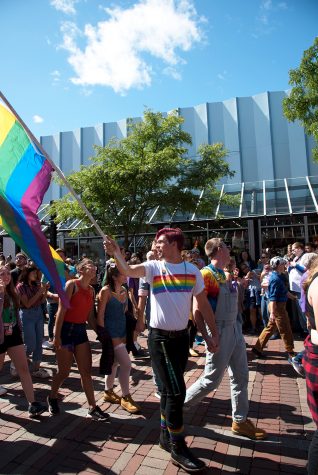 UVM faculty and staff marched with various groups and community members at this year's event. A large group of students met at 11:30 a.m. at the Allen House to walk down and represent UVM's Prism Center at the parade. 
Professor Tina Escaja, director of gender, sexuality and women's studies, helped to organize the walk with the Prism Center. 
"I thought it was important not just to walk on our own, but to be with Prism as part of UVM," Escaja said. "I think it's very important for visibility to have strength in our numbers and to be part of UVM within the larger community." 
After gathering for a group picture at the Allen House, the Prism Center marched down to the parade which started at the corner of King Street and South Winooski Avenue. Here, the UVM community had a chance to interact with the Burlington community at large.
People came dressed in colorful pride gear. Some brought their pets, children and friends to celebrate the event. 
While the day was a celebration, junior Liv Patullo also reflected on the deeper implications of the event. 
"For me, Pride is a way to remember those who have fallen in the fight for our rights,"Patullo said. "Pride is both a way to remember those who have fallen and a focal point for movements that we still need." 
Escaja also said that she noticed a more political component to the parade this year. 
"I thought, 'This is new, and this is very, very important.' It is not just a celebration, but also a chance to advocate," she said.
For some students, like first-year Christine Fleming, it was their first time participating in the Burlington Pride Parade. 
"For one thing, this is the first Pride I've ever been to. I have absolutely no idea what to expect," Fleming said.
After the parade concluded at Battery Park, the festival began. It included musical performances, food vendors and free face-painting stations. 
Various action groups, such as Planned Parenthood of Northern New England and religious groups were in attendance.
First-year Sofia Brinkerhoff said that Vermont's air of acceptance is what drew her to UVM.
"I think whatever your identity is, you have to work really hard throughout your life to figure out how you feel comfortable with yourself." Brinkerhoff said. "That was one of the reasons I wanted to come to Vermont for college, because I knew they were going to be very accepting," 
Reflecting on what Pride means, Fleming said, "I guess Pride is just being comfortable and proud of who you are, no matter who you are." 
Escaja said that the turnout at Pride was inspiring for her as an educator.
 "For me, it's fantastic to see all these students in particular being engaged in the sense of community and interaction," Escaja said. "I think it's part of the whole celebration. The thing I always take with me is the sense, the spirit and the people."