Easy and healthy meals to make off-campus
If you are living off-campus with no meal plan, don't worry! Here are a few satisfying and speedy recipes based around healthy complex carbohydrates and veggies that will come together in 40 minutes or less.
For plant-based protein sources that are sustainable for the planet and slim budgets, play around with adding in beans, tofu and seitan, which can all be bought in bulk at City Market (an even better deal: 10 percent off on Thursdays).
And if you're cooking for one, each recipe makes four-five servings to make sure there are leftovers for lunch so you can walk past the Marketplace confidently with your tupperware in hand, free of temptation to spend money on overpriced food.
Warm Panzanella Salad
Vegetarian
Panzanella is a bread dish from Tuscany, Italy that was invented in times of famine by crafty Italian cooks who managed to upgrade the stalest of old crusty bread loaves into a fresh, filling and nourishing meal. With just a little toasting and love, that aging bread sitting on your counter can avoid the compost and be transformed into a satisfying salad.
Ingredients:
-1/2 of loaf of whole wheat bread, cut into ½ inch cubes
-Lots of cherry tomatoes, halved
-4 cloves garlic, quartered
-Basil, chopped into ribbons
-Olive oil
-Vinegar to taste
Instructions:
    Preheat oven to 375º F. Spread the bread cubes out onto a sheet pan, toss with oil and seasonings then put in the oven. Take out the cubes when they're crisp and browned. Meanwhile, put the garlic and tomatoes in a small baking dish, drizzle with oil and roast along with bread cubes until tomatoes have softened and the garlic is golden.

    After the tomatoes and the bread cubes have cooled, put them into a large bowl and toss with olive oil, basil, seasonings and vinegar to taste. Garnish with basil and serve.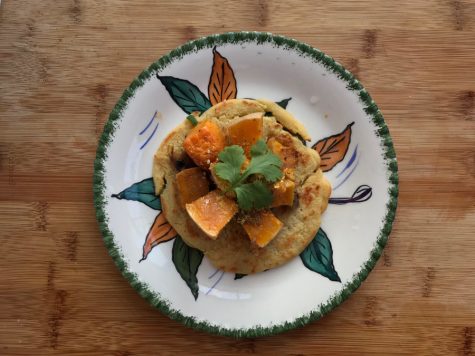 Chickpea Crepes (aka Socca)
Vegetarian and Gluten Free
I love topping these crepes with roasted veggies and a small tower of nutritional yeast flakes, they're like edible canvases to be filled with anything. Feel free to grab inspiration from Skinny Pancake's menu if things like their Heartbreaker are becoming your budget breaker. Stick the batter in the fridge overnight to make protein-packed breakfast crepes in the morning that come together quickly but keep you full for hours.
Ingredients:
-1 cup chickpea flour
-1 cup water
-1 ½ TBSP of olive oil, plus more for the pan
-½ tsp salt
Instructions:
    Whisk together all ingredients in a bowl until you have a smooth batter. Let sit for at least 30 minutes.

    Heat a round sauté pan and add a tablespoon of oil to it. When the oil is hot, pour a bit of batter into the pan and swirl it gently to form a wide and flat crepe. Cook until the underside no longer sticks to the pan and then flip. Repeat until you use all the batter.

    Top with anything and everything you love!
Whole grain Penne with Sautéed Butternut Squash, Caramelized Shallots and Chickpeas
Vegetarian
Sweet, tender and comforting, sautéed butternut squash is the flavor of fall to me and its vibrant golden color always reminds me of autumn's foliage and pumpkin patches. Penne is the best vehicle for carrying as much creamy butternut sauce as possible,  but other types of pasta will work as well.
Ingredients:
-1 butternut squash, peeled and cubed
-3 shallots, sliced thinly
-14 oz of whole grain pasta
-3 cloves garlic, quartered
-2-3 cups veggie broth or water
-Olive oil
-Nutritional yeast
Instructions:
    Heat a few tablespoons of olive oil in a wide bottomed pan. Once the oil is hot, add the shallots in and let cook until translucent.

    Toss the squash and chickpeas into the pan, season with salt and pepper to taste and let cook for 7-10 minutes. When squash is slightly soft and caramelized, add in the garlic and saute until fragrant.

    Pour in the broth to the pot and bring to a boil, then let simmer for about 15 minutes until the broth has reduced by half and the squash is tender to the touch.

    Meanwhile, cook your pasta until it's al dente and drain, reserving 2 cups of the pasta water. When the squash has finished cooking, blend it up or add it straight into the pot with pasta. Cook the squash and pasta together for a few minutes, adding in a ¼ cupful of reserved pasta water at a time until the squash sauce coats the penne. Mix in the nutritional yeast and serve!