Inaugural Creative Arts Expo celebrates student artists
The Great Room in McAuley Hall was turned into a bustling artist's market and open mic last week.
The first-ever Creative Arts Expo was held March 29 on Trinity campus. At the expo, student artists sold their own work, and student musicians and poets were given an opportunity to perform on stage.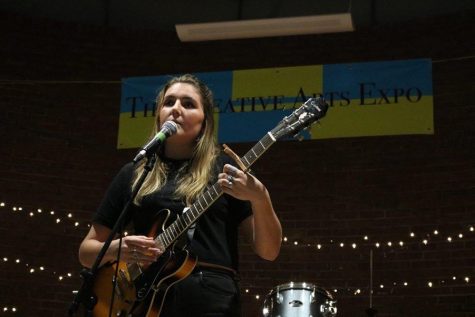 Over 200 people attended the expo and 50 participated in the open mic, according to the event's Facebook page.  
The Creative Arts Expo was hosted by the Arts and Writing Council, a collective of the University's arts and writing organizations.
Rap & Spoken Word, the Creative Writers Guild, The Gist, Crossroads, Headwaters Magazine, UVM Film Club and Free Verse, all members of the Council, contribted to the planning of the event.
Senior Seth Wade, co-editor-in-chief of The Gist, UVM's literary arts magazine, was one of the organizers of the event.
"We noticed there's a lack of awareness regarding the arts and writing opportunities for students," he said. "We wanted to connect with the downtown Burlington scene and celebrate student art."
Sophomore Diane Fenner, president of the Creative Writers Guild, said Wade had asked her and other groups back in January to be a part of the event.
"I thought it was a great opportunity to spread awareness of all of our clubs to the UVM community," she said.
Fenner said the communication between arts-related clubs had not been great in the past and she was glad that this event had brought them together.
Sophomore Liam O'Connor -Genereaux explained why he came to the expo, saying that, as a transfer student, there were not many ways to engage with the community.
"This has been my first idea of how big UVM's creative community is, and it's pretty cool," he said.
First-year Daisy Hutter was selling bottle cap earrings and buttons at the event.
"Since 2016, I've been making bottle cap jewelry," she said."I would just go to bars and diners and collect what would otherwise be thrown in the trash. It's a sustainable process and it brings a lot of joy to people."
Hutter said she has big ambitions to expand her hobby and thought that UVM provided the resources to connect to internships to achieve them.
"I really want to be an art therapist and combine my majors, art and psychology," she said. "I've got big dreams."
Events like the Creative Arts Expo make Hutter feel like she chose the right school, she said.
"I think the culture of Burlington and its coolness makes UVM naturally great at art," Hutter said.
Senior Giannina Sol, Full Walrus, J Bengoy, and Jackie & The Treehorns all performing their original music on stage.
Senior Natalia Bastante said they felt the UVM administration was not receptive to artistic events.
"It sucks that they claim they support the arts but they're actually defunding them," they said. "For example, my adviser is retiring and they're not replacing him, which puts my capstone project in danger."
Bastante said they thought the UVM administration didn't have the right priorities.
"We just need to cling to our art and our University, and say no. Our art, our voices, our University," they said.
University Director of Communications Enrique Corredera stated that the University has continually supported CAS for several years.
These efforts include:
"Fifty million dollars in fundraising for student scholarships; chairs and professorships; academic support and improved facilities, $72 million in central funding for capital projects; faculty start-ups; faculty lab renovations and facility improvements and $2 million special annual allocation to help reduce the budget shortfall," he stated.
This story updated April 10 at 4:16 p.m. to include comment from the University.