No tricks, only treats for VT families
In this most eerie season, Burlington parents can attest that trick-or-treating in a college town is decidedly not the spookiest part of Halloween. 
With this holiday comes hoards of college-aged witches and ghouls partaking in family- unfriendly festivities, though these rowdy shenanigans are not a source of anxiety for parents.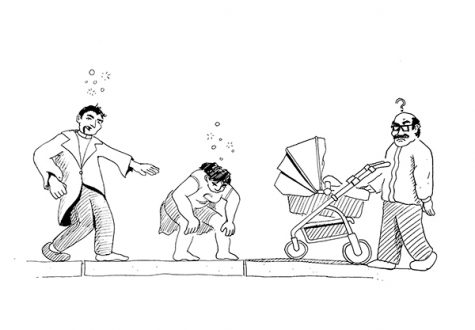 Burlington has a strong multi-generational population, from rowdy college students to budding families. This creates an interesting dynamic year-round but especially during Halloween.
Halloween is celebrated by various means throughout different age groups. As a result, there is an underlying fear of confrontations that could put children at risk. 
Burlington parents' attitudes towards their college neighbors dispel any sense of apprehension. 
Local mom Samantha Tilton and her 6-year-old daughter have enjoyed a positive trick or treating experience alongside their college neighbors.
"[Trick-or-treating in a college town] may have made the experience more fun," Tilton said. "We have several houses of students on our street and usually they are very sweet to us on Halloween."
Not only have UVM students not been a disruption to this holiday tradition, they can enhance trick-or-treating for children and parents alike.
"One year our neighbors, who were college students, dressed up as Teletubbies and handed out candy," Tilton said. "Everyone that we have interacted with in our neighborhood has been safe and kind." 
Another local mom Nina Hanson also had a positive take on the students with whom she shares a street.   
"We have a really friendly relationship with the college kids in our neighborhood," Hanson said. "I'm aware that they probably get a little crazy for Halloween, but they're very respectful of the families on the street and we hardly hear or see anything suspicious." 
Burlington families are aware of college students' reputation for partying, but they don't feel the need to make adjustments to their Halloween routine. The schedule of a third grader looks very different than that of a 15th grader, which ensures the avoidance of unwelcome encounters. 
"We go out early, usually around 5:45 p.m. to maybe 7 p.m. If there were any parties happening, they would probably be later," Tilton said. "If a house was having a loud party, we probably wouldn't stop there anyway. We don't change our Halloween plans due to students in any way." 
Though their interactions have been pleasant, parents naturally worry over dangers that accompany Halloween's festivities. 
"Our experience has been wonderful, but you always have to be careful," Hanson said. "It's troubling to think that people might not be driving sober while my kids are out on the street, but that fear comes with every town, not just ones near a university." 
Every family must grapple with the risks associated with observing a holiday in a city. UVM students do not appear to add to this misgiving, but instead bring an element of bi-generational fun. 
Sophomore Colden Seaman grew up trick-or-treating in Burlington.
"I had a super positive experience," Seaman said. "I had a close group of friends and knew the best houses to go to."
His childhood fun was not spoiled by the antics of undergraduates. Now that Seaman is one himself, he said that the festivities of these two age groups don't intersect dangerously. 
These Burlington residents' sentiments towards their ability to safely celebrate Halloween is a positive reflection on the UVM community. Despite their close proximity to a college, families have very few qualms about trick or treating with their children. 
Regardless of the fears of college shenanigans, the Halloween celebrations of Vermont involve no tricks, only treats.