Shared space for women in business
Marco Cepeda, Staff Writer
November 16, 2018
Hang on for a minute...we're trying to find some more stories you might like.
Currently statistics show that of all UVM students who study at the Grossman School of Business, about two-thirds are men and only about one-third are women.
A 2-year-old club called Women in Business (WIB) is trying to change this and get more women to pursue math and science careers.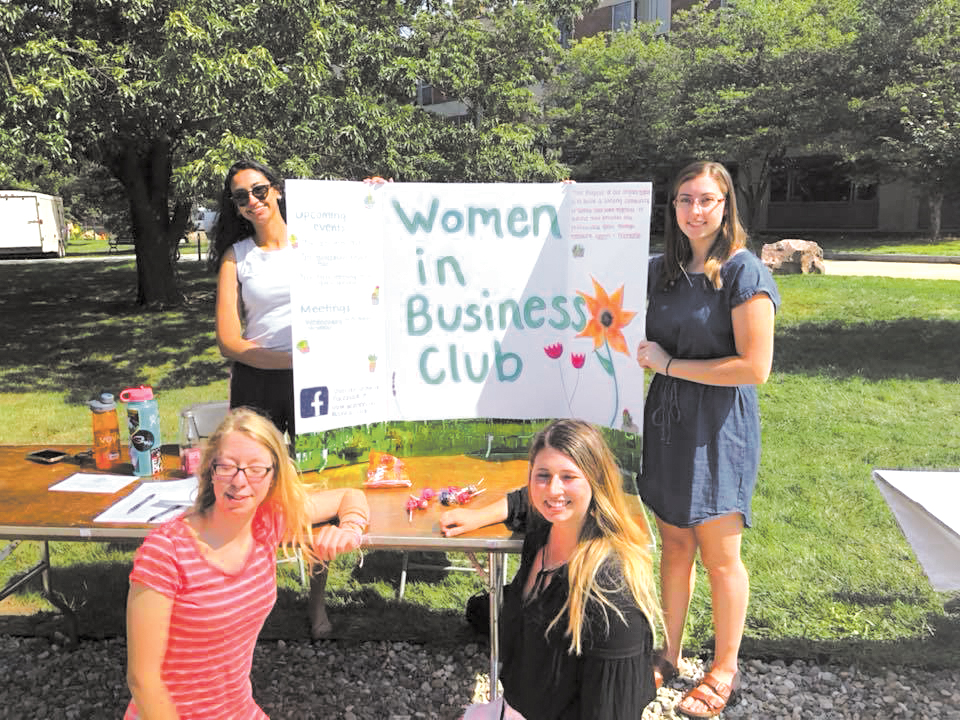 Women in Business acts as a space where women studying business can create community and share experiences. The club meets from 5:30 p.m. to 6:30 p.m every other Wednesday in Ifshin Hall.
Senior Natalia Ruiz, a business major with a concentration in marketing, said the purpose of Women in Business is to create an environment for women to feel comfortable in the business school because it's so male-dominated.
"We're seeing less and less women in our classes, and the community is getting smaller and smaller so we wanted to do something about it," Ruiz said.
Accounting Professor Joanne Pencak is the adviser and founder of Women in Business.
The club started right after the 2016 presidential election, she said.
"A bunch of people were in my office and they were really bummed. When I asked them what they were gonna do, they shared their ideas and that's sort of how the the club got started," she said.
According to Ruiz, Professor Pencak has been an excellent role model.
"She's always able to speak her mind even though it might be uncomfortable sometimes, and she just goes for it so I really look up to that," Ruiz said.
In return, Professor Pencak shared kind remarks about the students she works with in Grossman.
"I like working with young people," she said. "I like to be around those who are thinking about the future and forward thinking. It just makes me more optimistic."
Ruiz and Pencak recently attended a case competition hosted by Target in the Kelley School of Business at Indiana University.
At the competition, Ruiz collaborated with three other Grossman students to come up with solutions to diversity related problems at a company, she said.
Pencak is not the only role model the club has.
Junior Madison Tiedt, a Finance major, mentioned Sandy Wynne, a local businesswoman who recently spoke to the club, whose presence resonated with her.
"She was like this rocket," Tiedt said. "She was so full of energy and so knowledgeable about the fair-trade industry and having her come was really interesting."
Another woman that inspires Tiedt is her mom, Tia Tiedt, the current president of Kate Spade Shoes.
"My mom is a powerhouse of a woman and comes from a low-income family," Tiedt said.
Senior Alivia Nelson, a business major with a marketing concentration, is hopeful that more women will enter the hard science field careers.
"As more and more women enter these fields, it is becoming easier for others to see themselves in those roles," Nelson said. "UVM has a strong support network for women trying to pursue more stereotypically masculine fields across all of its colleges."
Senior Jatinder Gill is also a Business Major with a concentration in accounting. Gill mentioned that he was recently apart of a project with women to recruit high school girls to join STEM.
He also said working with women has enhanced his time at UVM.
"Professor Pencak makes class really fun. And Natalia is personable and really easy to talk to," he said.
Students interested in Women in Business should attend the next meeting at 5:30 p.m. Nov. 14. The meeting will feature a speaker and local female business owner.