Students go to Boston to view history
Mummies, pottery and ancient art are a classicist or archaeologist's favorite subject.
All were found on a recent field trip to the Museum of Fine Arts, Boston.
A bus full of students who were quick enough to secure a seat on the trip made the four hour drive to Boston March 23, to view the MFA's large collection of historical artifacts.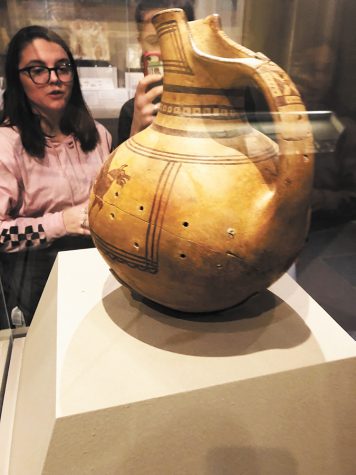 The largest museums on the East Coast are the MFA, Metropolitan Museum of Art, and Philadelphia Museum of Art. Stephanie Chiu, an associate professor of classics, said. Faculty took students to the MFA because the musems had recently finished construction on a new gallery.
"The art department, classics department and the classics club all threw money at the trip to make sure it could happen," she said.
Students had to pay $30 to go on the trip, Chiu said.
Without the department and club money, the students would've had to pay $80 each, she said.
"Budget cuts are going to make trips like this even harder," she said.
Chiu said that with less of a budget, the departments will probably have to make students pay more than $30.
Some students went to the MFA due to an Ancient Egypt class requirement, but more than half spent the entire day, getting up before 7:30 a.m., just for the experience.
Others went because the field trip has been occurring for several years, and serves as a kind of tradition.
"It's a bit of a classics club tradition to go on this trip, and I wanted to spend time with my friends," junior Catie Michael said, referring to the club consisting of classics majors and  other enthusiasts of that era.
Many people were simply happy to be with friends.
"I also went because I wanted to hang out with my friends," Jarvis said.
Upon arriving at the museum, students were allowed to either go on a tour led by Bill Mierse, an art history professor, or go their own way.  
"My favorite pieces were a Greek statue of the Athena Parthenon and bust of Augustus," sophomore Tori Jarvis said.
Students were able to view artifacts of ancient history, and  objects of contemporary art.
"I loved Vincent Van Gogh's painting of a hill," junior Marci Murdock said.
Many students said they would be disappointed if trips like this were no longer able to happen.
"This is absolutely something other students should do," first-year Henry Stone said. "It's a total blast."
Underneath all the enthusiasm for the trip, some resentment remained over the recent budget cuts to the College of Arts and Sciences, as all of the students on the trip were a part of the college.
"I'm disappointed that they punish the departments due to the lack of funding that CAS brings in, despite CAS having the most enrollments out of all the colleges in the University," Jarvis said.
Chiu was optimistic that this would not be the University's final trip to the MFA.
"It's a lot of work, but it is a labor of love for us," she said.