New streaming service broadcasts college musicians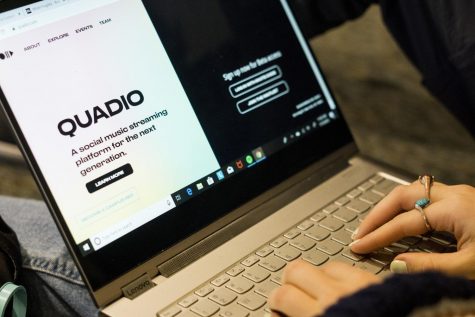 A team of developers are preparing to change the way college students digest music.
Quadio, a new music streaming service based in NYC, is already gaining followers though it hasn't been released yet.
The service will circulate college music to other college campuses around the nation, including UVM.
Quadio is currently collaborating with UVM local music groups such as Juicebox, Princess Nostalgia, Batter and Big Sip, who plan to upload music to the site.
Ula Klein '18 works in artist relations for Quadio. She lives in Brooklyn, New York. 
Klein was involved in the music scene when she was a student at UVM. She did her own solo work and was in a band shortly after she graduated.
"The end goal [of Quadio] is to connect artists who are in college from all over the country to the music that's being made both in their local areas and beyond," Klein said.
The initial round of artist beta for Quadio was released on Jan. 14. The nationwide launch of the website will be in February. It will be available as an app in the future, Klein said.
Quadio was founded in October 2018 by 2015 Cornell University alum Marcus Welch. The startup has since grown significantly, Klein said.
The company currently has about 40-50 employees, almost all under the age of 30, Klein said.
A crucial factor for Quadio is their implementation of  "campus representatives." Quadio already has over 200 campus representatives across the country. 
There are two campus reps at UVM: junior Max Byrd and first-year Jeff Brenner. 
Byrd helps to organize BadArt, a small but well-known music and art collective that hosts shows around Burlington. 
Klein reached out to Byrd on Instagram.
As a rep, Byrd promotes Quadio around UVM. BadArt and Quadio are set to have a co-sponsored show on Valentine's Day at local DIY venue Scooter House, Byrd said. 
"We want to help [students] build a community around their music scenes," Klein said.
Klein, along with Cornell 2019 alum Ophie Mazza were a part of Quadio's initial "Road Warrior" team. 
For three months, they toured the country to promote the startup at different campuses and get an understanding of each school's music scene.
"We want to change two things," Mazza said. "We want to change how music is being discovered, and we want to change how it's being made."
Quadio will also allow musicians to list the bands they're a part of and to post what kinds of musicians they would like to collaborate with, Byrd said. 
Klein said it is exciting to be at the forefront of a company's start.
"The energy [at Quadio] is really young and passionate," Klein said. "And everyone is either a musician or loves music in just this really intimate way. We practice what we preach, which is such a cool thing to be a part of."