Pho Hong serves up sweets and spices
The air was sizzling with spices as hungry patrons chowed down on huge bowls of noodles and curry.
My friends and I had just walked into Pho Hong, a Vietnamese restaurant on North Winooski Avenue.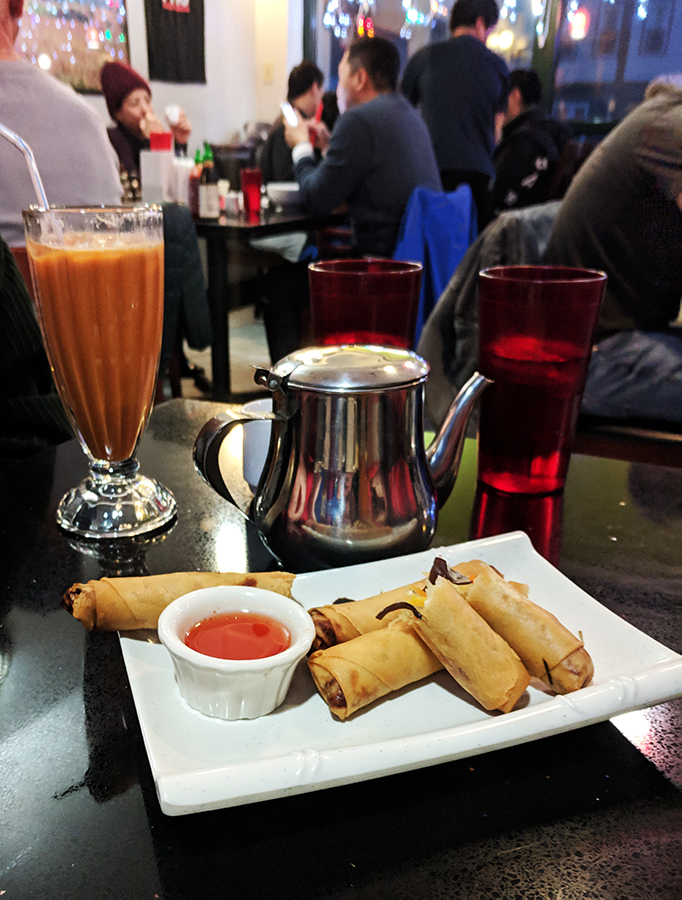 My first impression of Pho Hong was that it was a bit small and crowded, with people sitting shoulder-to-shoulder.
As soon as our table of four was called however, I didn't even notice the proximity to other people.
The atmosphere of the place took over, and it felt like I was sitting in someone's house while they made me dinner.
The casual setting was very soothing, and the black tea they served aided in my relaxation.
We started off with drinks, ordering Thai iced teas and an iced espresso that did not disappoint.
Served in a classic milkshake glass, the Thai iced tea was almost as sweet as a shake but had more tang to balance. The iced espresso was also delicious and refreshing, helping to wake you up and cool you down.
We ordered an assortment of appetizers and entrees like wonton soup, spring rolls, curry, fried rice and grilled pork.
The service was attentive and quick, and we got our orders in no time.
Sophomore Ellie McGee was very impressed with the coconut curry, she said.
"[It] was amazing," McGee said. "It was just the right amount of spice, not too much or too little, and very creamy without being heavy."
Sophomore Becca Turley added that she thought the combination of curry with Thai iced tea was the way to go.
"The drinks were very sweet and delicious," Turley said. "But they helped fill some of the lingering spice left in my mouth from the curry."
The grilled pork I ordered was savory and tangy, with sauce that was a little sweet and added extra flavor.
The jasmine rice and vegetables that accompanied added softness and crunch, really taking my meal to the next level.
When we finished, the check arrived with guava candies.
Split four ways, we payed less than $20 each. For the quantity and quality of food we received, we got our money's worth.
We walked out into the cold Vermont night with our stomachs full of delicious food and agreed that Pho Hong was going to become one of our go-to places.