Sri Lankan Tea Pickers: Plantations and the Periphery
Ali Barritt, Staff Writer
February 21, 2019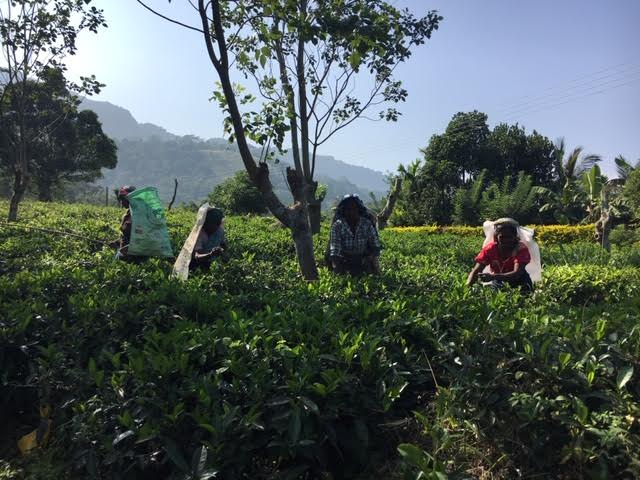 I found myself standing on a government-owned tea plantation in the Western Province of Sri Lanka, Dec. 30, 2018. My UVM classmates and I were just outside the Janaudanagama village, where we had lived for a few days.
I was one of 12 students enrolled in the winter session course Travel Writing in Sri Lanka. The trip was from Dec. 26 to Jan. 12. We visited various historical sites, saw wildlife and worked closely with a local nonprofit. The trip was a formative experience for many of us, as few of us had ventured to Asia previously. We were exposed to new people, lifestyles, and social dynamics. All the while, we were encouraged to engage in deep cultural anthropological introspection which we jotted down throughout the trip. These observations then culminated in a travel writing formatted composition. No matter the reason for joining the trip–if only to escape the cold for a few weeks–we certainly left the endeavor with less American-centric mindsets and heightened intercultural awareness. Many of us are now hearty advocates of UVM winter session travel courses.
Junior Mae Mae Morrical said she found the most memorable part of the trip to be the safari. The group saw animals such as elephants and water buffalo.
Junior Ellyn Lapointe most cherished being welcomed into the Janaudanagama village.
"I was overwhelmed by the incredible gesture of hospitality," she said.
A few days into the trip, we stood with four Tamil tea-pickers. The women carried thin, coffee-bag-like leaf collection bags, attached to them by a band around the forehead.
They had gathered on their day off to demonstrate to us how they pick tea leaves. Despite their laborious work, they earn only a few hundred rupees a day, the equivalence of a few U.S. dollars.
A picker who bags 18 kilograms of leaves in a day makes about 380 rupees, or $2, according to a May 2014 New Internationalist article.
Nearly a month before we reached Sri Lanka, the world's top tea exporter, tea plantation workers went on strike Dec. 4, 2018. Plantation workers are currently demanding to be paid 1,000 Sri Lankan Rupees a day, according to a December 2018 Colombopage article.
Morrical was amazed at the number of leaves the women picked regularly.
"They deserve more [money] because of how much time and energy it takes to do what they do and in the heat," she said.
Tamil tea pickers live in less than ideal conditions. Indian Tamils were brought over by the British in the 1840s to pick tea, and their descendants continue to live in the housing introduced by colonial planters: 200-foot, dilapidated barracks.
Tamil tea pickers have remained trapped within the Sri Lankan plantation system, closed off from other occupations due to their language barrier; though Tamil is an official language of Sri Lanka, it is not widely spoken.
Similarly, until October 2003, 300,000 people in Sri Lanka of Tamil Indian descent did not have citizenship in either India or Sri Lanka.
During our trip, we were invited to pick tea leaves with the Tamil women. One woman began mechanically snatching leaves off of plant stems. I tried and failed in making sense of the pattern and replicating it, which she soon corrected through gestures, guiding my hands.
A woman in her 80s joined us and began speedily gathering leaves. I was shocked to see her exert herself to an extent that would become incredibly exhausting over the course of a day, let alone for a few hours.
Tea plantation women often must work into old age to support themselves, according to a New Internationalist article.
I dramatized my slow, unskilled speed and then the older woman's speed and provoked laughs. For a moment, though we shared no language in common and came from such varied origins, the three of us felt connected, if only through a few laughs.
We had one more opportunity to connect with the tea-picking community; the women and their daughters were invited to a "cultural show" in the Janaudanagama village.
Their daughters danced alongside the villagers' daughters, music transcending language barriers and caste and ethnic differences. The little girls all smiled vibrantly, clearly unaware of the differences that their parents' and older generations have allowed to separate them.  
Lapointe said she wished the group could have spent more time with the Tamil tea pickers.
Morrical said that by the end of the trip, she had learned a lot.
"I learned more about the way [Sri Lankans] live and see the world," she said.
I also became enlightened, gaining insight into Sri Lanka's social structure–which is clearly deferential; ethnic and linguistic diversity–gaining exposure to the languages of both the Sinhalese and Tamils; array of landscapes, ranging from tropical rainforest to plains; food–such as readily available coconut often served ground on the side with chile or used as the base for curry; and endearing hospitality–best demonstrated by my host family. Perhaps I will one day return.