Girls Who Skate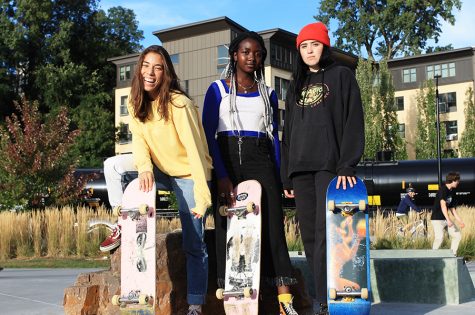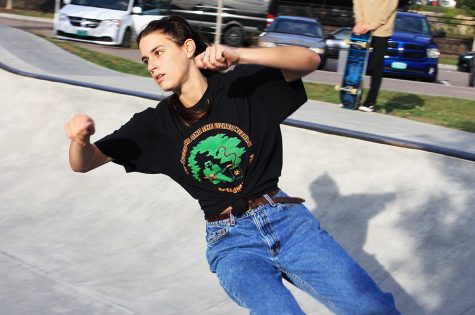 The sun dipped lower into the Adirondacks, casting a golden glow on the skaters.
Sophomore Ivana Djiya and junior Abby Trombley rolled up in a 2008 Subaru Outback, hopped out, dropped their boards on the sidewalk and glided straight into the bowl.
Djiya, Trombley and junior Paige Van Patten are three of the female skaters who frequent the Andy A. Dog Skate Park on Waterfront North.
Four years ago, Burlington invested $1.75 million in the construction of the park.
Today, the park continues to attract countless skateboarders.
The park's creation has also been a catalyst for women to gain confidence and find empowerment through skating, although the journey hasn't always been smooth.
Djiya reflected on the perception of skaters in her home state of Pennsylvania.
"Back in my hometown, skaters are seen as degenerates and lowlifes," she said. "I feel like the common stereotype [of skaters] is more negative, like a counterculture. They don't respect people or authority, but in the Burlington scene, it's completely different. People are motivated."
The video game "Rocketpower" was Djiya's first exposure to skating when she was younger, she said.
"I always tried doing it in high school, but my friends were whack so they never wanted to do it with me," Djiya said. "I started the summer after senior year and I love it. I'm obsessed now."
Djiya recalled her first experience coming to A-Dog Skate Park with laughter.  
"Oh my god, dude," she said. "It was so intimidating."
It turns out all of them were met with a bit of hostility when they first began skating, and it took a while to feel like part of the community, Trombley said.
"It's kind of intimidating putting yourself in a new group while also trying to learn a new sport when everyone else seems really good," she said.  
Last year there were only two other female skaters, seniors Honor Klinkner and Amanda Brunham, with whom Djiya and Trombley instantly felt comradery, they said.
"We all just ended up coming on the same day at the same time," Djiya said.
Klinkner and Brunham eased some of the discomfort they were experiencing starting out, Trombley said.
"They were like 'oh, we don't ever see girls here,' and they said, 'let's skate, we'll show you some stuff'," she said.
Klinker reflected on being one of the first female skaters at A-Dog with her penny board, even before the park was fully finished.
"It kind of sucks skating by yourself, so having this huge group of girls is really awesome," Klinkner said.
Van Patten quickly became part of this dynamic when she started skating just a few months ago and recalled a comment from a male skater when she fell the other day.
"I fell and ripped my pants and my knee was bleeding," Van Patten said. "This guy told me, 'now you're a real skater.'"  
While this kind of experience isn't frequent, it does happen.
Trombley remembered a time when a fellow skater, Kate, received a misogynistic comment from a male skater.
"He was watching and said, 'If she can do it, I can do it,'" she said. Kate completed the trick and the man came up to her and said, 'You've just become a man.'"
Trombley said she and her friends have been called  "ramptramps."
"They thought we were just coming to fuck the guys," Trombley said with a laugh."It's kind of bad, but kind of funny. It doesn't hurt my feelings."
Van Patten said that some male skaters condescendingly try to teach her about skating, which is annoying even if the men think they have good intentions.
"This one guy was telling me the rules of the bowl and pointed at a younger boy and said, 'even the little kid knows what he's doing'" she said.
For these women, part of skating is developing thick skin and not letting misogynistic comments get to them. Letting negativity bounce right off has become empowering, Trombley said.
"It's very uncomfortable at first. It's a social space and I'm normally socially anxious, so it helped me work on that," she said.
Thick skin has allowed these skaters to persist and foster a community and their love of skating.
Trombley said there is a feeling of empowerment that comes with getting a trick for the first time.
"You might fall a few times before you get it, but you get it and you're like, that was incredible, and you feel like you can do anything," she said.
Van Patten said it's made her more confident and braver.
The skating community can feel more forgiving at times than the culture on campus, she said.
"It's a fun environment where you don't feel like you're trying to be perfect for anybody. You don't have to walk on eggshells," she said. "You're not trying to impress anyone."
Van Patten wants other girls to have an empowering experience similar to the one that she's had, she said.
"I've heard a lot of girls talk and say, 'I'm too scared,' but no one is really bothered by the fact you're learning," Van Patten said."It's improved my life and happiness so much. There might be one or two assholes, but girls should just go for it."
Trombley also encouraged other girls to try it, even though it may be challenging at the beginning.
"Push past the discomfort," she said. "You start to build that inner self-worth that, 'yes, I can do this.' We just completely ignored the boys who thought we were coming just to try and impress them."
Distinctions in identity are something that some female skaters think about. "I want to feel empowered by being a female who skates, but not limited to expectations regarding female skateboarding," Trombley said.
For Djiya, the distinction of being a female skater is only present when the male-to-female ratio is low.
"I'm only hyper-aware of being a female skater if I go to the park alone or with one other girlfriend," Djiya said.
While the addition of the skatepark has had an immeasurable impact on the community, it is clear that for these female skaters, it has given them a chance to foster a community of women within the larger skating culture here.
Each day at the skate park, there are at least a few of these determined female skaters pushing each other to get the next trick.
Currently, Djiya hopes to complete a trick called the "backside disaster."
In this trick, a skater lands on the middle of the board after doing a 180-degree turn.
It's favored by pro skaters, and there is no doubt that Djiya will land it with the tight-knit female skating community behind her.  
The women skating in Burlington count on each other for support, but are also motivated by the community they've formed.
"We're constantly challenging each other, we all have very different skating styles so we're always pulling different pieces from each other," Klinker said. "It makes us really close."