On July 10, Vermont residents found themselves experiencing the heaviest rainfall the state has seen since 1927.
Rainfall in Montpelier hit an all-time high of 12.06 inches, according to the National Weather Service's preliminary meteorological summary of the flood. The next day, the Winooski River at Montpelier crested at 21.35 feet, the second highest it's ever been according to the report.
"The destruction I witnessed was devastating," said junior Maxine Taylor. "I live near Montpelier and the roads were destroyed in most areas. Businesses and homes had piles of destroyed objects and wood stacked in front, many of those businesses were unable to open again."
On July 25, the State Emergency Operations Center received reports of damage to 4,087 residences and 839 businesses, according to a July 26 article by VTDigger. Among the residences damaged, 18% were reported to be no longer habitable and 314 people reported needing shelter, according to the article.
"The first few days [after the flooding] you could smell the gasoline," said junior Erin Kelley, who worked for the Montpelier Youth Conservation Corps. "There were alarms going off 24/7. You couldn't hear yourself think."
The MYCC is run by the Montpelier Parks Department and consists of mostly high school students, said Kelley. Over the first two weeks, the MYCC received help in flood relief efforts from over 2,000 volunteers from all over the state.
"What we were supposed to do for the summer was work for the Parks Department creating trails and creating parks infrastructure," said Kelley. "Once the flood hit, obviously that changed."
Montpelier Alive, a non-profit organization based in Montpelier, was also involved in the restoration efforts. Peter Walke, the managing director of Efficiency Vermont, a nonprofit organization that administers efficiency programs on behalf of the state, became a volunteer for Montpelier Alive when the flood hit.
"It was overwhelming," said Walke. "I think one of the reasons why we were successful in organizing volunteers is clearly there was a desire to come help and people just didn't know where to start. They needed a place to go for information [and] resources, which we were really happy to help do."
The initial cleanup was focused on gathering inventory that had been destroyed and piled up in people's houses, said Kelley. The MYCC aided the Parks Department in the distribution of resources like shop-vacs and cleaning supplies to those in need, as well as doing house calls to homes and businesses.
"Some of it was truly indescribable," said Kelley. "One of the teams that I worked with went into the basement of a restaurant and there was raw shrimp and raw meat floating around that had just been rotting."
While Montpelier has come a long way since the initial flood, some worry it may never return to what it once was.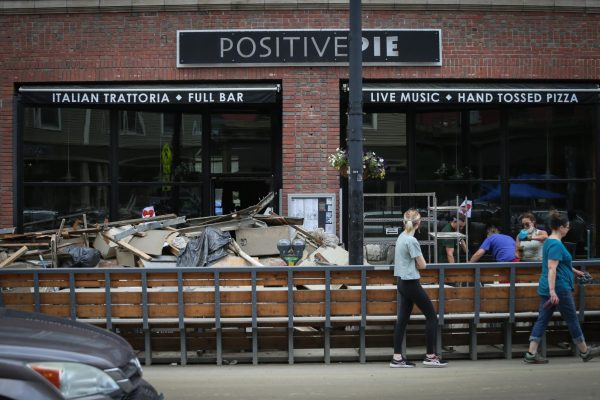 "I remember driving through Montpelier at night a week or so after the flood," said Taylor. "The city cut all the power off in the downtown area for weeks after the flood, and the quiet and darkness was unsettling. What was once a picturesque, bustling area was transformed into hauntingly barren streets of piled up trash. It was sad to see."
As climate change continues to change weather patterns, Kelley notes the effect this may have on the role of agencies like the Parks Department.
"It was really interesting to hear the perspective of the flood on young people," said Kelley. "Obviously we were disappointed that we weren't doing what we were supposed to do over the summer, but all these kids were saying 'at least we'll be ready for the next time it floods'. Just total acceptance of that was eye-opening."
If a catastrophe like this happens again, many Vermont residents hope that there will be changes to the state's response, said Taylor. The Federal Emergency Management Agency has been providing government support and aid for the state since the floods. 
"I work in Montpelier and regularly speak to residents in the town," said Taylor. "I heard a significant amount about how FEMA relief funds were mainly benefiting businesses, and not people's homes. Overall, I think the state could have done far more to assist businesses and individuals alike—not only financially, but by providing temporary housing for people displaced by the flood."
With people still in need of aid, organizations like Efficiency Vermont grapple with how to better help the citizens of Vermont moving forward.
"I think it's about coordination and understanding," said Walke. "I think about how we can make sure that we can help provide those resources and make those connections, and I think just coordination work and understanding really goes a long way."
For more resources for flood relief, visit www.vermont.gov/flood.