Counseling interns pulled from Burlington High School
Lee Hughes, Assistant News Editor
September 18, 2018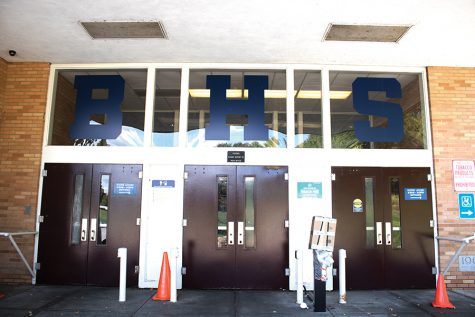 This story updated at 3:59 p.m. Sept. 19 to correct a statement that a practicum student at Burlington High School worked with Macias despite requesting not to. The student was working on a practicum and was invited back for an internship the next year at the high school, which she declined to participate in. 
When she requested not to work at BHS, it was in response to this future offer.  
The University counseling faculty would not have allowed students to return the following year because of the concerns that had been raised from practicum students, said Lance Smith, school counseling program coordinator. 
A year after UVM's graduate internship program in his department was discontinued, Mario Macias, a '97 UVM graduate, and director of guidance at Burlington High School, has been charged with misconduct by the Agency of Education.
The six charges come after a year investigation accompanied by testimony from coworkers, according to a Sept. 11 VTDigger article.
Although she is scared at the prospect of this happening when she goes to get an internship, she sees it as an isolated occurrence, sophomore Emily Perlmutter, an elementary education major, said.
"It seems like it's one man and they're doing what they can to get him out of that situation and make the situation better for everyone involved," Perlmutter said. "I think that's the best you can do."
Daniel French, Vermont secretary of education, recommended Macias' licence be suspended for a year.
The charges include falsifying student information, failing to maintain a professional relationship with a student teacher and yelling at an employee, according to a Sept. 11 WCAX3 article.
The investigator, Robert B. Stafford Jr., reported that Macias repeatedly asked a UVM student teacher at BHS out, according to the VTDigger article. He reported that the student teacher felt creeped out.
The graduate-level internship program at the Burlington High School guidance department stopped after the spring 2017 semester, said Scott Thomas dean of the college of education and social services.
"Because of Macias' unethical behavior and approach toward BHS students and guidance counselors, UVM decided not to place any more students from their practicum and intern programs with the BHS Guidance Department," according to the Agency Of Education affidavit.
Thomas said that the decision came about due to conversations between the two UVM graduate student interns and their faculty advisors.
Emily Russen '18 worked under Macias during her practicum in the spring semester of 2017. She requested not to continue working with him in the fall of 2017 due to his lack of professionalism, according to the affidavit. Although she was offered an internship following her practicum, both she and the UVM faculty advisors declined.
Heidi Caldwell, '18, also worked under Macias and felt uncomfortable due to his behavior. She was happy when she finished her program, according to the affidavit.
It is not unusual for students to encounter issues in their internship placements, but when there are issues, UVM works with those students to resolve the issue or move their placement, said Jane Okech, chair of the department of leadership and developmental science.
Thomas said he has never seen an issue at an internship reach this level.
"You couldn't put your finger on it at that point, but it was pretty clear that something was not right," he said. "We were ahead of that. That is comforting to me as the dean."
Thomas was not aware of the student who felt creeped out by Macias, and that he was not aware of any of the allegations until recently when they surfaced in the news, he said.
UVM has students placed in internships in schools in Burlington and around the state, with the exception of Burlington High School's guidance department, he said.
Once these issues are resolved and the environment in Burlington High School's guidance department is more conducive to a successful internship, Thomas said he would love to reinstate the program, which had run for roughly 20 years prior to being pulled.
Macias did not respond to requests for comment. Russen and Caldwell did not reply in time for publication. Burlington School District administrators were unable to respond in time for publication.