Environmentalist Bill McKibben tells UVM to divest
One of the most famous American environmentalists urged UVM to divest from fossil fuels during a talk to hundreds at UVM about the climate crisis. 
Over 200 students and members of the community gathered at 4:30 p.m. Dec. 2 in the Davis Center to hear author and environmentalist Bill McKibben discuss his most recent book, "Falter," and his work to fight climate change. 
"It's not okay for UVM to be invested in coal and fossil fuels," McKibben said. "It makes me sick to my stomach that Vermont, a place that is supposedly green and left, has been unwilling to divest the endowment of this great University."
Senior Isabel Lisle who attended the talk said that she was inspired by McKibben to support UVM's divestment movement.
"I was really on the fence about UVM divesting from fossil fuels, and I feel like he convinced me that it is a good thing," Lisle said. "We need to divest. It's the right thing to do, and we need to take the lead."
In addition to talking about divestment, McKibben spoke about the pressing need for action on climate change from young people and older people alike. He urged the crowd to put pressure on those in power by participating in the climate movement. 
"The most important thing individuals can do is be less individuals," he said. "Join together with other people and movements large enough to change the basic economic and political groundwork."
The talk was organized by Climate Communication Advocacy and Literacy Laboratory, an environmental club on campus that formed in January 2019. It was part of the "Energy Action Seminar" lecture series, funded by UVM's Clean Energy Fund. 
McKibben has written 15 books, the most famous of which is "The End of Nature," published in 1989. He is also the co-founder of 350.org, a nonprofit that organizes, educates and supports people in Vermont to work towards climate justice, according to its website. 
"I feel so inspired," Lisle said. "I have been feeling overwhelmed by the magnitude of this issue, and I like that he said individual change is good, but it has to be more than that."
After speaking for 50 minutes, McKibben answered questions from the audience about grassroots movements and how to persuade people to change their habits and divestment.
McKibben closed by saying that everyone should find a way to do something more than what they're already doing and demand political change above all.
 "It's important to change your lightbulb, but it's even more important to change your government," McKibben said.
About the Contributor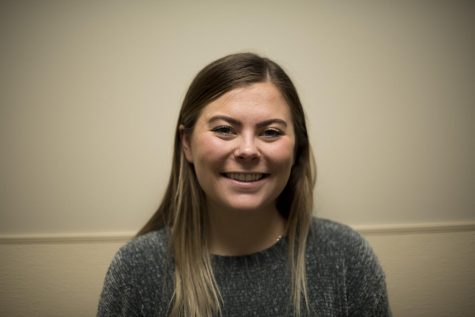 Emma Pinezich, News and Sports Editor
Emma Pinezich is a senior Political Science and French double major from New York. She started working for the Cynic as an illustrator in her first year...