Hundreds of UVM students joined Burlington protest in outcry for firing of BPD cops
September 3, 2020
Masses of UVM students joined community members as they marched down Church street wearing all black Wednesday night chanting 'Black Lives Matter' in the eighth day of protest calling for police reform in Burlington.
Hundreds of young Burlington community members joined the multi-day protest during its daily march at 6:30 p.m. Sept. 1 from Battery Park to City Hall. 
The protest called once again for the firing of three Burlington police officers as it entered its eighth consecutive day which saw one of its highest turnouts yet.
Harmony Edosomwan, a UVM student and organizer of the protest, acknowledged the overwhelming presence of UVM students in the crowd, urging them to do more. 
"Your responsibility is to bring more people here. Go into your dorm, let people know that this is happening every day until these cops are fired."  Edosomwan said from the steps of City Hall, overlooking hundreds of protesters. 
Many members of the crowd held up signs with the names of three Burlington Police officers who were each involved in controversial use-of-force incidents. Speakers and organizers stressed that they would not stop until the three cops are fired. 
Kate Vanni/The Vermont Cynic
The three police officers are Jason Bellavance, Cory Campbell and Joseph Corrow. All three are named in federal lawsuits alleging brutality, according to a Sept. 2 VTDigger article.
According to the article, Corrow tackled a Black man to the ground knocking him unconscious in a 2018 incident. Campbell punched a white man causing injuries from which he later died in an April 2019 incident. 
Bellavance came under fire in early 2019 after video surfaced showing cops knocking two Black men unconscious outside a bar in Burlington. Bellavance faced discipline for "unnecessary or unreasonable" use of force, according to a May 3, 2019 SevenDays article. 
"We, the community, have been peaceful. It is the cops that are the danger to us, and that is why we are here today." Edosomwan said. "We are not only focussed on these three cops, but on the entire Burlington Police Department itself. Every cop must be examined." 
As protesters lined up in Battery Park to march to city hall, organizers asked white allies to hold signs bearing the names of the three officers, and asked members of the BIPOC community to hold signs bearing the names of victims of police brutality.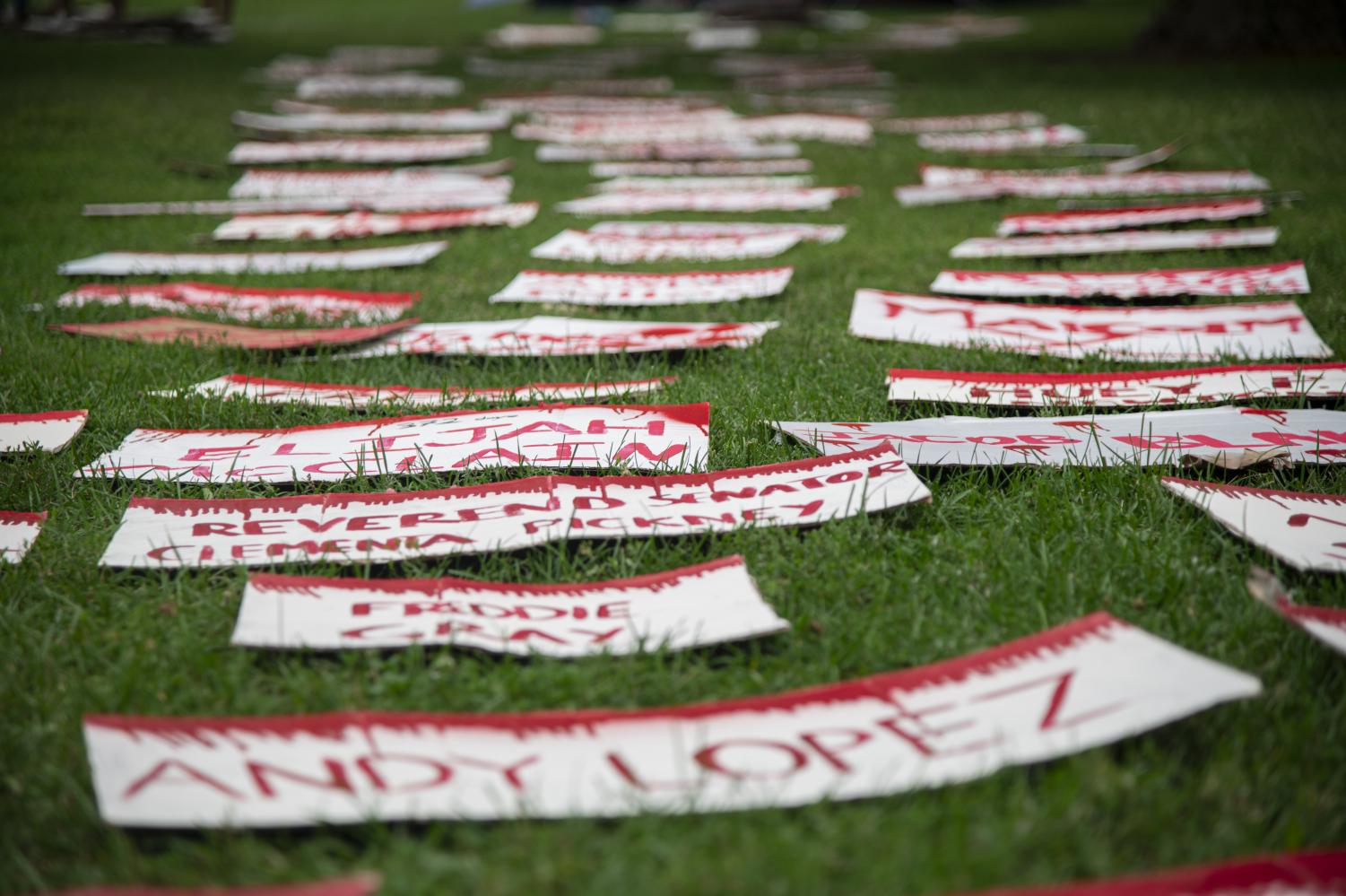 Many UVM students that attended the protest said they were there to fight against larger issues of racism in Vermont and the U.S.
"This is my third day here and I have been trying to be as involved as possible because I know there's an incredibly long history of racism in Vermont," said Zoe Kennedy, a Junior at UVM. "And it's not the job of people of color to fix that, it's people with privilege like I have." 
Students and speakers also stressed that UVM has work to do when it comes to racial justice. 
"Another thing that's happening on UVM's campus is that UVM's Black Lives Matter is calling on UVM to break all ties with Burlington Police Department." Endosowman said to the crowd. "Understand that UVM's culture allows for black and brown people to be marginalized on campus but y'all need to change that." 
UVM recently restarted "quality of life patrols" conducted by the Burlington Police Department in UVM student neighborhoods to address off campus partying and enforce COVID-19 safety rules.
UVM had funded these patrols for this past summer, but reversed its decision in June following student outcry. 
Burlington Mayor Miro Weinberger announced in an Aug. 18 press conference that the patrols would resume and that UVM would share the cost of them with the city. 
Sophomore Nick Bortzfield and Junior Danny Watson who came to the march said they think UVM should take action to defund its own campus police. 
"Their cops don't need guns, they don't need cops period," Watson said. "A fully armed police force seems like wild overkill."
Bortzfield said he's been coming to the protest roughly every other day since they started last week, and said he thinks they've been growing in size.
"This is the biggest night I've seen, and having all of these students flooding into this definitely helps."
Kennedy said she also thinks UVM should be listening to different coalitions on campus of people of color, like student groups' demand to raise the Black Lives Matter flag permanently on campus. 
"Even just small symbolism things like that are important to show inclusivity, especially on a campus that's so white," said Zoe Kennedy, a Junior at UVM.
"
Your responsibility is to bring more people here. Go into your dorm, let people know that this is happening every day until these cops are fired."
— Harmony Edosomwan, UVM student and protest organizer
UVM raised the Black Lives Matter flag in mid-August but took it down several days later citing UVM's Flag Policy and replacing it with the Davis Center flag.
UVM's Staff Council sent a letter to Garry Derrr Aug. 25 requesting the Black Lives Matter flag be flown permanently after campus groups asked. 
"We are in support of advocating for the Black Lives Matter flag to be exempt from the Sponsored Special Events Flag operating procedures. Until we find a permanent place to raise the flag, we support displaying the flag at the Davis Center this week as students are welcomed back to campus," the letter stated.  
UVM President Suresh Garimella announced in an email to students Aug. 28 that the Black Lives Matter flag will be "permanently and prominently displayed" in the University's Mosaic Center for students of color following an Oct. 4 commemoration.
The email did not indicate how the flag would be displayed in the Mosaic Center and did not respond to Staff Council's request that it be flown at the Davis Center during the first week of classes. 
Before Edosomwan called UVM students to action outside of City Hall, the group congregated at Battery Park near the Burlington Police Department. There, some protesters have camped out in tents for the last week collecting donations of food and supplies to continue the non-stop protest. 
One student who has been attending the protests since they began said there have been students doing their classes and working remotely at the park to maintain their occupation of the space.
As the group formed a line around 6:30 p.m. to begin their daily march down church street, protesters blocked traffic on Pearl Street and Battery Street, sometimes drawing honks and insults from drivers.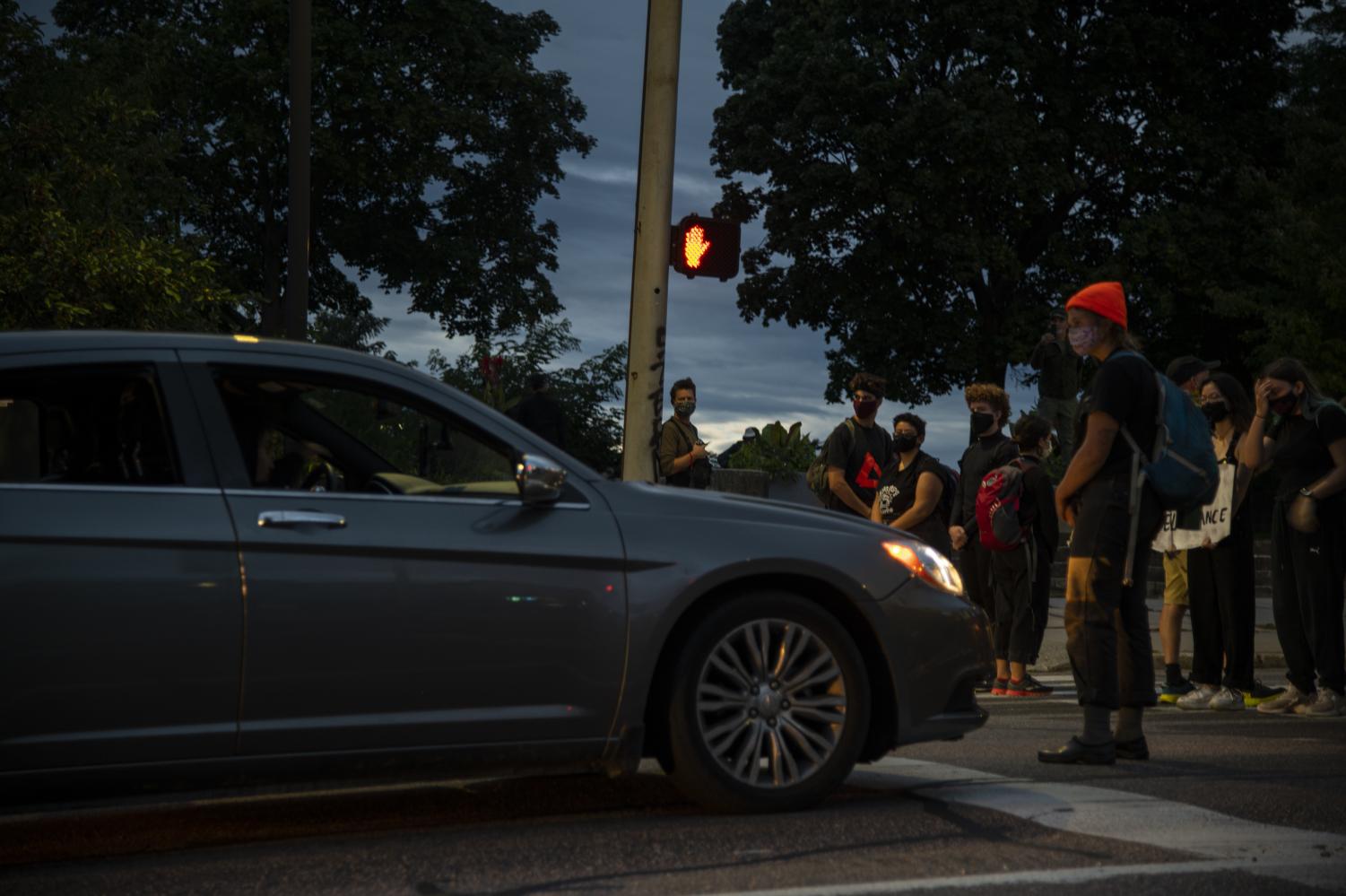 This follows an escalation at the protest Monday night, when the Burlington Police Department arrested a man who approached protesters with an assault-style rifle, according to a Sept. 1 SevenDays article. 
Burlington Mayor Miro Weinberger released a statement in response to the protest at 5:46 p.m. Tuesday night, applauding the work of the Police Department. 
"I am also concerned for the safety of the police and the general public after a rock was thrown at one of our officers last night, and the passage of emergency vehicles was temporarily blocked. I strongly urge all demonstrators to avoid a repeat of these public safety violations," Weinberger stated. 
The organizers cautioned protesters repeatedly to avoid engagement with counter protesters and instigators.
"You are not to engage or enter a situation at all. No throwing rocks," said one of the protest's speakers. "Your ego can take a hit for one day, if you're going to be here and be a part of this, it needs to take a hit every day."
The protesters have vowed to continue protesting until all three officers have been fired from Burlington Police Department. 
The group has now entered the 10th day of protest and plans to have another march down Church street tonight followed by another black-out night Thursday, where all protesters are asked to wear black.