Students demand UVM to abolish campus police and sever ties with City police in call for racial justice
Backed by lawmakers, faculty members and student organizations, five UVM students demanded the administration make institutional and systemic change before a community member becomes the next hashtag.  
Nyria "RiRi" Stuart-Thompson '20, Hannah Lefevre '21, Dia Brown '21, Emmanuella Boateng '22 and Ari Kotler '21 sent an email to UVM administrators June 19 demanding they abolish UVM police and cut ties with Burlington Police Department among other actions to protect students of color.
"Today, on June 19th, in commemoration of Juneteenth, we are calling for the University of Vermont to do the same," stated the students.
Representing Womxn of Color Coalition,  Lawrence Debate Union, Chapter of  National Society of Black Engineers, NSBE New England Zone and Business Diversity, African Student Association and UVM Union of Students these students wrote a detailed email explaining the reason for their demands.
Over 50 people signed this email in solidarity including three state representatives, City Councilor Jane Stromberg, ten student organizations and 39 faculty members.
"Our demands affirm the 2018 NoNamesforJustice demands and honor the efforts of past student activists," the students stated.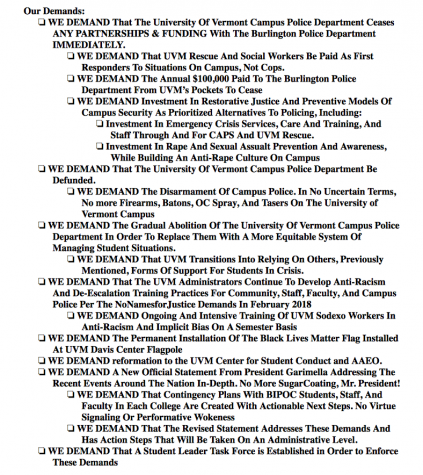 The administration was asked by the students to respond to these demands by June 23 at 8:00 p.m.. The students are asking for changes to be made before a UVM student becomes a victim to the system.
"We will not wait to act until a Black or Brown member of our own UVM community becomes the next hashtag," the students stated.
Provost Patty Prelock has already met with students who submitted the demands to facilitate a discussion about their concerns, stated UVM spokesperson Enrique Corredera in a June 25 email.
"We anticipate we will continue to engage with the students," he stated.
In addition to demands pushing for police reform, the students ask UVM President Suresh Garimella to address recent national events in-depth. Garimella sent an email to the UVM community May 30 after George Floyd's death, referencing the "incomprehensible killing of one individual," although he did not use his name.
Prior to sending the demands, the students gathered 265 testimonies written by UVM Students, UVM Staff/Faculty Members, UVM Alumni, Greater Burlington Community Members, and many others.
These testimonies, collected over four days, express anger and frustration in recollections of past interactions with Burlington and UVM Police. Together they call for an overall demand of change. 
The Burlington Police Department is not the only institution at UVM that fosters an unsafe environment, according to the testimonies.
"Following the gathering of these testimonies, it is clear to us that we, the students of  UVM, are not safe," the email states. "We are not safe because we don't have access to the mental health resources we need." 
The students continue to explain they are not safe because they don't have access to mental health resources they need, rape culture and sexual violence go unaddressed, implicit and explicit racism is at large at UVM along with white supremacy.
"We are not safe because the institutions that are "supposed" to serve us, serve to oppress us," the email states. "We will never be safe until these truths are met with fundamental changes."
View Comments (8)
About the Contributor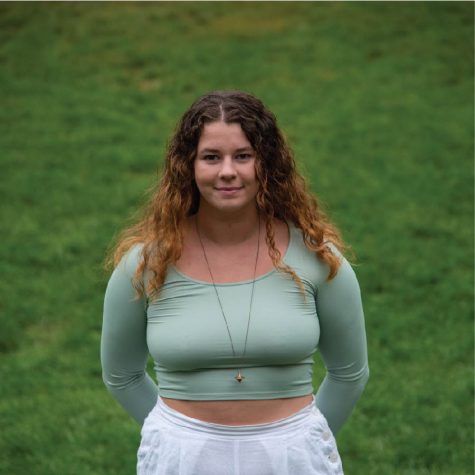 Kate Vanni, Editor-in-Chief
(She/her)

Kate Vanni is a senior Communications Design major with minors in Applied Design and Studio Art. Before becoming the Editor-in-Chief, Kate...