Nurses protest UVM Medical Center's budget hearing
In the midst of ongoing contract negotiations between the UVM Medical Center and its nurses' union, a hearing to confirm the medical center's annual budget continued "business as usual" despite pleas from nurses.
The union of just over 1,800 members called on the Green Mountain Care Board — the Vermont body that reviews hospital budgets — to delay approving a budget for UVMMC and its network until a contract had been signed, according to an Aug. 15 press release.
Nurses and their supporters gathered outside Burlington City Hall, where the board held its hearing, at 8:00 am Aug. 22 to picket as top officials from UVMMC arrived for the meeting.
As officials arrived, protests chanted, "safe staffing saves lives."

Prior to the hearing, Deb Snell, vice president of the union, said the medical center made an offer of a 15-percent wage increase, needs more.
"It's not enough to get nurses here and keep nurses here," Snell said. "We had an all member meeting on Sunday and our members spoke loudly and clearly that they want to continue to fight."
The main goal for the union and its supporters was to raise public awareness over the pay inequities at UVMMC, Snell said.
"Eileen Whalen and John Brumsted made a combined $3 million in one year, $6 million in two," She said. "If they invested that amount in nurses at the bedside for 1800 people over three years we might have a deal."
At 9:00 a.m. the board kicked off the budget hearing, protesters could still be heard chanting just outside the Burlington City Hall.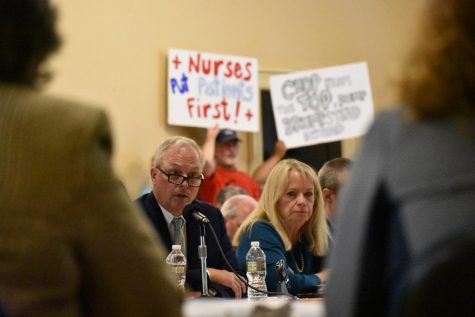 John Brumsted, president and CEO of the UVM Health Network and CEO of UVMMC, addressed the "hot bed" issue raised by nurses of executive pay within the UVM Health Network.
Nurses and their supporters have criticized the millions spent on Brumsted and UVMMC President Eileen Whalen in recent years.
Most senior executive pay at the medical center is determined by the Network Compensation Committee, Brumsted said.
To determine an acceptable salary for executives, the committee uses an independent firm that studies similar positions across the US to determine a reasonable salary range, he said.
Eileen Whalen pointed to the additional $7.1 million the medical center invests in its staff for professional development, including higher education, to show UVMMC's commitment to its staff, she said.
Around 11:30 a.m. the nurses' and their supporters gathered outside city hall to rally before the Green Mountain Care Board opened up the hearing to public comment.
"We're here because we believe this budget should not be approved until the nurses have a fair contract," Snell said to supporters gathered outside city hall.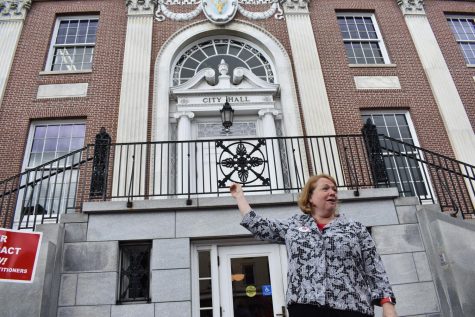 "I know the Green mountain care board has said they don't want to get involved, but they need to pressure the hospital to make sure their priorities are straight, because right now they are not," Snell said.
The board was unable to delay the hearing as it has a legal obligation to release its findings on the UVM Health Network budget by the end of September, said Kevin Mullen, chair of the Green Mountain Care Board.
"The Green Mountain Care Board is statutorily obligated to make a decision … so we'll fulfill that obligation," Mullin said. "This is not an impediment to a successful negotiation between the two parties."
The board remains optimistic that an amicable resolution will come soon between the nurses and UVMMC, Mullin said.
No future negotiation sessions are currently scheduled.