Police report reveals student's final hours
Nearly two months after a UVM first-year was found dead in a snowbank, the Burlington Police Department has ruled the death accidental.
Burlington Police began investigating the death of first-year Connor Gage Feb. 2 after receiving a 911 call stating there was a man lying in the snow.
Burlington Police officially concluded their investigation March 28 but didn't make the police report available until April 1.
Gage was found lying face-up in the snow beside the fence line behind 294 North Winooski Ave., according to Burlington Police's final report on his death.
According to the report, Gage died from hypothermia, which was worsened by being severely intoxicated.
Gage's blood alcohol concentration, the percentage of alcohol in a person's bloodstream, was measured at 0.2 percent, more than twice the Vermont legal limit of 0.08 percent.
Gage left his dorm in Central Campus Residence Hall before 9:45 p.m., if not earlier, with another friend the night of Feb. 1, according to the report.
A police interview with Gage's roommate revealed he was heading to a "frat party" when he left that night.
When Gage's roommate didn't hear from him through the morning, the roommate thought Gage had stayed overnight after the party.
His roommate said Gage rarely went out to parties, but Feb. 1 Gage went to a party at the Delta Tau Delta fraternity house with another friend, according to the interview.
At 9:48 p.m., Gage's roommate received a Snapchat from another resident of CCRH who saw Gage at the same party she was at, according to the report.
The party was at the DTD house on Weston Street, the first of two fraternities Gage visited that evening.
Police interviewed members of DTD, who told them they knew who Gage was and they had first met him a week earlier.
One member of DTD described the event at the DTD house as a "rush event" with between 30 to 35 people.
Members of DTD told police they were just serving beer, but Gage told some members that he had a "really cool bottle of whiskey" that he got from his parents, the report stated.
Police interviews with Gage's stepfather reveal that he sent Gage back to Burlington with a bottle of alcohol as a gift for his friend who picked up Gage from the bus stop.
The stepfather's friend told police he had no knowledge of the alcohol but did know that Gage felt lonely and was considering joining a fraternity to make friends, the report stated.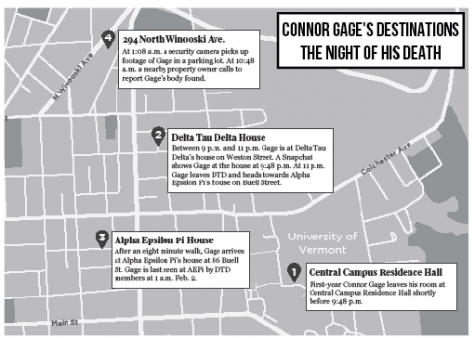 Around 11 p.m. Gage, along with four to five other members of DTD, left and walked
eight minutes to the Alpha Epsilon Pi fraternity on Buell Street, according to the report.
Members of AEPi confirmed to police there was a "gathering" in their house that night but denied serving alcohol, citing an internal policy against it.
A spokesperson for AEPi International told the Cynic March 27 that there is not a specific policy against alcohol in chapter houses.
No one from the AEPi house remembered or recognized Gage, according to the report.
At or around 12:30 a.m. to 12:45 a.m., members of the AEPi house broke up the "gathering."
The group Gage was with took an Uber back to campus after leaving the AEPi house.
Gage left to walk back to the DTD house to get his backpack, according to the report.
Investigators stated in the report the path Gage walked in the early morning hours is consistent with the way to get back to the DTD house.
A security camera at North Winooski Avenue picked up video of Gage at 1:08 a.m.
The footage shows Gage climbing a snowbank before running into a fence.
Gage then laid down in the snow for several minutes before trying to make one last attempt to hop the fence.
Giving up, Gage laid down in his final resting place where he froze to death.
Investigators found scrapes and scratches on Gage's arms and hands after trying to walk through thorny bushes and climbing the fence.
Blood was found on top of the fence, according to the report.
A nearby property owner called 911 at 10:48 a.m. Feb. 2 after he discovered what he thought was "a pile of junk," which turned out to be a male's body, according to the report.
Burlington Police and Fire Department responded and were unable to bring Gage back to life.
Burlington Police Department considers the case closed and ruled Gage's death was an accident.
The University of Vermont gave recognized fraternities, except DTD, a pathway to restart activities on campus again.
AEPi has been unrecognized since 2014.
Both DTD and AEPi are currently under investigation and do not have action plans.
View Comments(1)
About the Contributor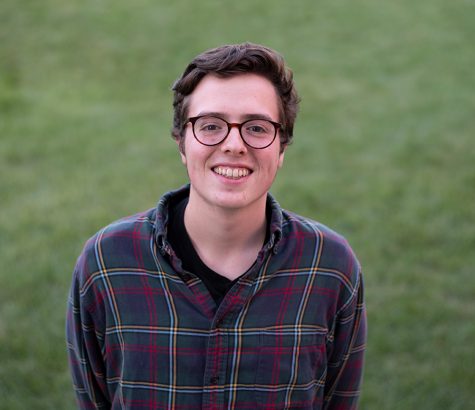 Sawyer Loftus, Editor-in-Chief
Sawyer Loftus is the News Editor for the Vermont Cynic. He is a junior History major with a passion for News. This past summer he was an intern in the...