Several colleges without diversity training
Editor's note: The print edition of this article contained inaccurate information on the introduction date of EVERFI trainings. 
UVM does not have mandatory diversity training for their faculty, which stems from the contractual inability of UVM's deans to require additional faculty training, said Nancy Mathews, dean of the Rubenstein School of Environment and Natural Resources.
Although three deans promised in 2018 to mandate diversity training for all faculty teaching D1 and D2 courses, they did not follow through on implementing the promised training as a requisite for UVM faculty, as it is a union contract issue, Mathews said.
The deans and UVM's faculty union negotiated a new contract on May 10, 2021, said Bill Falls, dean of the College of Arts and Sciences. Mandatory diversity training for faculty was not negotiated in the new contract, Falls said.
On Feb. 28, 2018, social justice group NoNames for Justice asked the deans of UVM's seven undergraduate colleges to sign a letter committing to the implementation of mandatory diversity training and to hiring and retaining more faculty and staff of color, according to a March 7, 2018 Cynic article.
Of the seven college deans at UVM, Mathews and Falls were the two who agreed to sign the letter, according to the article.
Scott Thomas, former dean of the College of Education and Social Services, did not sign the letter because he felt it was important to examine the letter more thoroughly but did commit to  the requirement of training for all faculty teaching D1 and D2 courses, according to the article.
Thomas was hesitant to sign because he thought that mandatory training was an unworkable action from his position of dean, and he felt the specificity of the document was stifling to the preexisting needs, capacities and interests of the college, according to the article.
Alternatives to mandatory diversity training in CAS, CESS and Rubenstein
Falls agreed with NoNames for Justice that all faculty could benefit from professional development in effectively managing challenging topics in class, but he has not mandated diversity training for CAS faculty, according to a Feb. 25 email from Falls.
"The expectation for mandatory training is a challenge for anybody but the [faculty] union to officially require, and that part of the discussion around what can we realistically tell faculty they must absolutely do, or their job depends on it, is really a union contract issue," Mathews said.
The newly negotiated faculty contract from May 2021 included an addition that all of the guidelines for annual evaluations, promotions and tenure contains a commitment to diversity and equity inclusion, Falls said.
In place of mandatory diversity training, Rubenstein has two optional faculty and staff retreats a year during which University employees engage in diversity and inclusive professional development, Mathews said.
CESS offers development opportunities to its faculty focused on exploring inclusive teaching practices and strategies, which aims to lead to equitable classrooms that meet the needs of students from diverse backgrounds and identities, Dean of CESS Katherine Shepherd said.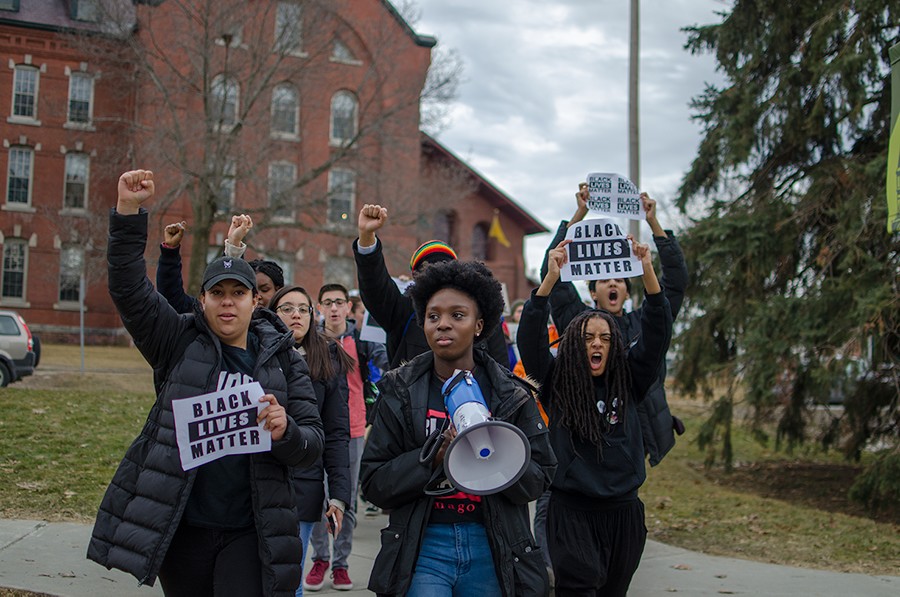 CAS and Rubenstein hope recruitment pipelines improve faculty of color hiring and retention
Amer Ahmed, vice provost for Diversity, Equity and Inclusion, is eager to work with the colleges to develop the internal capacity to conduct faculty and staff hiring searches with a commitment to diversity, equity and inclusion that is not just about recruitment, but also retention, he said.
Ahmed's work centers around creating an environment where faculty of color, women and queer-identified folks feel valued and respected for who they are and what they bring to the table, he said.
"We don't want to just recruit people into parts of the University in which people are not having inclusive and equitable experiences," Ahmed said.
Hiring faculty has been a challenge for CAS because of persistent budget shortfalls, Falls said. Still, a recent infusion of funds from the Provost allowed CAS to hire three new faculty, two of whom are faculty of color.
"It begins at the recruitment phase," Falls said. "It begins with creating pipelines to places we know that there are BIPOC holders of PhDs."
Rory Waterman, associate dean of CAS, oversees a diversity task force that works closely with college leaders and department chairs to figure out the best recruiting practices, Falls said.
CAS, one of the colleges that signed NoNames for Justice's letter, saw a 1% increase in faculty and staff of color since fall 2021. The total number of faculty and staff of color decreased by one, said Alex Yin, director of the Office of Institutional Research and Assessment.
Mathews became dean of Rubenstein School of Environment and Natural Resources in 2014 and said she hasn't had issues with retention, with only one faculty of color retiring in her time as dean, she said. Mathews also hired four new faculty of color since 2014.
The majority of Mathews's work aims to improve hiring and retaining faculty of color through building recruitment and hiring pipelines, hiring faculty of color directly out of UVM's graduate student body, she said.
"The greatest factor right now is our efforts to recruit graduate students and mentor them and prepare them for the academic pathway," Mathews said. "So one point of emphasis is encouraging BIPOC folx to come into graduate programs to get them in the pipeline for faculty positions."
Rubenstein, the only other college to sign the letter, had a 0.9% decrease in faculty and staff of color since 2018, with their total number also decreasing by one, according to Yin.
Eighty-three percent of all UVM faculty and staff identified as white in fall 2018, according to OIRA. As of fall 2021, the percentage is now 81.8%.
Progress in colleges that did not sign NoNames for Justice's 2018 letter
The deans of the College of Agriculture and Life Sciences, the Grossman School of Business, the College of Engineering and Mathematical Sciences, the College of Nursing and Health Sciences did not agree to the demands levied by NoNames for Justice in 2018.
The Grossman School of Business formed an Inclusive Excellence Committee composed of administrators, faculty, staff and students who work on managing diversity, equity and inclusion activities for the school, including faculty and staff training sessions, according to a Feb. 27 email from Associate Dean Barbara Arel.
Grossman also incorporated DEI content into their professional development series of courses for undergraduate students and their Sustainable Innovation MBA students are encouraged to take an annual privilege and bias workshop offered by Sherwood Smith, a doctor of education and lecturer at UVM, the email stated.
"Students have also formed a Diversity in Business club to foster supportive spaces for underrepresented students in GSB," according to the email. "During our faculty and staff recruiting process, all of our search committee members receive training on the best practices in affirmative recruiting."   
The College of Agriculture and Life Sciences focuses on making diversity a valued criterion in the recruitment and retention of students, faculty and staff, according to a March 1 email from Dean Leslie Parise. CALS search committees undergo training in affirmative recruitment and hiring.
"CALS has two diversity committees, one in our academic units and another in UVM Extension," Parise's email stated. "CALS recently sponsored a diversity-focused retreat for those involved in classroom instruction and are planning another for staff."
The College of Engineering and Mathematical Sciences started an office of Equity, Belonging, and Student Engagement led by Assistant Dean KC Williams.
The Office focuses on leadership training of student club leaders, programming for BIPOC students in STEM, and support of student academic success, according to a March 8 email from CEMS Dean Linda Schadler.
CEMS also has a DEI committee that includes faculty, staff and sometimes students. The committee is currently focused on a set of workshops and votes that would add questions about inclusivity to the CEMS student course evaluations, Schadler stated in the email.
CEMS added six people of color and six women to its faculty since 2018, according to Schadler's email.
The College of Nursing and Health Sciences implemented the Committee on Inclusive Excellence which provides diversity education. They hold sessions led by speakers from organizations such as the Peace and Justice Center of Vermont, according to a March 10 email from Dean Noma Anderson.
Discussion for these sessions includes topics such as seeing and disrupting racism, working with individuals with limited English proficiency and microaggressions in healthcare and academia, Anderson stated.