Protests force change
Hang on for a minute...we're trying to find some more stories you might like.
After a closed meeting among University representatives and protest leaders, students are putting their call for the resignation of three administrators on hold.
After two weeks of protests, leaders of racial justice group NoNames for Justice met privately with administrators and deans to discuss their list of racial justice demands.
Eleven NoNames leaders represented protesters at the meeting. Administrators and protest leaders assigned administrators and student leaders to work on each demand, said senior Z McCarron, a NoNames leader.
The private meeting came two days after students protested in the Waterman building for 12 hours Monday, Feb. 26.
NoNames leaders met with administration during the Feb. 26 Waterman protest, but requested a mediator to continue, McCarron said.
McCarron said a third-party mediator was not provided at the meeting Feb. 28, either.
"We're finally at the point where we're at a table, having a discussion," McCarron said. "It's going to take a lot more meetings and and a lot more rallies and a lot more action on behalf of the entire community."
McCarron believes the work will get done if there is the same level of engagement that NoNames has seen the past two weeks, they said.
"The past few weeks, we have missed a lot of classes. Some have missed exams," McCarron said. "We've put 24/7 into this movement, so we've taken the past four days and the week leading into spring break to be students again."
"It's good that negotiations are happening," said senior SGA President Chris Petrillo. "The next couple of weeks are incredibly important for both the progress of the movement as well as the response from the administration."
It's an opportunity to develop concrete steps for improvement of the campus, he said.
Petrillo was also present at the Waterman protest Feb. 26.
That day, more than 250 students settled in the building. While protesters talked about diversity issues and chanted in the hallways, NoNames leaders met privately with President Tom Sullivan.
When a voice from the crowd asked NoNames leaders how the private meetings went, sophomore Harmony Edosomwan announced the plan to meet Feb. 28.
"I don't want to say the specifics because we're in negotiations, but a lot of the things we wanted them to do, they didn't do," Edosomwan said.
After 9:10 p.m., police walked around Waterman to inform protesters they would arrest anyone who remained in the building, UVM police officer Jordan Barriere said.
"I know we have had a good working relationship with the police. I just want to name that we told the police we were going to leave," graduate student Doretha Benn said. "So this scare tactic to try and separate us was fucked up. And that shows us where we stand actually with the police.
"So again, don't listen to information that's not coming from us."
Earlier that day, protesters staged a campus-wide class walkout at 11 a.m Feb. 25. and directed participants to march to the Waterman building. For three hours, the group sent out small groups of students to speak with deans of each of the University's seven colleges.
Protesters asked deans to sign a letter committing to hire and retain more faculty and staff of color and to implement mandatory diversity training, according to the letter.
Dean William Falls of the College of Arts and Sciences and dean Nancy Mathews of the Rubenstein school have signed the letter, but the deans of the other five colleges have not.
Dean Scott Thomas of the College of Education and Social Services said he supports protesters' ideals and activism, but was unable to sign onto the contract for three reasons:
He wanted to give the document the consideration and consultation he feels an agreement signed on behalf of the college deserves

The specificity of the document is stifling to the preexisting needs, capacities and interests of the college

Even if he did sign, some of the actions are unworkable from within the college, for example, mandatory training.
Thomas committed to the requirement of training for all faculty teaching D1 and D2 courses, according to a Feb. 26 email. The college "will explore how to resource faculty time devoted to this training most effectively," he stated.
About the Writers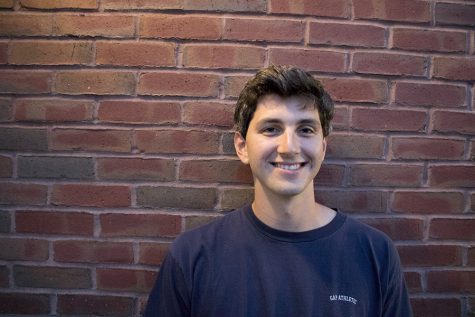 Ben Elfland, Managing Editor
Ben Elfland is the managing editor at the Vermont Cynic. He is a senior studying public communication with a minor in writing. His introduction to journalism...