SGA discusses off-campus student needs as committees plan for the semester
Addressing off-campus student needs:
Despite the turmoil created by the pandemic and ongoing racial justice protests spearheaded by students, UVM's governing body had another uncharacteristically short meeting in the third week of classes. 
The Student Government Association met for the second time this semester with some students in-person and others joining via Zoom at 7 p.m. Sept. 15, where the group discussed unique issues off-campus students are facing during the pandemic.
Gail Shampnois, director of the Office of Student & Community Relations presented at the meeting and asked senators to join an ambassador program to address the needs of UVM's off-campus community. 
"A lot of our students are feeling isolated and lonely, and we're not really sure where their mental health is or their alcohol or other drug issues might be," Shampnois said. "Especially during COVID, the needs have changed dramatically for off-campus students."
Shampnois explained that the Office will soon send a survey to off-campus students in an effort to provide better for their needs.
"We did a survey of students in June and found out that a huge number of students were food insecure, were not able to pay for rent, were struggling to pay for utilities," Shampnois said. 
She also stressed the importance of following COVID rules, noting the issues her Office had over the summer with certain students and households that continued to party.
An update from committees:
Committee chairs also discussed upcoming projects, including a potential look into UVMs controversial flag policy by the Student Action and Well-being committee.
This policy only allows special events flags to fly for five days outside the Davis Center. In mid-August, the University took the Black Lives Matter flag down from its Davis Center post citing this policy which was met with student outcry. 
Additionally, the Committee on Legislative and Community Affairs announced plans to engage more students in voting. 
"Something will be going out to students regarding voter registration resources and also highlighting some issues we've had around lack of people voting here at UVM," said Committee Chair Aidan May. "So I'm really excited about that."
SGA's Committee on the Environment updated the group on the Clean Energy Fund's rebranding as the Sustainable Campus Fund in an effort to broaden the scope of the project.
Leave a Comment
About the Contributors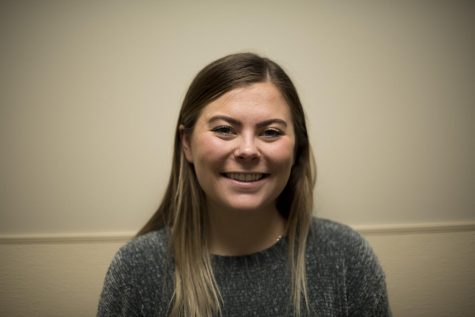 EMMA PINEZICH, News and Sports Editor
Emma Pinezich is a senior Political Science and French double major from New York. She started working for the Cynic as an illustrator in her first year...