Students, staff and community members gathered on the Andrew Harris Commons Oct. 12 to attend a Hillel sponsored vigil for Israel.
There were approximately 300 people in attendance at the vigil, according to a police officer present.
The vigil followed violence this past week stemming from continued conflict in Israel. Israel's military said over 1,300 people were killed in Hamas' attack and rocket fire, and Gaza's health ministry said over 2,670 were killed in Israeli airstrikes, according to a CBS News article updated Oct. 15. 
The intention for the vigil was to memorialize those killed in the past week and pray for the safe return of those being held captive, Matt Vogel, executive director of UVM Hillel, said in a speech at the vigil.
By 6:45 p.m., people attending the vigil began to gather on the green as organizers distributed candles and Israeli flags to those who wanted them. 
At 7:03 p.m., Vogel stepped forward and began to read an opening statement to the crowd.
"If you're here to support Jewish students, their friends and allies—welcome," said Vogel. "If you're here with a different kavanah [intention], I'd respectfully ask that you give our students in our community space to grieve tonight."
Senior Maya Sobel was one of a few students involved in planning the vigil with the intention of honoring and remembering those who have died, she said in an interview with the Cynic. 
The conflict has been the largest murder of Jewish civilians in a single day since the Holocaust, said Sobel in an interview with the Cynic. Those attending the vigil were there to mourn for the dead and pray for peace on both sides.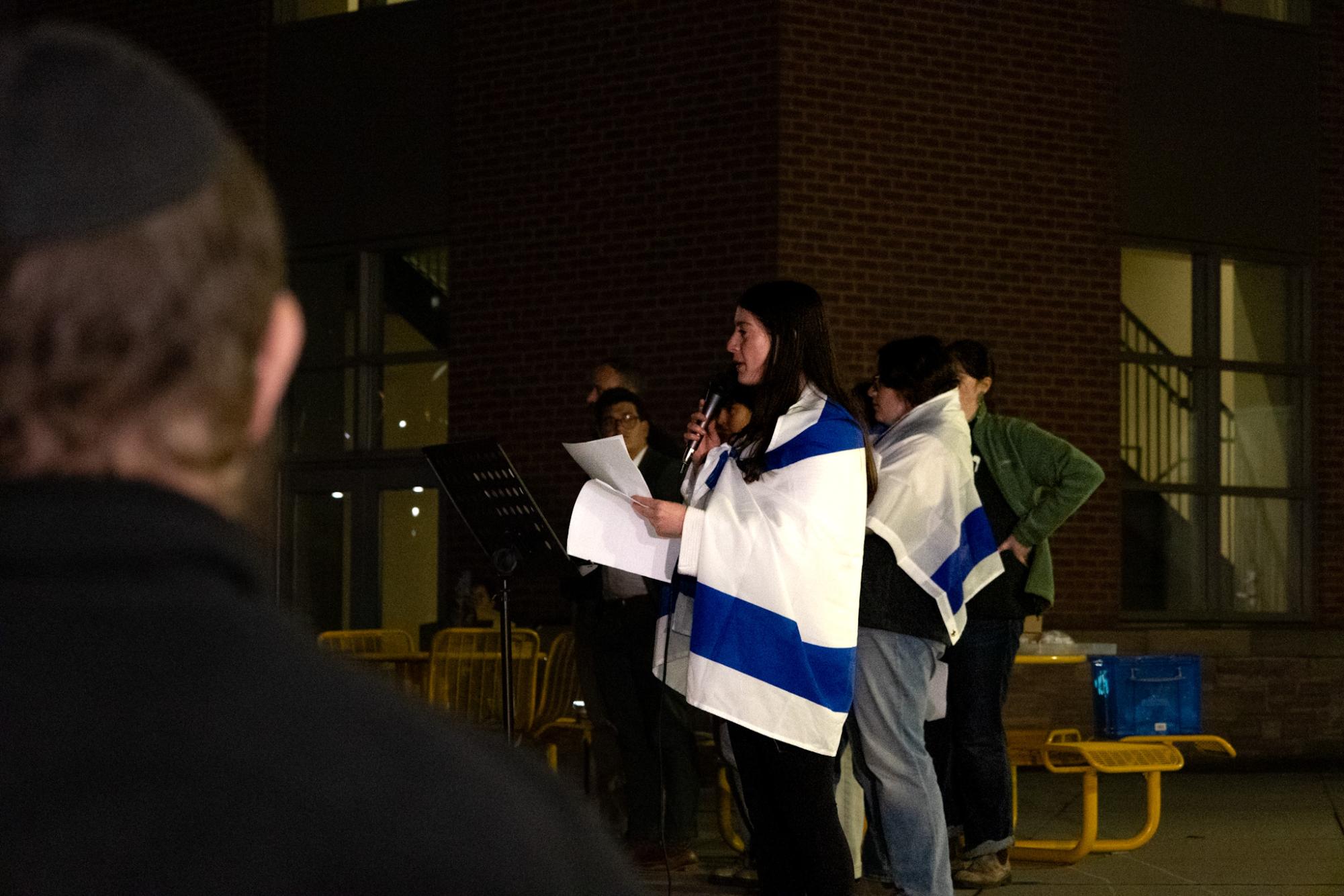 "I am full of horror as I see rallies across the world cheering in celebration of Jewish death. We will not celebrate," said Sobel in her speech. "In the same way, we will never celebrate when innocent Palestinian civilians are also suffering and dying in this war, as they are used as human shields for Hamas." 
Hamas was founded in 1987 and seized control of the Gaza Strip from Palestinian Authority in 2007, according to an article from the Associated Press. The article states that "the group has vowed to annihilate Israel," and has been designated as a terrorist organization by the US and the European Union.
Sobel believes that anyone who chooses to support only Israeli or Palestinian existence is not on the side of peace or humanity, and that nobody wins in wars, she said in her speech.
First-year speaker Josie Leit said she had to check in with 18 Israeli friends and family this past week. Every one of them knows someone who has been murdered or kidnapped, she said in a speech at the vigil. 
"This war is not an abstract concept in a history textbook, or a news article, or pardon my French, a fucking Instagram infographic for the Israeli and Jewish people," she said in her speech.
Leit's brother finished the army two months ago and after recent events is debating possibly going back to fight for Israel, she said in her speech. He already lost four people in his unit and she feared that could have been him.
Sophomore Ari was terrified of speaking at the vigil, she said in an interview with the Cynic. Being Israeli and Jewish in general can be scary, especially in the US.
Their existence as an Israeli and as a Jew should not be the debate over whether to stay safe or speak up for her human rights, Ari said in an interview with the Cynic.
"Where's your support when your Jewish friends need it?" Ari said in her speech at the vigil. "Why is terrorism against Israelis and Jews justifiable? Why are we different? Let me tell you, it is because we are Jewish."
In an interview with the Cynic, Vogel said he hoped students found a place to grieve at the vigil and that they had an opportunity to take a moment away from social media, school and everything else to be together. Sometimes those moments can be impossible to find, he said.
Hillel has tried to take an educational and nuanced approach to conflict in the region, said Vogel. In an interview with the Cynic, he said that the organization tries to present a wide range of perspectives so that students can find their own relationship to Israel and Palestine.
"Often, students have an open heart and an open mind and an open notebook and they can find a community of people that can explore that together at Hillel," Vogel said in an interview with the Cynic.
Students are seeking a community of support and a safe environment, Vogel said in an interview with the Cynic. While Hillel often can't solve problems in the world, they can at least feed and take care of impacted students, he said.