University officials fire back at protestors: "we don't police language, we do policy"
University of Vermont administrators have fired back at accusations of free speech restrictions on campus.
Recently, 33 faculty and staff members sent a letter to UVM administrators stating they were concerned student rights were being limited and that campus policies were being abused.
Annie Stevens, Vice Provost for Student Affairs, sent a letter back March 27 denying all the charges.
"The University fully supports the right to free expression and assembly," Stevens stated. "The University cannot, however, condone activities that disrupt classes, meetings, organized events and regular University business conducted in our facilities."
Following a rally held in the Waterman building Feb. 26, nine students have gone through preliminary stages of the student conduct process for breaking the "disruption" portion of campus demonstration policy.
All nine members so far have fought back on grounds that their First Amendment rights are being violated, said Harmony Edosomwan, a sophomore and member of NoNames for Justice, the group that organized the Feb. 26 rally.
"I personally — and I can't speak for everyone — but I feel like we are all on the same wavelength and we did not do anything wrong," Edosomwan said. "We actually believe that our First Amendment rights are being violated."
Stevens stated in the letter that she and other administrators received word that some students and faculty members were concerned about disruption in the building prior to the rally.
The current case against the nine students rests on two reports, one written by Stevens and the other by Daphne Wells, director of student life.
No students, faculty or staff who work in Waterman have filed misconduct reports against the protestors for their role in the Feb. 26 demonstration.
Because Waterman serves as both an academic building and administrative offices, the University can restrict how students voice their opinions because of "time, place and manner" restrictions, Wells said.
University officials were in contact with NoNames prior to the rally in physical meetings and by email to let them know the University supported the event, just not inside the lobby of the Waterman building, Wells said.
"Because Waterman is a building that also has classes and offices…them rallying with their megaphones, loud voices and cheering, it would be a disruption of those services," Wells said.  
Wells said the University is not looking to punish students for protesting, but rather where they chose to do it.
"It's not the actual protest, it's not the rally, it wasn't their words — it was the fact they chose to do it inside," Wells said.
Amanda Martinez, a junior and member of NoNames, started planning the rally in late January, she said.
Initially, the plan was to hold a "celebration" in the Waterman Memorial Lounge, a space they reserved under the Black Student Union.
However, after meeting with Wells and members of University Police Services less than 24 hours before the celebration, Martinez and the others removed their reservation after finding out the BSU would be on the hook if anything went wrong, Martinez said.
Wells confirmed that she did tell students this, but it wasn't a "threat" as a Feb. 25 Facebook post from NoNames for Justice phrased it, Wells said.
"A part of that conversation we had with them [NoNames] was since this [room] was booked under the name of the BSU, if there are any violations or things that happen then the BSU would be the ones on the hook," Wells said. "What they put out there to the people, the reason they canceled, was that the BSU was 'threatened,' so that was another lie that they told on me."
Wells and Stevens both said they support student's rights to protest. But to Wells, this "celebration" seemed more like a resurgence of protests from last year, she said.
The University has the demands that were given by NoNames for Justice to administrators last year, and they have been working on them, Wells said. To Wells, it seems NoNames is the group not coming to the bargaining table to talk about the issues they raise, she said.  
"As far as I know, no one had heard anything from NoNames until this rally, terms of whatever they've been working on…" Wells said. "So for me, it doesn't seem like they are actively working with the University to make things happen."
Members from NoNames say that they have not received any communications from the University since the end of the spring 2018 semester, Marinez said.
"While we were protesting last year, we were reaching out to the administration and they still didn't want to talk to us," Martinez said. "There was no communication."
EJ Obaro-Best, a junior and member of NoNames, said she feels its not their job to continue this conversation, now it's up to the University.
"Why is it our job to continue a conversation we already started," said. "Do they want us to do everything for them? I'm very confused."
Leave a Comment
About the Writer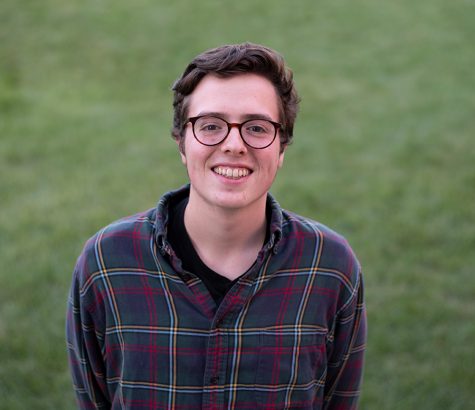 Sawyer Loftus, Editor-in-Chief
Sawyer Loftus is the News Editor for the Vermont Cynic. He is a junior History major with a passion for News. This past summer he was an intern in the...