UVM denies mishandling antisemitism allegations
UVM President Suresh Garimella publicly denied allegations that UVM did not adequately address claims of antisemitism on campus in a Sept. 15 email to the UVM community, following reports that the Department of Education is investigating UVM, which broke earlier this week. 
The nationwide coverage of this investigation showcases the complainant's belief that the University failed to properly respond to specific instances of antisemitism at UVM. Garimella stated the claims that UVM failed to address the allegations were an untrue and harmful, and that he wanted to "set the record straight."
"UVM vigorously denies the false allegation of an insufficient response to complaints of threats and discrimination," Garimella stated. "Exploitation of fear and divisiveness by advancing false claims that UVM failed to respond to complaints of antisemitic behavior creates confusion and a sense of insecurity for the entire community."
The presence of an investigation, even on a federal level, does not indicate any level of truth to the complaint, but that someone has alleged a civil rights violation, he stated. 
The Department of Education's Office of Civil Rights evaluates all complaints but investigates only those warranting a deeper investigation as it sees fit, according to the press release about the investigation from the nonprofit organizations Louis D. Brandeis Center for Human Rights Under Law and Jewish on Campus. 
Although the complainants alleged UVM did not address the instances of alleged antisemitism outlined in the complaint, Garimella stated that UVM acknowledged and responded to all of them.
Allegation 1 
In spring 2021, a teaching assistant posted hateful and discriminatory statements on Twitter about Jewish Zionist students of hers over the course of several months, according to a Sept. 14 Cynic article. The TA threatened to lower their grades and encouraged others to ostracize them. 
A UVM community member reported the Tweets to the University on Sept. 6, 2021, Garimella stated. The University then investigated to ensure all grades were unbiased, and found that no student reported harassment or discrimination from this TA nor were the students impacted in the classroom by the harmful statements. 
Allegation 2
In fall 2021, students vandalized the UVM Hillel building and threw rocks at its windows for nearly 40 minutes, according to the Cynic article. 
UVM Police Services responded to a report of the incident on Sept. 24, 2021, and the following day the incident was reported to UVM as being an act of hate and bias, Garimella stated. The ensuing investigation found the students throwing rocks were attempting to get the attention of a friend inside the building.
The building was undamaged and there was no evidence of antisemitism in relation to the event, Garimella stated. 
Allegation 3
Two student organizations—UVM Empowering Survivors and the UVM Revolutionary Socialist Union—excluded students who believed in Zionism, a belief system relating to Israel and some Jewish people, in 2021, according to the Cynic article. 
Students reported the incident on Sept. 30, 2021, Garimella stated. Neither of the groups are recognized student organizations and thus have no official UVM support, meaning they are not bound by UVM's policies. 
"UVM is a community with a long, proud history of inclusiveness. We denounce hateful actions and respond briskly and decisively whenever those responsible are identified," Garimella stated. "As a community, we adhere to Our Common Ground values of respect, integrity, innovation, openness, justice, and responsibility."
Despite Garimella's assertion, student perceptions of UVM's adherence to Our Common Ground values dropped unilaterally from 2019 to 2022 as revealed in the 2022 Campus Climate Survey, according to a Sept. 13 Cynic article. 
The administration is continuing to engage in conversations about antisemitism and the Jewish experience, Garimella stated. Both Garimella and Patricia Prelock, provost and senior vice president, have recently attended learning conferences about antisemitism and Jewish issues on campus. 
"Our work in understanding and eliminating antisemitism will never be complete," Garimella stated. "Over the past year, university leaders have reviewed, updated, and consolidated our bias reporting processes to make them more accessible to those who need them."
Students can report incidences of antisemitism through the Bias, Discrimination & Harassment Incident Reporting Form.
About the Writer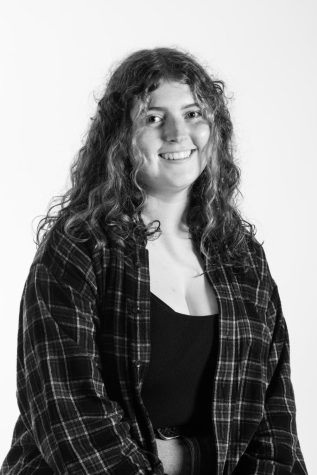 Halsey McLaen, News Editor
(She/they) Halsey McLaen is a junior from Groton, Connecticut, majoring in environmental sciences with a minor in reporting and documentary storytelling....