Feds investigate claims of antisemitism at UVM
Editor's note: This story was updated at 1:48 p.m. Sept. 16 with a clarification about the nature of Israeli settlements in Palestinian territory. 
The U.S. Department of Education is investigating UVM for student complaints of antisemitic discrimination, according to a Sept. 13 joint press release about the complaint from Jewish nonprofit organizations, the Louis D. Brandeis Center For Human Rights Under Law and Jewish on Campus.
The harassment ranged from online discrimination to vandalism and led Jewish students to fear publicly identifying as Jewish and to hide their identities, and to consider transferring from UVM because of its intense anti-Jewish environment, the press release stated.
"The University of Vermont is permitting a hostile environment that marginalizes and excludes Jewish students for whom Zionism is integral to their Jewish identity," the complaint stated. "In doing so, UVM is denying equal access to educational opportunities and services to Jewish students."
UVM has approximately 2,000 students on campus that identify as Jewish, according to UVM Hillel a Jewish community center on campus.
The Brandeis Center and JOC filed the complaint in October of 2021 and the Department of Education opened the investigation in August, according to a Sept. 13 VTDigger article.
Zionism is the ideological movement that supports self-determination and the existence of a Jewish state in their ancestral homeland of Israel, according to the Anti-Defamation League, an organization dedicated to fighting antisemitism, extremism and bigotry.
"The vast majority of Jews around the world feel a connection or kinship with Israel, whether or not they explicitly identify as Zionists, and regardless of their opinions on the policies of the Israeli government," the website states.
Anti-Zionism in Vermont and ongoing conflict at UVM 
Anti-Zionism across Vermont has come about in the form of various events, such as when the classic Vermont ice cream company Ben & Jerry's halted sales of their products in Israeli-invaded Occupied Palestinian Territory, citing a lack of consistency with the company's social justice values, according to a July 19, 2021 USAToday article.
At UVM, conflict over the relationship between Israel and Palestine broke out over a trip—UVM Perspectives—where Jewish students visit Israel for birthright trips, funded by a pro-Israel group known as the Maccabee Task Force. The Maccabee Task Force is openly against movements for justice in Palestine, according to a Dec. 5, 2019 Cynic article.
UVM Hillel first accepted this funding in 2018 and again in 2019, despite student outcry against a perceived attempt to interfere with campus politics, the article stated.
Regardless of the source of the funding, UVM Hillel had complete autonomy in its planning and kept the trip unbiased, leaving students to form their own opinions, according to the article.
In 2019, the organization Students for Justice in Palestine at UVM, posted inflammatory anti-Zionist tweets that were met with a barrage of condemning messages and threats, leading to an eventual apology from the group and statement from UVM advocating for respectful discussion between students, according to the 2019 article.
Last year, over 100 protesters gathered in downtown Burlington on May 15, 2021 in support of Palestine, condemning the Israeli government, the United States' financial support of Israel and UVM's inaction on issues affecting Jewish students, according to a May 16, 2021 Cynic article. 
The antisemitism that sparked the investigation 
The formal complaint that elicited the ongoing federal investigation alleges that UVM is violating Title VI of the Civil Rights Act of 1964, according to the recent joint press release. The act prohibits discrimination based on factors of identity such as race, color and national origin in educational institutions that are recipients of federal funding.
UVM has been an unwelcome environment for Jewish students for years, but this climate became much more prevalent in 2021, according to the press release. 
The first instance of antisemitism at the University that the press release outlined alleged that a teaching assistant harassed Jewish students online for supporting Zionism.
"is it unethical for me, a TA, to not give zionists credit for participation???" the TA posted on Twitter on April 5, 2021. "i feel like its good and funny, -5 points for going on birthright in 2018, -10 for posting a pic with a tank in the Golan heights, -2 points just cuz I hate ur vibe in general."
The TA, over several months, continued to post negatively about Jewish students in her classroom, encouraging others to discriminate, ostrasize and cyberbully against them based on their Zionist identities, according to the press release.
Following this initial instance of alleged antisemitism, two student organizations on campus began to exclude students who believed in Zionism, the press release stated.
UVM Empowering Survivors—an Instagram account known by the handle @shareyourstoryuvm where students can make anonymous reports of their sexual assaults and receive support from the community—stated in a May 2021 Instagram story post that Zionist students were no longer welcome in the group in spring 2021, the press release stated.
"If you don't support Palestinian liberation you don't support survivors," @shareyourstoryuvm stated. "We follow the same policy with Zionists that we follow with those trolling or harassing others: blocked."
The @shareyourstoryuvm Instagram account has 6,694 followers as of Sept. 13, which is roughly half of UVM's total student body, a population of 13,205, according to the Office of Institutional Research.
Many Jewish students attempted to reach out to the group to facilitate discussion, but the group refused to engage beyond its public announcement of its stance as anti-Zionist, the press release stated.
UVM Empowering Survivors stated that half of its members were Jewish, but that its Jewish-identifying members are advocates for the freedom of Palestinians, according to a May 2021 Instagram story post, which remains up on the @shareyourstoryuvm "solidarity" story highlight.
The group later apologized to Jewish survivors who were harmed by the group's beliefs, but stated they would not stand with Israel nor support Zionists, a May 16, 2021 Cynic article stated.
"We cannot in good conscience hold UVM accountable for their treatment of survivors and not also hold our peers accountable for their pro-Israel or Zionist stances," the story post stated.
In the wake of the UVM Empowering Survivors incident, more than 150 Jewish and Zionist students reached out to UVM Hillel, expressing serious concerns and feelings of isolation, the press release stated.
"The onslaught of antisemitism [students] are experiencing online and among their UVM community is unyielding," Hillel leadership stated at the time, according to the press release.
The UVM Revolutionary Socialist Union soon after made a similar statement declaring Zionists would not be tolerated in their club, including that sentiment in the group's constitution and bylaws, according to the press release.
In fall 2021, the UVM Hillel building was vandalized and attacked for nearly 40 minutes by students throwing small rocks at its windows, the press release stated.
Students reported these events to UVM administration and met with administrators to discuss the impacts of these various events, but have seen no public response or mitigating actions, the press release stated.
"Marginalizing, demonizing and excluding Jewish students on the basis of the Zionist component of their Jewish ethnic and ancestral identity, and discriminating on the basis of national origin identity, violates Title VI," the press release stated.
Campus officials have investigated the antisemitic events at the school and will provide the Department of Education a full response to the complaint's allegations, UVM Spokesperson Enrique Corredera told VTDigger in a recent statement. 
UVM Hillel recognizes the ongoing work that must be done to create this environment on campus for Jewish students to feel safe, stated Matt Vogel, executive director of UVM Hillel and Bob Millstone, chair of the UVM Hillel board of directors, in a Sept. 13 post on the UVM Hillel Facebook page.
"We unequivocally support our students' right to be Jewish in the way they want to be," they stated. "There is no place for hatred at the University of Vermont, and we look forward to continuing working together as a UVM community toward a campus climate that makes all students feel safe and welcome on campus."
The Brandeis Center and JOC submitted the complaint to the U.S. Department of Education Office for Civil Rights with testimonials from students who asked to withhold their names for their safety, the press release stated.
The Brandeis Center and JOC also recently filed a complaint against SUNY New Paltz for students who faced exclusion from a sexual assault awareness group, as well as cyberbullying, harassment and threats based on their Jewish and Israeli identities, according to the press release.
The OCR is also investigating other complaints of antisemitic conduct at colleges, including claims against the University of Illinois at Urbana-Champaign, Brooklyn College and the University of Southern California, the press release stated.
Background on the nature of the conflict 
Israel and Palestine have been in conflict since the late nineteenth century, when the United Nations split Palestine into separate Jewish and Arab states, according to the Council of Foreign Relations, an independent nonpartisan organization for education on global relations. 
Both Jewish people and Palestinians lay claim to the area because of a religious connection to Jerusalem and its use as a capital, CFR states.
The war that resulted from this split displaced 750,000 Palestinians and divided the territory into three regions that Israel and several neighboring countries warred over in the following decades, according to CFR. Palestinians eventually revolted and later negotiated the agency to create their own state in the region.
The peace talks between the countries deteriorated and in the 2000s, conflict sparked another Palestinian rebellion, which has resulted in continual contested territory and violence between the two groups to this day, CFR states.
Some of this violence has resulted in the Israeli government's exertion of control of Palestinian-occupied land, pushing out refugees whom Israel will not allow to return to Palestine, according to an Aug. 8 BBC News article.
Israel has also occupied Palestinian territory, which the UN holds as illegal.
In the current day, Israel and Palestine continue to be in violent conflict—Palestinians claim the Israeli restrictions are causing them to suffer while the Israeli government claims these restrictions aim to prevent Palestinian violence, the Aug. 8 article stated.
Since 2008, when the UN began to track casualties of this conflict, 6,036 Palestinians have died and 138,239 Palestinians have been injured as a direct result of violent confrontations between the two groups, the UN Office for the Coordination of Humanitarian affairs stated.
In the same time frame, 273 Israelis have died and 5,913 have been injured, according to the same UN data.  
About the Writer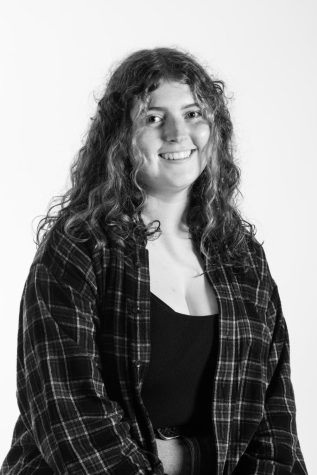 Halsey McLaen, News Editor
(She/they) Halsey McLaen is a junior from Groton, Connecticut, majoring in environmental sciences with a minor in reporting and documentary storytelling....