Several Jewish organizations criticize UVM's response to federal antisemitism investigation
Twenty Jewish organizations expressed concerns in response to UVM President Suresh Garimella's denial of mishandling antisemitism in the midst of a federal investigation, according to a Sept. 16 press release from the Conference of Presidents of Major American Jewish Organizations.
These organizations believe Garimella's statement offers excuses and does not address what they see as a pervasive, harmful, anti-Jewish environment on campus, according to the CPMAJO press release. 
Garimella's statement passes blame onto the students who, after not feeling supported by administration, sought further action to address the instances of antisemitism, the CPMAJO press release stated. 
"The university has denied support to a targeted community, and, in suggesting that Jewish students need to learn how to better protect themselves, has essentially chosen to blame the victims," the CPMAJO press release stated. "The students who filed the complaint raised awareness of a form of antisemitism that students at UVM have been experiencing for years, and gave a voice to students who felt unheard."
In addition to signing onto the CPMAJO press release, the Jewish nonprofit organizations that backed the complaint which led to a federal investigation—the Louis D. Brandeis Center for Human Rights Under Law and Jewish on Campus—also came out with a joint statement condemning Garimella's response, according to a Sept. 16 press release. 
"Garimella's statement shows neither reflection, nor understanding, nor remorse," the Brandeis and JOC press release stated. "Instead, Garimella demonstrates only the dismissive attitude that has left Jewish students vulnerable to harassment and discrimination, blaming the victims who blew the whistle on UVM anti-Semitism rather than pledging to respond to the problems that federal investigators will now examine."
Even though Garimella responded to the three instances of major antisemitism on campus named in the complaint that Brandeis and JOC backed, the latter two organizations stated UVM's responses were deeply inadequate, according to their press release.
The first instance involved a teaching assistant who posted multiple discriminatory anti-Zionist statements on Twitter, threatening to lower the grades of Jewish Zionist students and encouraging others to ostracize them, according to a Sept. 15 Cynic article. 
UVM investigated the grades and the class and found that no grades were lowered or impacted in relation to the threat, nor did any students report harassment or discrimination or impacts from the Tweets. 
Still, the Brandeis and JOC press release stated that these Tweets, which incited hostility for the Jewish students based on their identity, is reprehensible conduct. 
"Garimella's silence has created an atmosphere at UVM where Jewish students not only feel alienated, but are afraid to disclose their identity as Jews," the Brandeis and JOC press release stated. 
The second reported instance occurred when students threw rocks at the windows of the Hillel building, the Cynic article stated. 
UVM Police Services investigated the situation and found it unrelated to hate or bias, according to the article. They instead found that the students who threw rocks did so to get the attention of a friend inside and caused no damage to the building.
However, the Brandeis and JOC press release outlines a narrative inconsistent with Garimella's, claiming the building's doors were vandalized and that the rock-throwers responded to requests to stop by asking those inside the building, "are you Jewish?"
The final allegation centered around two student organizations—UVM Empowering Survivors and the UVM Revolutionary Socialist Union—both of which, in 2021, excluded students who believed in Zionism, a belief system relating to Israel and Jewish people, according to the Cynic article. 
Since these organizations are not recognized by SGA or the University officially, they are not bound by UVM policies and administration is unable to interfere, the article stated. 
However, UVM administration has engaged with student leaders from UVM Empowering Survivors in the past, according to the Brandeis and JOC release. 
Both administrators and students recognize UVM Empowering Survivors as an organization with significant influence across campus, the Brandeis and JOC press release stated. They have hosted protests with several thousands of attendees and their Instagram following of 6,677 is almost half of the University's total enrollment of 13,205 students.
"It is disingenuous for President Garimella to claim that he has no responsibility to address the discriminatory conduct of a group that his administration has engaged with and treated like any other recognized student organization," the Brandeis and JOC press release stated.
Garimella has never publicly acknowledged the discriminatory conduct or the impact this exclusion has had on Jewish students, according to the Brandeis and JOC press release. 
"Every student at UVM is entitled to a college experience free from antisemitism and all other forms of discrimination," the CPMAJO press release stated. "It is time for UVM to frankly acknowledge the serious concerns that have been raised and take concrete steps to address them."
The American Jewish Committee and the World Jewish Congress also denounced Garimella's response in Sept. 16 statements. 
"While we are committed to working with UVM administrators and Jewish students on campus to help bridge the clear gaps in understanding, we are deeply disappointed," stated Sara Coodin, director of academic affairs at the American Jewish Committee, in AJC's press release. "Listening to Jewish students is essential to fostering the inclusive environment that UVM strives to maintain on campus."
The full list of organizations that signed on to the letter include: 
Anti-Defamation League

American Jewish Committee

Alums for Campus Fairness

CAMERA on Campus

Chabad on Campus at the University of Vermont

Club Z

Conference of Presidents of Major American Jewish Organizations

Hasbara Fellowships

Hillel International

Israel on Campus Coalition

Israel Peace Initiative

JewBelong

Jewish Federations of North America

Jewish National Fund – USA

Jewish on Campus

The Louis D Brandeis Center for Human Rights Under Law

Simon Wiesenthal Center

StandWithUs & StandWithUs Saidoff Legal Department

Students Supporting Israel

Zionist Organization of America
About the Writer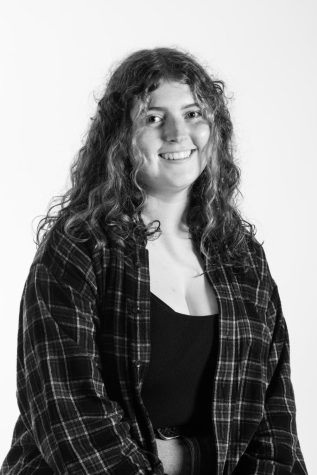 Halsey McLaen, News Editor
(She/they) Halsey McLaen is a junior from Groton, Connecticut, majoring in environmental sciences with a minor in reporting and documentary storytelling....