UVM reopens Visitor Center despite continued student restrictions
Despite strict COVID-19 policies for the student body, UVM is welcoming out-of-state visitors back on campus, with plans to allow them to access UVM buildings. 
As UVM's May 1 decision deadline looms, University officials announced it would be reopening its Admission's Visitor Center as well as starting to offer in-person tours to small groups of prospective students and families starting April 12. 
However, before the announcement, made April 5 by Jay Jacobs, VP for Enrollment Management, students and UVM employees encountered families openly neglecting UVM policy. 
"A bunch of these families will walk in [to the Davis center], completely ignoring the sign that says only UVM affiliates are only allowed to enter," said UVM junior and bookstore employee Gabrielle Hubert.
UVM policy specifically prohibits campus visitors from entering any UVM building, including the Davis Center, according to signs posted around campus. Despite this, Hubert said she sees anywhere from five to 12 families during each of her two-hour shifts.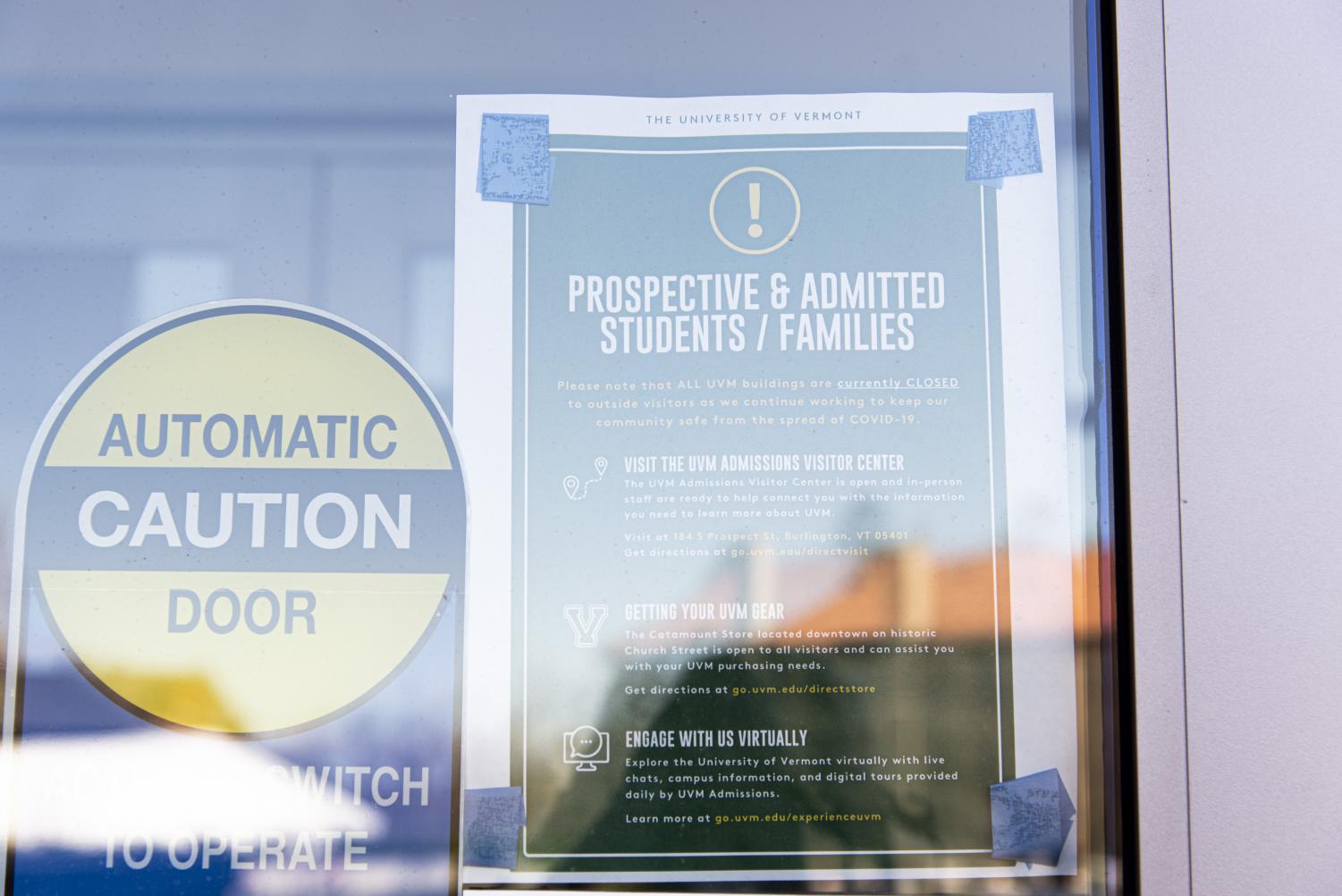 Part of the reopening process for the Admission's Visitor Center is to have staff on hand to "ensure visitors are adhering to Vermont travel guidelines," Jacobs stated in an April 5 email. 
However, families visiting UVM told the Cynic the entry process was lax and did not require visitors to provide proof of vaccination, tests, or quarantine. 
The administration plans to expand the guided tour options in the coming weeks, Jacobs stated in an April 8 email to the Cynic.
Accepted student Sylvie Johnson said she wasn't asked many questions at the Visitor's Center about COVID-19 despite having flown from Portland, Oregon.
"There was a woman sitting outside at a desk who was really friendly, and she gave us tour information and a bag with a bunch of little brochures," Johnson said. "We didn't have to fill out any travel restrictions."
Diane Booth, the mother of accepted student Owen Steenkamp, said the COVID-19 screening process was limited for her family as well. Booth said they had driven to campus from Martha's Vineyard.
"We had called ahead and spoken to somebody before we came up and they said that we would just have to answer a couple of questions and we did," she said. 
Other families skipped the Visitor's Center altogether. Admitted student Carolin Taylor said she visited the University over the winter, so she didn't feel compelled to take a guided tour.
"We haven't gone to the Visitor Center because [Carolin] is actually kind of giving me the tour that she got in February," her mother Erin Taylor said.
Although they were coming from Rhode Island, Carolin and Erin Taylor said they met travel guidelines because they were both fully vaccinated and had quarantined for 14 days before their visit.
"Small-group guided tours with very limited access to buildings will begin on April 12. The guided tours will be initially limited to nine guests plus a guide," Jacobs said in an April 8 email. "The size of guided tours may be increased to 15 guests later on."
Senior Chrysanthemum Harrell of the UVM Union of Students said they think the expansion of tours is unfair to the current student body.
"It feels like it's a big middle finger," she said. "Students are not allowed to go home and visit their families or have parents come to see them, but all these random people are allowed on campus."
The spring 2021 Green and Gold Promise states that students should limit all travel out of state and within Vermont unless essential.
Harrell would prefer if UVM would either only offer online tours or push back their decision deadline and hold in-person tours after the spring term ends because it's hypocritical to invite parents to campus who may not be safe while maintaining strict sanctions on students, she said.
Senior Francesca Carasi said part of her job at the Davis Center information desk is to inform people, like the Taylors, self-guided tours are available at the Visitor Center.
"We tell them that the Davis center and other buildings on campus are closed to the public, but that we have the self-guided tour information," she said.
Carasi said she has seen a decrease in the number of families trying to get into the building since the Visitor's Center opened.