COVID cases at UVM reach all-time high due to omicron variant, decline projected in coming weeks
UVM's COVID-19 cases hit a record high last week, but the University expects this to be the peak of the outbreak, said Gary Derr, vice president of safety and operations.
UVM saw 321 positive tests between Jan. 17-23, according to UVM's Weekly Testing Results webpage. These heightened numbers result from the omicron variant of COVID-19 that caused increased cases across the country, Derr said.
"[The case count] was far better than we expected," Derr said. "I'm very pleased with the numbers and very pleased with the compliance on testing."
Derr said he believes UVM already reached its peak case count in this most recent testing period. 
This estimate comes following a previous Jan. 11 communication from Patricia Prelock, provost and senior vice president, in which she stated UVM expected COVID-19 cases to peak in early February.
Daily COVID-19 cases in Vermont peaked in early January and have been decreasing since, according to Jan. 25 data from the Vermont Department of Health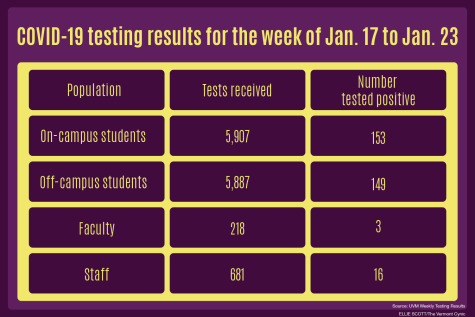 "All indications [show] the omicron surge has peaked and is dropping," Derr said. "We may see close to the same numbers this coming week as we did last week […] but I think we're gradually going to see that drop off on our campus." 
UVM has a 2.5% positivity rate, which stayed relatively constant since the campus resumed testing on Jan. 4, Derr said. 
The percent positivity rate in Vermont as of Jan. 30 was 9.5%, according to the Vermont Department of Health Case Dashboard.
The majority of UVM's positive cases come from students returning from break, Derr said. He does not believe campus is a significant source of spread, particularly due to UVM's regulations: required COVID-19 vaccines and boosters, masking indoors and isolation upon testing positive.
Students must wear masks in all indoor spaces where they cannot stay six feet away from others, except when in dorm rooms or eating, according to UVM Forward's Face Coverings webpage. Unvaccinated students must mask regardless of their distance to others.
Students are not required to test unless they have an approved vaccine exemption, in which they must test weekly, according to UVM Forward's COVID-19 Information and Service Center webpage.
UVM has no plans to change its COVID-19 protocols, Derr said.
"What are the things that people say we can do to reduce the impact of COVID?" Derr said. "Vaccines, boosters, good fitting masks. Much beyond that there's not a lot more."
UVM does not plan to return to required weekly testing for students beyond the unvaccinated, Derr said. UVM made this decision because the Vermont Department of Health and CDC no longer endorse mandated regular testing measures. 
"Continued surveillance testing and PCR testing is something [the Vermont Department of Health is] moving away from across the state," Derr said. "All the medical and public health professionals are saying that required testing is not needed anymore."
Derr feels pleased with students' continued compliance with UVM's COVID-19 protocols, he said. 
"It's time to stay the course," Derr said. "We're doing great. It's not time to stop doing what we're doing."
UVM community members can test for COVID-19 freely throughout the semester at the Davis Center COVID-19 Testing Center 8 a.m. – 5 p.m. Monday through Friday. 
About the Contributors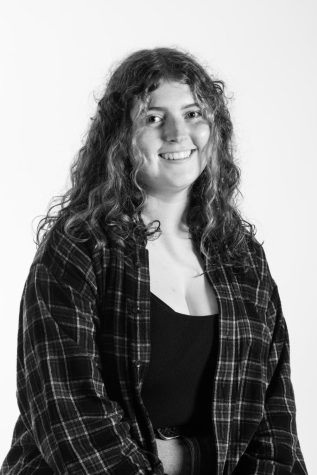 Halsey McLaen, News Editor
(She/they) Halsey McLaen is a junior from Groton, Connecticut, majoring in environmental sciences with a minor in reporting and documentary storytelling....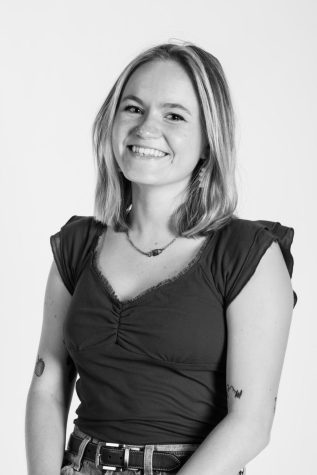 Ellie Scott, Digital Media Editor
(She/her)

Ellie is a senior public communication major from Manchester, CT. Ellie is also an accelerated Master of Public Administration student. This...